The World Series will resume later tonight as the San Francisco Giants look to head home with a commanding 2-0 lead over the Kansas City Royals. Meanwhile in the NHL, the Ottawa Senators and the Toronto Maple Leafs renew their age-old rivalry in this season's first instalment of the Battle of Ontario.
Read on below for our analysis of these two matchups and while you're at it, you can check out our complete World Series Game 2 preview between the San Francisco Giants and the Kansas City Royals here.
[sc:MultiSportArticles ]
Toronto Maple Leafs vs. Ottawa Senators (7:00 PM ET)
Line: Toronto Maple Leafs (+135) at Ottawa Senators (-155); total: 5.5 – view all NHL lines
[sc:Other240banner ]The Toronto Maple Leafs got back to winning on Tuesday as they scored an emphatic 5-2 victory over the New York Islanders to snap their two-game losing streak. Right winger Phil Kessel was the star of the show for Toronto, scoring twice to help the Maple Leafs overturn an early 2-1 deficit.
It wasn't only Kessel who made the difference, though, for Toronto as a total of nine Maple Leafs finished the game with at least one point. That kind of balanced attack is what they will need to bring when they face the high-flying Ottawa Senators later tonight.
The Senators defeated the Columbus Blue Jackets 3-2 last Saturday to extend their winning streak to four games. Mike Hoffman scored the tiebreaking goal midway through the third period to help Ottawa climb into third place of the Atlantic Division.
The Maple Leafs are 8-2 in their last 10 meetings with the Senators.
Writer's Prediction
The Senators extend their winning streak to five games.
San Francisco Giants vs. Kansas City Royals (8:07 PM ET)
Line: San Francisco Giants vs. Kansas City Royals – view all MLB lines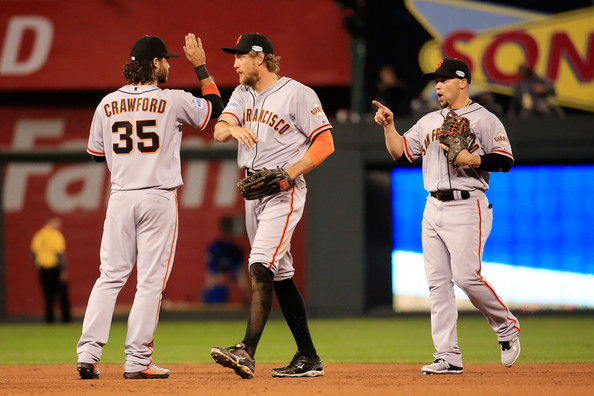 The Kansas City Royals will start 23-year-old Yordano Ventura (14-10, 3.20 ERA) in Game 2 tonight as they look to bounce back from their disappointing performance in the opener last night. Ventura was shaky in his last start, allowing four runs on five hits in 5.2 innings in Game 2 of the ALCS.
The same can also be said about his opponent Jake Peavy (7-13, 3.73 ERA). The 33-year-old veteran lasted just four innings in his last start against the Cardinals in Game 2 of the NLCS, allowing two earned runs on four hits.
The Royals are 4-1 at home this postseason while the Giants are 5-1 on the road in this year's playoffs.
Writer's Prediction
The Royals level the series at 1-1. Create a betting account now and cash in on these exciting ballgames.
[sc:Other490banner ]
1,682 total views, 1 views today
Comments
comments