San Francisco fans are in a state of euphoria after the Giants pulled off an emphatic 7-1 victory over the Kansas City Royals in Game 1 of the World Series. The reason? The winner of Game 1 has gone on to win 10 of the last 11 World Series.
They can move even closer to their third World Series title in five years with a win in Game 2 later tonight and will send veteran Jake Peavy to the mound. He will lock horns with Yordano Ventura who will make history tonight as the first Royals rookie to start a World Series game.
In this battle between youth and experience, who will emerge victorious? Read on for a complete preview of this matchup and while you're at it, you can check out the best games to bet on for today here.
[sc:MultiSportArticles ]
San Francisco Giants vs. Kansas City Royals Betting Preview
Series Schedule & Results
Game 1 – Tuesday, October 21, San Francisco Giants 7 at Kansas City Royals 1
Game 2 – Wednesday, October 22, San Francisco Giants vs. Kansas City Royals – view all MLB lines
Game 3 – Friday, October 24, Kansas City Royals vs. San Francisco Giants
Game 4 – Saturday, October 25, Kansas City Royals vs. San Francisco Giants
Game 5* – Sunday, October 26, San Francisco Giants vs. San Francisco Giants
Game 6* – Tuesday, October 28, San Francisco Giants vs. Kansas City Royals
Game 7* – Wednesday, October 29, San Francisco Giants vs. Kansas City Royals
*If necessary
Betting on the San Francisco Giants
The San Francisco Giants opened the 2014 World Series with a bang, blasting the Kansas City Royals 7-1 to grab a 1-0 lead in their best-of-seven series.
[sc:MLB240banner ]Hunter Pence struck the decisive blow for the Giants as his two-run homer at the top of the first inning quickly gave San Francisco a 3-0 advantage, a lead that they would not relinquish all game long.
That is in large part thanks to the stellar pitching performance of ace Madison Bumgarner. The 25-year-old was once again lights out for the Giants as he allowed just one run on three hits in seven innings of action to keep the Royals at bay and in the process silenced the thousands of Kansas City supporters in attendance.
Bumgarner lowered his postseason ERA to just 1.40 and is now 3-0 in his three career World Series starts. At one point in the game, he stretched his record streak of scoreless postseason innings on the road to an incredible 32.2 innings.
The Giants will look to carry the momentum from this big win and will send Jake Peavy (7-13, 3.73 ERA) to the mound later tonight. Peavy is 1-0 this postseason with an ERA of just 1.86. He looked shaky, though, in his last outing against the Cardinals in the NLCS, allowing two runs on four hits in just four innings of work.
He has struggled against the Royals historically, going 3-7 SU in his last 10 starts against Kansas City dating back to 2010. He has not yet faced them, however, as a member of the Giants and he will be looking for his teammates' recent postseason success to rub off on him tonight.
He clearly wouldn't mind having the same run support that Bumgarner had last night. The Giants erupted for seven runs on 10 hits in the opener with right fielder Hunter Pence leading the way, going 2-of-3 with two RBIs and two walks.
The Giants are undefeated in their last seven World Series games.
Create a betting account now and cash in on the World Series.
Betting on the Kansas City Royals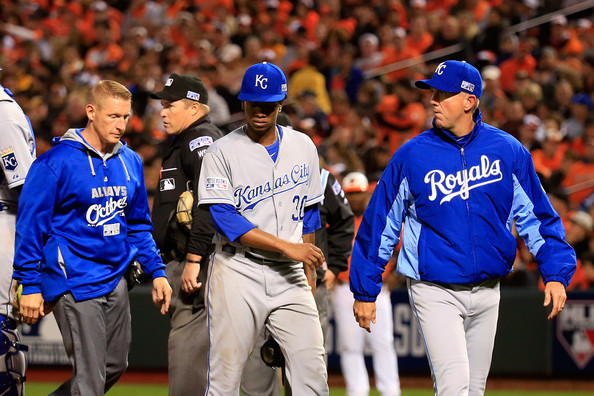 Heading into their first World Series game in 29 years, the Kansas City Royals had every right to feel confident. They steamrolled past the opposition this postseason, defeating the Oakland Athletics in a nail-biting wild card game before sweeping past the favored Los Angeles Angels and Baltimore Orioles in the ALDS and ALCS respectively.
So it was an utter shock that they surrendered meekly to the San Francisco Giants in Game 1 of the World Series to snap their eight-game postseason winning streak. The Royals were out of it right from the get-go and most of the blame can be pinned on their starter James Shields who failed to live up once again to his moniker of "Big Game James".
Shields allowed five runs on seven hits in just three-plus innings of action as he was charged with the loss in the 7-1 drubbing. His postseason ERA has now ballooned to 7.11. The Royals need a much better pitching performance tonight if they are to avoid a 0-2 hole and will put their complete trust on rookie Yordano Ventura (14-10, 3.20 ERA).
It has been a roller coaster ride for the 23-year-old who will make history tonight as the first Royals rookie to start a World Series game at any position. Ventura has already started twice this postseason, allowing five runs on 10 hits in 12.2 innings of action in the ALDS and ALCS.
Those games are nothing compared to the pressure he will face in Game 2 tonight. With the Royals trailing 1-0, a loss tonight will leave them with an uphill battle heading into San Francisco in two days time.
For the Royals to pull off the win later, though, he will need all the help that he can get especially on the offensive end. The Kansas City Royals scored an average of 5.25 runs in their first eight games this postseason but were limited to just a single run in their Game 1 defeat last night.
They will find the going much easier in Game 2, however, with the less-intimidating Jake Peavy on the mound. Peavy lost 12 straight decisions this season, spanning his trade from the Red Sox to the Giants. The Royals' designated hitter Billy Butler has had considerable success against Peavy in the past going 14-of-33 (.424) with three HRs off the 33-year-old.
The Royals are 8-1 in their last nine postseason games.
Writer's Prediction
The Royals pounce on Peavy to level the series at 1-1.
[sc:MLB490banner ]
2,034 total views, 1 views today
Comments
comments