The 2015 NFL regular season is long gone, but there's still the postseason for some high-stakes football action. Before we arrive at this weekend's Wild Card round, regular season action in the NHL and college basketball should help fill the void.
In hockey, the Washington Capitals attempt to take a step toward league dominance when they meet the Boston Bruins with a shot at taking the No. 1 spot with a victory. Then later on tonight, College basketball's powerhouses from the SEC will clash as the Kentucky Tigers visit Ben Simmons and the LSU Tigers. Read on for everything you need to know heading into a spectacular night of action.
Still waiting in vain for the NFL Playoffs? Fear not; check out the best sleeper picks for the Wild Card games this weekend as well as our complete picks and predictions.
[sc:MultiSportArticles ]
Washington Capitals vs. Boston Bruins (7:00 PM ET)
Line: Washington Capitals at Boston Bruins – view all NHL lines
[sc:NHL240 ]With their 59 points second only to league leader Dallas, the Washington Capitals could take one more step towards league dominance if they can take a victory at Boston tonight coupled with a Stars loss in New York. The Caps have been killing it with a solid overall game, ranking second in the league in goals per game (3.1), goals against average (2.2) and power play percentage (25.6), and also fifth overall in penalty kill percentage (84.5).
Meanwhile, the Boston Bruins have been very good on offense themselves, ranking third in the league with 3.1 goals per game courtesy of the trio of Patrice Bergeron (35 points), Brad Marchand (15 goals) and David Krejci (22 assists). However, goaltending remains an issue for the Bruins (their goals against average of 2.7 per contest ranks 20th in the NHL). Boston could certainly come under fire against Washington's stellar scorer Alex Ovechkin, who ranks fifth in the league with 21 goals.
Writer's Prediction
Ovechkin unleashes his scoring prowess, scoring twice in a 5-2 Caps victory.
Kentucky Wildcats vs. LSU Tigers (9:00 PM ET)
Line: Kentucky Wildcats at LSU Tigers – view all NCAA Basketball lines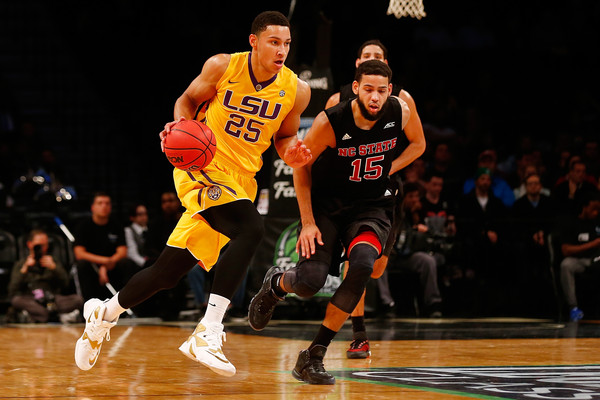 LSU freshman forward Ben Simmons is a juggernaut. The 6-foot-10 phenom is averaging 26 points, 10 rebounds and 4.8 assists in his last four games. He's not LSU's only threat, though. Keith Hornsby is scoring 17.5 points per game from the backcourt, while Craig Victor II and Tim Quarterman add their scoring chops, combining for 24.8 points per game.
The Kentucky Wildcats could fight fire with fire with their own solid scorers. Jamal Murray leads the Wildcats with 16.8 points per game, while sophomore Tyler Ulis is having quite a season himself by averaging 13.4 points and 5.9 assists this season. Solid rebounding could also give Kentucky an edge, with Alex Pothress and Marcus Lee hauling in 7.3 and 7.2 rebounds per game, respectively. Aside from Simmons, LSU has no other player averaging more than five boards per game.
Writer's Prediction
The Tigers upset Kentucky as Simmons shines at home.
Create a betting account now and never miss a beat in the thrilling world of sports.
[sc:NCAAB490Banner ]
1,694 total views, 1 views today
Comments
comments