The Warriors plan to break their long barren spell in Indiana when they make another trip to Bankers Life Fieldhouse, while the Heat stake their winning streak against the Rockets, who are on a surge of their own.
[sc:BettingArticlesShortcoder ]
Top Games to Bet On Today
Golden State Warriors vs. Indiana Pacers (7:00 PM EST)
Line: Golden State Warriors (+5) at Indiana Pacers (-5); total 196.5
Betting on the Golden State Warriors
The Golden State Warriors lived and died with Stephen Curry in their last game with a 104-98 road loss to the Toronto Raptors on Sunday. The spitfire point guard dropped 34 points against the Raptors but committed four crucial turnovers in the final period, which Toronto converted to nine points.
Playing the fifth of their six-game road trip, the Warriors look to win their first game in Indianapolis in seven years. The Warriors are 5-2 SU and ATS in their last seven games. During which, they also went 6-1 under.
Betting on the Indiana Pacers
Indianapolis has been hell for the Warriors for quite some time now. Tonight, the Indiana Pacers aim to extend Golden State's woes in the Hoosier State. The Pacers own a sizeable 6-0 SU and ATS record in their last six home games against the Warriors.
The Pacers are riding a six-game winning streak but all of those victories came from teams headed for the lottery. Despite their weak schedule as of late,  Indiana remains a formidable team. The Pacers keep a 14-9 SU against teams .500 or better.
Prediction
Further scrutiny of the Pacers' recent performances gives the impression that Indiana is not playing up to par. Despite being served with patsy teams in their last few games, the Pacers had trouble blowing up teams they were supposed to. Indiana is 0-3 ATS in its last three games and it might be a good idea to bet on the Warriors' point spread, while Indiana looks to sort itself out.
Miami Heat vs. Houston Rockets (8:00 PM EST)
Betting on the Miami Heat
[sc:NBA240banner ]The planet's best basketball player wasn't going to be denied by the Charlotte Bobcats to put on a mesmerizing performance Monday night. LeBron James blew up for 61 points in the Heat's 124-107 thumping of Charlotte to help Miami improve its winning streak to eight games. The reigning MVP also added seven rebounds and five assists to cap a historic night with a new single-game franchise record.
With James going off, the Heat easily covered their 11.5-point spread as favorites. The Heat are now 8-1-1 ATS in their last 10 games. The Heat aim to protect their 4-0 SU and ATS record in their last four road games when they pay a visit to the Rockets tonight.
Betting on the Houston Rockets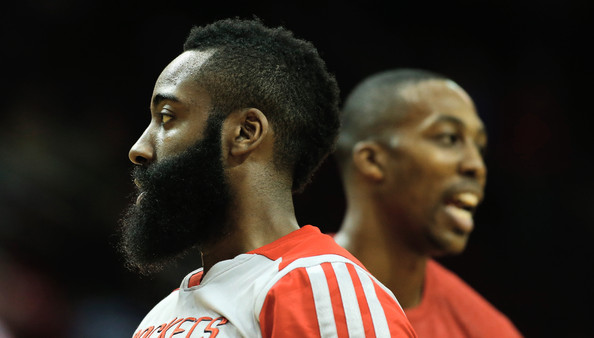 Seeing their lengthy winning streak end at Golden State did nothing to slow down the rampaging Houston Rockets, who are 8-2 SU in their last 10 games.
The Rockets are among the highest scoring teams in the league (106.4 PPG, No. 3 in NBA), but they were even better in their last 10 games, where they put up 110 points or more in six contests.
The slight increase in Houston's scoring could partially be attributed to James Harden, who upped his scoring to 27.1 PPG (season average: 24.5 PPG) during that stretch.
Prediction
The Heat have scored at least 108 points in each of their last three games, but the team is not solely offensive-minded. They can let their defense takeover in the game as well. Miami can put the clamps on high scoring teams, while Houston has a porous defense, which the Heat could easily find cracks for several scoring opportunities. We think picking Miami's point spread may be the best bet.
For the most comprehensive list of NFL, NCAAF, NCAAB, MLB, and NHL game odds and betting lines, plus other sports, visit Top Bet's sportsbook.
[sc:NBA490banner ]
1,407 total views, 1 views today
Comments
comments