[sc:BettingArticlesShortcoder ]
NHL Betting Power Rankings – January 15
| TEAMS | TRENDS |
| --- | --- |
| Columbus Blue Jackets | 7-0 in last 7 games |
| Toronto Maple Leafs | 6-0 in last 6 games |
| San Jose Sharks | Under 7-1 in last 8 games |
| Pittsburgh Penguins | Over 8-2 in last 10 games |
| New York Islanders | 7-2 in last 9 games |
1. Columbus Blue Jackets
The Blue Jackets top this week's rankings as they continued their very impressive start to the New Year. Columbus has now won seven straight games – the longest active winning streak in the NHL. They also improved to 8-1 in 2014.[sc:NHL240 ]
The Jackets are in 11th place in goals and games and have exploded offensively, scoring four or more goals in five of their seven wins.
2. Toronto Maple Leafs
Not far behind the Blue Jackets are the Maple Leafs, who are on a six-game winning streak. The philosophy of the Leafs seems to be simply to outscore their opposition – and it's working. Despite conceding two or more goals in each of their last six games, they have emerged victorious every time.
3. San Jose Sharks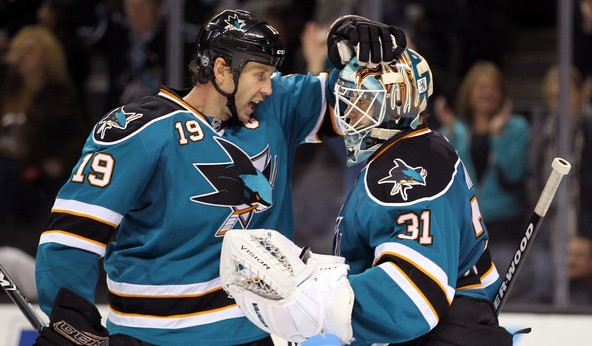 Unlike the first two teams on the list, the Sharks aren't really into shootouts. Not with Antti Niemi and Alex Stalock between the sticks, maintaining a top 5 GAA ranking. The impressive goal tending has yielded the under to go 7-1 in the Sharks' last 8 games, with the duo allowing one goal or less in four of the games.
4. Pittsburgh Penguins
Goals – both for and/or against – are seemingly a guarantee when the Penguins are involved. In the span of 10 games, the Pens have scored over 5 goals in four of the games. So it's no surprise to see that the over is 8-2 during that time.
5. New York Islanders
The Islanders continue their quest to emerge from the bottom of the Metropolitan Division with another solid week. New York is now 7-2 in its last 9 games and is now tied with the Canes for the worst record in the division.
Get all your NHL odds, props and futures at Top Bet Sportsbook.
[sc:NHL490 ]
1,696 total views, 1 views today
Comments
comments