Another chapter in this historic rivalry will unfold on November 2, when the No. 22 Wolverines head to East Lansing to face their longtime nemesis, Michigan State.
Betting on College Football: Michigan Wolverines vs. Michigan State Spartans
At stake is the 4-foot tall Paul Bunyan trophy, which finally landed in Michigan's possession when they stopped a four-game losing streak against the Spartans last year with a 12-10 victory in Ann Arbor.
Michigan is fresh off a 63-47 victory against the Hoosiers on October 19 when they set school offensive records. Michigan State will have to tackle the Fighting Illini first on October 26 before shifting their full focus to the Wolverines.
Michigan Wolverines vs. Michigan State Spartans Game Details:
When: 3:30 PM ET, November 2, 2013
Where: Spartan Stadium, East Lansing, Michigan
Michigan vs. Michigan State Odds:
Money: Michigan (TBA) vs. Michigan State (TBA)
Spread: Michigan (TBA) vs. Michigan State (TBA)
Totals: TBA
Betting on Michigan:
Michigan is one team that can score and it showed in their last game against the Hoosiers. The Wolverines put on a scoring clinic and dumped 63 points on Indiana.
In that game, junior quarterback Devin Gardner got his name in the school's history books after registering record-breaking numbers of 503 passing yards and 584 total yards. He also matched the school record of five touchdowns. [sc:NCAA240banner ]
It was the fifth time this season that the Wolverines scored at least 40 points, really emphasizing the team's scoring prowess. Overall, Michigan is 11th in the nation in points per game with an average of 42.4
Running back Fitzgerald Toussaint should be a reliable weapon for Michigan against the Spartans. Toussaint is tied for second in the nation in rushing touchdowns with 11. Even Gardner is a rushing threat as the 6-foot-4 quarterback is not far behind Toussaint with nine rushing TDs.
While Michigan's offense is humming, their defense was exposed in recent games – especially the Wolverines' passing defense. Indiana polluted the Ann Arbor air with 410 yards. It was the second straight game in which Michigan allowed at least 300 passing yards, just after Penn State threw a team total of 305 yards in Michigan's 43-40 loss to the Nittany Lions.
The Wolverines are ranked 91st in the nation in passing defense, allowing 255.4 per game.
Michigan looks to build another winning streak. They're 6-1 SU in their last seven games and went Over in six of their last eight games.
Bet now on the Michigan Wolverines.
Betting on Michigan State: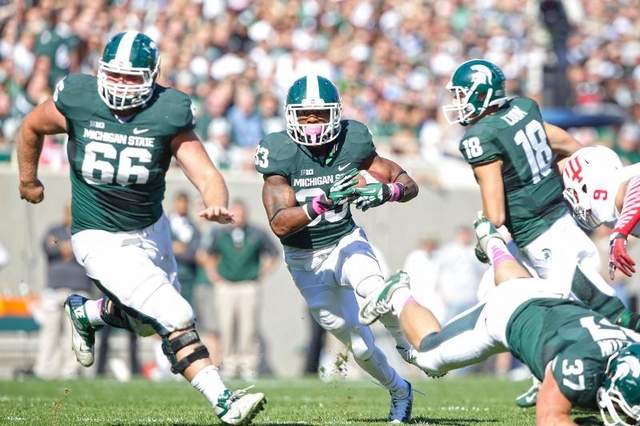 So far this season, the Spartans have been a suffocating force on the defensive end, making them a leader in a number of key defensive statistics. Michigan State is the best in jamming the opponents' rushing game allowing just 59.3 yards per game on the ground– good for No. 1 in the nation.
Back in Michigan State's game against the Hawkeyes, the Spartans held Iowa scoreless in three periods on their way to a 26-14 win. The Spartans know very well that their proven defense is their key to victory against rival Michigan, a team that has been on a scoring spree in their past few games.
Moreover, the Spartans have been a nightmare for opposing QBs all season long. Their passing efficiency defense per game is also No. 1 in the nation at 88.4.
Though only ranked 78th in scoring, the Spartans makes up for it with their stout defense. But that's not to say they haven't offered glimpses of outstanding offense this season. Against Indiana on October 12, running back Jeremy Langford rushed for three touchdowns and received for one more to lift his team past the Hoosiers, 42-28.
The Spartans lost possession of the Paul Bunyan trophy to Michigan last year but they're still 4-1 SU in their last five match-ups. Against the spread, they are 5-0 in the last five meetings.
Bet now on the Michigan State Spartans.
[sc:NCAA490banner ]
1,561 total views, 1 views today
Comments
comments