---
The Penn State Nittany Lions pulled off a bit of a shock when they won the Big Ten over conference giants Ohio State and Michigan. But while both the Buckeyes and Wolverines lost a lot of talent to the NFL, they should be back to challenge for the Big Ten crown this season. How many wins will those contenders win, as well as the rest of the conference?
Read on below for our win predictions for all 14 B1G teams. (Note: records are for regular season only, and do not include conference championship games, playoff games, or bowl games.)
---
Most Recent Articles
---
Big Ten Regular Season Win Total Predictions
East Division
1. Ohio State Buckeyes
Last season: 11-1 (8-1)
Despite losing even more defensive stars to the NFL last season, the Ohio State D should be as dominant as ever as it reloads with more five-star studs this season. The more pressing questions will be with the offense, just like they were last season. Senior QB JT Barrett – a +900 Heisman contender – and running back Mike Weber can carry a lot of the load, but the young Buckeyes receivers need to step up at some point during the season.
Chances are they will, though, and the Buckeyes should once again come away with East Division title, and the Big Ten championship, which they are +150 to win.
Writer's Prediction: Ohio State goes 11-1, OVER 10.5 wins.
2. Michigan Wolverines
Last season: 10-3 (7-2)
The losses Michigan suffered on defense are a little concerning, but there's still enough talent on this roster to ensure that they'll remain one of the top defensive units in the country even after the departures of many of their top starters. But despite a solid and experienced QB in Wilton Speight, the Wolverines may not be quite as equipped to handle the attrition they experienced on offense.
The defense should once again be able to carry them to a lot of wins, but overthrowing the Buckeyes in the East looks like a step too far.
Writer's Prediction: Michigan goes 10-2, UNDER 9.5 wins.
3. Penn State Nittany Lions
Last season: 10-2 (8-1)
After last season's surprising Big Ten title win, Penn State will now be under pressure to repeat that level of performance this season. Having a QB in Trace McSorley and +1,600 Heisman candidate running back Saquon Barkley should help, although McSorley lost No. 1 target Chris Godwin to the NFL, and the Lions' lines also need some replenishing.
While there's a lot to like, there might just be too much hype for Penn State, who look like candidates to regress to the mean just like they did in the Rose Bowl game against USC.
Writer's Prediction: Penn State goes 9-3, just falling UNDER 9.5 wins.
4. Indiana Hoosiers
Last season: 6-6 (4-5)
Incoming Indiana head coach Tom Allen will inherit a recruiting class that figures to be the program's best in a few years. They should help improve a team that surprised some people last season, especially as their defense took a major step forward under Allen's leadership. Meanwhile, the offense should be in good hands with senior QB Richard Lagow.
Writer's Prediction: Indiana goes 7-5, OVER 5.5 win.
5. Michigan State Spartans
Last season: 3-9 (1-8)
Expect some sort of bounce back from Michigan State after last season's disastrous 3-9 season, including a miserable 1-8 in the conference. Head coach Mark Dantonio will likely focus heavily on repairing a very flawed defense. The combination of a stronger defensive unit and a run-heavy offense should be the Spartans' recipe back to respectability at the very least.
Writer's Prediction: Michigan State goes 6-6.
6. Maryland Terrapins
Last season: 6-6 (3-6)
Expectations will be high at Maryland after DJ Durkin led the team to a bowl game in his first year as head coach. Durkin has a top-20 recruiting class coming in, which should help. However, they will have a challenging schedule this season, so adding more wins to the six they got last year might be tough even if they do take another step forward.
Writer's Prediction: Maryland goes 6-6.
7. Rutgers Scarlet Knights
Last season: 2-10 (0-9)
It should be considered a successful season if Rutgers doesn't get shut out in the Big Ten like it did last season. The Scarlet Knights had the worst offense in the nation last year, and it unfortunately doesn't figure to improve much this year, which likely won't result in too many more wins.
Writer's Prediction: Rutgers goes 3-9.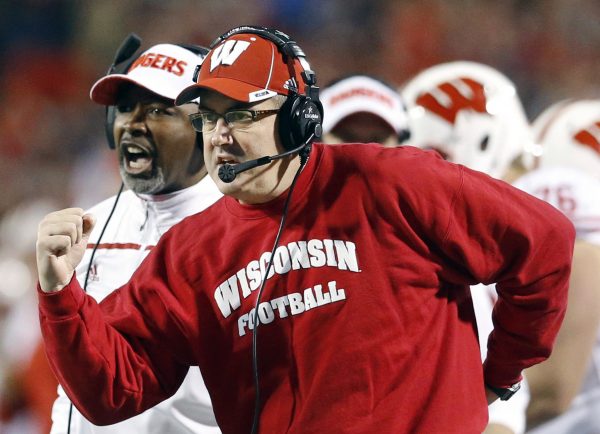 West Division
1. Wisconsin Badgers
Last season: 10-3 (7-2)
Wisconsin just keeps on churning out double-digit win seasons like it's nothing. The Badgers lost some key contributors on both sides of the ball, but you just know they'll continue to find a way to play insanely good defense and run the ball down their opponents' throats.
Add a very easy schedule that sees them avoid Ohio State and Penn State and play Michigan at home, then this season is shaping up to be another typical 10-plus win campaign with Wisconsin winning the West.
Writer's Prediction: Wisconsin goes 10-3, OVER 9.5 wins.
2. Northwestern Wildcats
Last season: 6-6 (5-4)
Pat Fitzgerald's team will have 17 starters returning from a bowl-winning team this year, a group that includes veteran quarterback Clayton Thorson and four-year starter Justin Jackson. The offense should be in good hands with those two, while the defense has a chance to be solid once again.
Writer's Prediction: Northwestern goes 8-4, OVER 7.5 wins.
3. Iowa Hawkeyes
Last season: 8-4 (6-3)
Kirk Ferentz doesn't do losing seasons. In 18 years in charge of Iowa, he's led the Hawkeyes to 14 bowl berths. The loss of starting quarterback CJ Beathard will be a big blow, but his excellent offensive line will return four starters, and the defense will also remain largely intact.
Their schedule will be brutal with Penn State and Ohio State at home and Nebraska and Wisconsin on the road. But you've got to put faith in Ferentz to find a way to get the Hawkeyes' heads above .500 in the end.
Writer's Prediction: Iowa goes 7-5, OVER 6.5 wins.
4. Nebraska Cornhuskers
Last season: 9-3 (6-3)
Not only will Nebraska head coach Mike Riley have to break in a new quarterback in Tulane transfer Tanner Lee, but he'll also need to get his new offensive and defensive coordinators on the same page. The good news is that they'll have a relatively easy first five weeks of the season to do all of their adjustments. The bad news is that the schedule will get a lot tougher after that However, they should have enough wins banked to still finish with a winning record.
Writer's Prediction: Nebraska goes 7-5, just UNDER 7.5 wins.
5. Minnesota Golden Gophers
Last season: 8-4 (5-4)
After all the drama of last season, new head coach PJ Fleck will be out to right the ship (or boat) at Minnesota. The former Western Michigan boss is certainly capable of rowing that boat all the way to success.
The Gophers have a generous schedule which sees them go up against just one team with a winning record in their first seven weeks. It'd be considered a bit of a disappointment if Fleck doesn't lead them to at least a bowl game in his first year in charge.
Writer's Prediction: Minnesota finishes 6-6.
6. Purdue Boilermakers
Last season: 3-9 (1-8)
New Purdue head coach Jeff Brohm has a lot of work to do. The Boilermakers went just 9-39 in four years under Darrell Hazell, which is obviously horrific. Can Brohm turn things around? Possibly. But don't expect him to do it so soon, which means he'll likely have to suffer through a rough season or two, including this one.
Writer's Prediction: Purdue finishes 3-9.
7. Illinois Fighting Illini
Last season: 3-9 (2-7)
Lovie Smith's first season in Champaign was a disastrous one, in large part due to his decision to field a large number of freshmen into the fire of Big Ten play. The question now is whether he'll be able to reap any rewards from all that losing during his second season. The answer, unfortunately, is probably not.
Writer's Prediction: Illinois finishes 2-10.
Create a betting account now and cash in on some college football win totals for the 2017 season!

2,011 total views, 1 views today
Comments
comments