The Buffalo Bills and the Houston Texans were sent crashing back to earth last Sunday as they both tasted their first defeats of the season. Both teams will look to return to winning ways when they square off this coming weekend in what promises to be a tight affair.
Read on for a complete preview of this matchup and while you're at it, you can check out our complete NFL Week 4 predictions.
[sc:Football ]
Buffalo Bills vs. Houston Texans Betting Preview
When: Sunday, September 28, 1:00 PM ET
Where: NRG Stadium, Houston
Line: Buffalo Bills (+3) at Houston Texans (-3); total: 41.0 – view all NFL lines
Betting on the Buffalo Bills
The Buffalo Bills' unbeaten run is finally over as they slumped to a 22-10 defeat against the San Diego Chargers last Sunday to fall down to 2-1 in the team standings.
[sc:NFL240banner ]The Bills cannot recover from a quick San Diego start as they squandered a great opportunity to go 3-0 for only the third time since 1993.
Buffalo's running attack, which averaged 153.0 rushing yards in their first two wins, was a non-factor against the Chargers as they were able to run for only 87 yards the entire game. With their offense built around the running game, that is simply not enough.
They will find it much easier, however, this coming Sunday, as they will face a Texans lineup that is eighth-worst in the NFL in rushing defense allowing 141.7 yards per game.
Even with a 2-1 record, the Bills' primary concern this season is their struggling offense. Through three games, the Bills are 23rd in total offense with an average of 322.3 yards per game and are scoring just 20.7 points per outing this campaign.
Not helping things is the inconsistent play of rookie wide receiver Sammy Watkins. A week after catching eight passes for 117 yards and a touchdown, the 21-year-old was limited to just 19 yards on two catches despite being targeted by quarterback EJ Manuel eight times.
Speaking of Manuel, he had his best game passing-wise, completing 23 of 39 passes for 238 yards and a touchdown. Still, questions continue to swirl concerning his ability to generate offense especially when they are playing from behind as was the case in the game against the Chargers.
With uncertainty surrounding the offense, it is the defense that is stepping up for Buffalo this season . Even though they struggled in the game against the Chargers, they are still 10th overall in terms of points allowed with opponents averaging just 17.3 points against them this year.
The Bills have covered the spread in two of their first three games this season.
Create a betting account now and cash in on all the NFL action.
Betting on the Houston Texans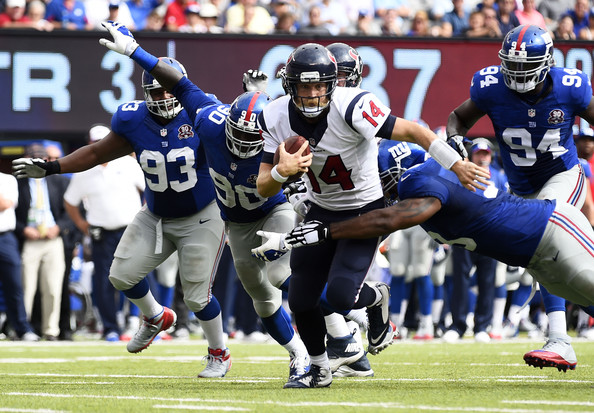 Running back Arian Foster was sorely missed as the Houston Texans lost for the first time, succumbing to the New York Giants 30-17.
Foster, who was second in the NFL in rushing this season with an average of 120.5 yards per game, was sidelined because of a hamstring injury and can only watch as the Texans offense unravelled against the motivated Giants. The Texans can only blame themselves as they turned the ball over three times in an error-filled ballgame.
Prior to the game against the Giants, the Texans were tied for the league lead with a plus-5 turnover differential. QB Ryan Fitzpatrick was one of only two quarterbacks to have avoided both interceptions and sacks in this season so far. Both of those streaks were halted as Fitzpatrick had his worst outing as a Texan yet.
He may have completed 20 of 34 passes for 289 yards and a touchdown but he also threw three interceptions for a measly 59.6 passer rating. His performance brought back memories of the old Fitzpatrick, who was also susceptible to errors.
Since being drafted by the St. Louis Rams back in 2005, he is ranked fifth among active quarterbacks for most interceptions per game with a 1.07 clip. To date, he has thrown a total of 93 interceptions.
With Foster out injured, the Texans were forced to rely more on the passing game, resulting to a calamity of errors. The onus now is on Fitzpatrick to make the necessary adjustments ahead of their game against the Bills this coming Sunday.
Motivation will not be in short supply for Fitzpatrick, however, since this is his first meeting with the Bills since being released by them back in March 2013. Motivation won't be enough though and Fitzpatrick needs all the help he can get especially with Foster's status still uncertain.
Running back Alfred Blue, starting in place of Foster, had a respectable outing, running for 78 yards on 13 carries in the game against the Giants. He will find the going much difficult, however, against a Buffalo team that is sixth in the NFL in rushing defense allowing a stingy 83.7 yards per game.
If that is the case, the Texans may have to resort to an aerial attack once again and they may like their chances this time around when they face the Bills this coming Sunday. Buffalo are the seventh-worst team in the NFL this season in passing defense with opponents averaging 267.3 yards against them.
The Texans are 2-1 ATS this season so far.
Writer's Prediction
The Bills (+3) pull off a close victory to go 3-1 this season.
[sc:NFL490Banner ]
2,141 total views, 1 views today
Comments
comments