How time flies! We're already into Week 4 of the new NFL season. Slowly but surely, the league's elite teams have started to emerge from the pack. The Eagles are the only unbeaten team to see action this coming week, with the Bengals and Cardinals both on their byes, and it will be interesting to see if they can keep their perfect record intact when they travel to San Francisco to face the 49ers.
Read on for an overview of all the games on the schedule this week, including predictions for each one. And while you're at it, don't miss out on our preview of the New Orleans vs. Dallas game or our breakdown of Eagles vs. 49ers.
[sc:Football ]
Complete NFL Week 4 Picks
Thursday, September 25
New York Giants vs. Washington Redskins (8:25 PM ET)
Writer's Pick: Giants +3.5

The Giants' offense finally awakened in Week 3 as they recorded an emphatic 30-17 victory over the Houston Texans to notch their first win of the season. Eli Manning completed 21 of 28 passes for 234 yards and two touchdowns and even managed to avoid throwing a pick for the first time since last season. Expect the two-time Super Bowl winner to continue his fine play against the Redskins who suffered a heart-breaking 37-34 defeat to the Eagles last Sunday.
You can read a full preview of the game here.
Sunday, September 28
Green Bay Packers vs. Chicago Bears (1:00 PM ET)
Writer's Pick: Bears 
Quarterback Jay Cutler put forward another solid performance as he led the Chicago Bears to a tough 27-19 victory over the New York Jets on Monday night. He completed 23 of 38 passes with two touchdowns as he led the Bears to its second consecutive victory. He will next face a Green Bay side that has been struggling of late.
In their loss to the Lions last Sunday, they were held to a measly 223 total yards as they go crashing down to 1-2. However, they can take heart in the fact that they have won their last four games against the Bears at Soldier Field.
Tennessee Titans vs. Indianapolis Colts (1:00 PM ET)
Writer's Pick: Colts -7
The Indianapolis Colts finally barged into the win column with a 44-17 win over the Jacksonville Jaguars in Week 3. Andrew Luck was in fine form, completing 31 of 39 passes for 370 yards and four touchdowns in a commanding performance.
The Colts will face a much sterner test, however, this coming Sunday when they square off with the Tennessee Titans. The Titans are fifth-best in the league in total yards allowed giving up just 304.3 yards per game this season. The Colts are 9-1 in their last 10 meetings with the Titans at Indianapolis.
You can read a full preview of that game here.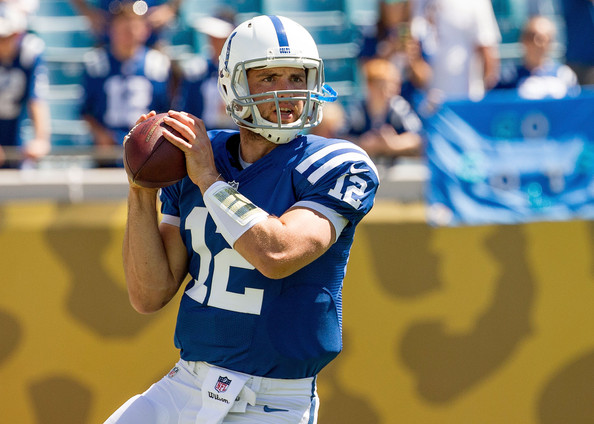 Buffalo Bills vs. Houston Texans (1:00 PM ET)
Writer's Pick: Texans -3
The Texans are coming off their first defeat of the season, a 30-17 loss to the Giants, that reminded anyone who had forgotten just what kind of quarterback Ryan Fitzpatrick is. And no team knows that better than the Buffalo Bills, who the Texans will host this coming Sunday. Houston is 1-0 at home this season and will have the fifth-best running attack (140.7 rushing yards per game) in the NFL at their disposal. They are 2-1 ATS this season.
Carolina Panthers vs. Baltimore Ravens (1:00 PM ET)
Writer's Pick: Ravens -3
The Baltimore Ravens are not allowing the controversy surrounding Ray Rice bother them as they recorded their second victory in a row with a come-from-behind 23-21 win over the Cleveland Browns.
Wide receiver Steve Smith (290 receiving yards, 18 catches) was the man of the match as his clutch 32-yard catch in the dying minutes put the Ravens in range for the game-winning field goal. Expect him to put up monster numbers this coming Sunday as well as he faces his former team for the first time.
You can read the preview of that game here.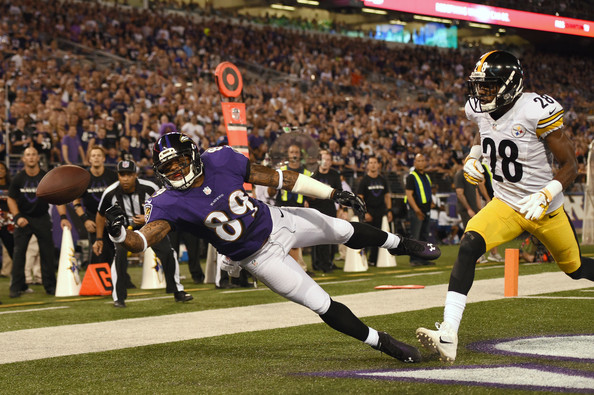 Detroit Lions vs. New York Jets (1:00 PM ET)
Writer's Pick: Lions
The Detroit Lions defense was in superb form as they stifled the Green Bay Packers 19-7 last Sunday. Even with an injury-ravaged secondary, the Lions had the Packers' number all night long as they limited Aaron Rodgers to only 162 yards on 16 of 27 passing. Their next assignment will be the New York Jets who are coming off a disappointing 27-19 loss to the Chicago Bears. Despite outgaining the Bears 414-257, the Jets were undone by their turnovers (3) and red zone failures as they succumbed to their second straight defeat.
Look for the Lions' defense to smother the Jets this coming Sunday.
Tampa Bay Buccaneers vs. Pittsburgh Steelers (1:00 PM ET)
Writer's Pick: Steelers -7.5
Pittsburgh's running game was in fine form Sunday night when they defeated the Carolina Panthers 37-19. Running back Le'Veon Bell had 147 rushing yards while his counterpart LeGarette Blount added 118 yards of his own as it marked the first time since 1986 that the Steelers had two 100-yard rushers in a single game. They could be too much to handle for a Buccaneers side that were shellacked by the Falcons by 42 points last time out.
You can find out more about this game here.
Miami Dolphins vs. Oakland Raiders (1:00 PM ET)
Writer's Pick: Dolphins -4.5
The NFL moves across the Atlantic this coming weekend as the Miami Dolphins take on the Oakland Raiders at Wembley Stadium. Both teams have struggled this season, so this game could go either way. The Raiders have scored an average of just 12.3 points per game this season, the worst rate in the NFL.
Read more on this showdown here.
Jacksonville Jaguars vs. San Diego Chargers (4:05 PM ET)
Writer's Pick: Chargers -13.5
The Chargers are just playing excellent football right now, thanks mainly to the stellar play of quarterback Philip Rivers. Rivers has been tremendous the last two games, completing 46 of 62 passes for 540 yards and five touchdowns with no interceptions. Expect him to have a field day against the Jaguars who allow a league-worst 466.0 total yards per game this season.
Still, this may be the wrong day to count the Jags out. They have announced they will be handing the reins of their offense to their vaunted rookie quarterback Blake Bortles, who put up decent numbers in garbage time against the Colts.
You can catch a complete preview of that game here.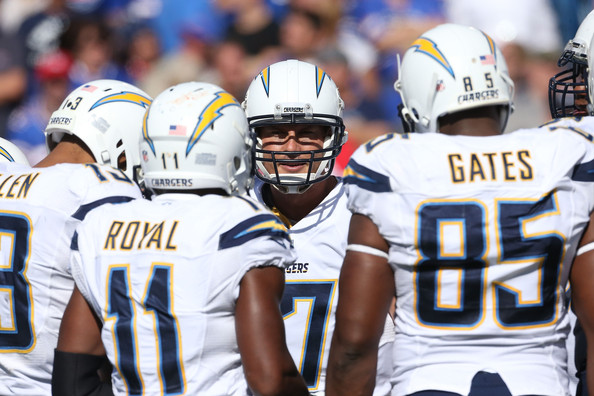 Atlanta Falcons vs. Minnesota Vikings (4:25 PM ET)
Writer's Pick: Falcons -3
Quarterback Matt Ryan had a performance for the ages last Thursday as he completed 21 of 24 passes for 286 yards and three touchdowns in a stunning 56-14 win over the Tampa Bay Buccaneers. Ryan and the rest of the Falcons could continue their offensive onslaught against a Vikings squad that allowed 396 total yards in a 20-9 loss to the New Orleans Saints last time out.
Still, the Vikings are another team that will be starting a rookie QB sensation, after Matt Cassell went down with an injury on Sunday. Teddy Bridgewater showed poise and versatility in his first time on the field as a pro, and could give the Falcons defense more of a test than they've had this season.
You can read the full preview here.
Philadelphia Eagles vs. San Francisco 49ers (4:25 PM ET)
Writer's Pick: Eagles +5

The Eagles just continue to rack up wins as they pulled off their third-consecutive victory with a 37-34 squeaker over the Washington Redskins that was one of the best games of Week 3. Philadelphia will put their unbeaten record on the line when they face San Francisco this coming Sunday and it's not good news for the struggling 49ers. The Eagles are 4-0 in their last four games in San Francisco dating back to November 2002.
Read more on both teams ahead of this big time match up here.
New Orleans Saints vs. Dallas Cowboys (8:30 PM ET)
Writer's Pick: Saints -3
After a string of poor results, the New Orleans Saints finally notched their first win of the season on Sunday, defeating the Minnesota Vikings 20-9. They will look to make it two in a row when they travel to Dallas to face the surging Cowboys who are fresh off an amazing 34-31 comeback win over the St. Louis Rams.
As our complete breakdown of this game suggests, this will be a statement game for both sides, as they each look to patch the holes that have caused them problems earlier and make a claim to being a playoff contender.
You can catch our preview of this Sunday Night Football showdown here.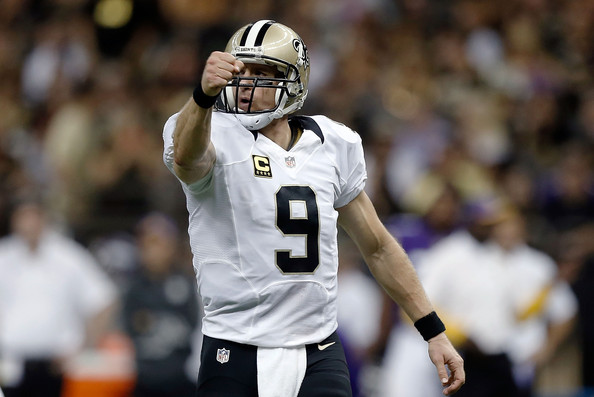 Monday, September 29
New England Patriots vs. Kansas City Chiefs (8:30 PM ET)
Writer's Pick: Chiefs +3.5

The Kansas City Chiefs are finally on the board after defeating the Miami Dolphins 34-15 in Week 3. QB Alex Smith was the star of the show as he completed 19 of 25 passes for 186 yards and three touchdowns as the Chiefs snapped a five-game losing streak dating back to December 22 of last season.
New England are 27th in the NFL this season in terms of total offense with a meager 301.3 average.
You can read a complete preview of the game here.
Create a betting account now and cash in on all the NFL games in Week 4.
[sc:NFL490Banner ]
3,154 total views, 1 views today
Comments
comments