After both Dallas and New Orleans scored character wins in Week 3, it will be an important litmus test for both teams on Sunday Night Football in Week 4. The Cowboys' victory was particularly emphatic, as Tony Romo led his team back from 21-point deficit, tying Dallas' all-time record for come-from-behind victories.
The Saints and Cowboys have both had their share of struggles this season, and this game could prove which team has a shot at the playoffs, and which is headed for an ugly 2014. Read on for more on this marquee game and don't miss our previews of Giants vs. Redskins and Bills vs. Texans.
[sc:Football ]
New Orleans Saints vs. Dallas Cowboys Betting Preview and Prediction
Where: AT&T Stadium, Arlington
When: Sunday, September 28, 8:30PM ET
Line: New Orleans Saints (-3) at Dallas Cowboys (+3); total: 53.5 – view all NFL lines
Betting on the New Orleans Saints
The New Orleans Saints played the Minnesota Vikings just in time. After making far too many errors in their opening season road losses to the Atlanta Falcons and Cleveland Browns, the Saints returned home to the Superdome and picked up where they left off, winning their franchise-record ninth-straight home game dating back to 2013.
Drew Brees threw for 293 yards on 27-for-35 passing and two touchdowns, and recorded and 120.3 rating against the Vikings, who are now 1-2. The Saints had 396 total yards of offense but were held to just 20 points, as a stout Vikings defense held New Orleans to just six points after the first quarter.
Perhaps the most positive news for the Saints was the way their defense played against Minnesota. After allowing an average of 892 yards and 63 points in their first two contests, defensive coordinator Rob Ryan's unit held the Vikings to 247 total yards and three field goals on Sunday.
Still, the Vikings were never going to have much offensive spark in Week 3, after the scandal around Adrian Peterson's domestic violence case stole headlines and focus from the team throughout the week. And while the Saints did hold the Vikings' rag tag running game to 2.7 yards a game, they will be up against a whole different animal in DeMarco Murray and a potent Cowboys ground game. They will need to build on this performance to hold the Cowboys down in Week 4.
[sc:NFL240banner ]Speaking of running backs, second-year back Khiry Robinson and veteran Pierre Thomas look more than capable of filling in for the injured Mark Ingram, having combined for 3.8 yards per carry and 99 yards total against Minnesota.
Still, the Saints will miss Ingram, who was averaging a ridiculous 6.0 yards per carry and cashed three touchdowns in less than two full games. He will not be back against the Cowboys but may return in the relatively near future after undergoing surgery to have two screws put into his injured hand.
With the running game not at its best, this could easily come down to a shootout with Brees throwing at what is a very questionable Cowboys' secondary.
The Saints are 1-2 ATS this season.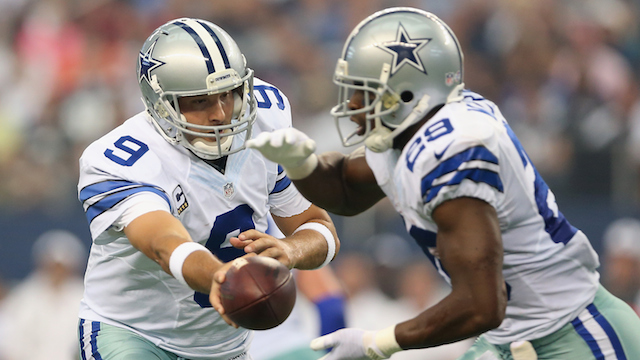 Betting on the Dallas Cowboys
The Cowboys' Week 3 was defined by the play of their secondary, for better or worse. Though they allowed rookie quarterback Austin Davis to through for 327 yards on 30-for-42 passing, they came up with the key plays when they needed them, most importantly Morris Claiborne's key interception with 1:02 to go in the fourth quarter with the St. Louis Rams marching towards a tying field goal. The pick sealed the 'Boys' huge 34-31 comeback win.
So, after looking poor in their season-opening 28-17 loss to the 49ers, the Cowboys have responded with back-to-back wins to take them to a respectable 2-1 record and second place in the NFC East. Still, with wins against the Titans and Rams, who are a 2-4 through three weeks, there is a lot left to prove for the Cowboys, who will look to make a statement against the Saints.
For starters, the Cowboys need to continue to improve on defense. Aside from their late-game heroics, the Dallas defense allowed a whole lot of yards to a rookie quarterback and an average rushing offense. Drew Brees and Jimmy Graham will not be so forgiving.
Even if the defense keeps it close, America's team will need to drastically reduce their turnovers on offense. Tony Romo has thrown as many interceptions as he has touchdowns this season (four each), and you can expect the Saints to cover superstar wideout Dez Bryant a little better than the Rams did.
DeMarco Murray has also struggled with turnovers. Though he has run for 100 yards or more in all three games this season, he has also fumbled the ball once in each game.
The most consistent man on the field for the Cowboys thus far has been kicker Dan Bailey, who nailed his franchise-record 28th-straight field goal in the third quarter.
Dallas is 2-1 ATS this season.
Writer's Prediction
With both teams fielding Swiss cheese defenses and turnover-prone offenses, this game should be wild. Create a betting account now and take the over (53.5) and put your feet up for what should be a fun game on Sunday Night.
[sc:NFL490Banner ]
2,705 total views, 1 views today
Comments
comments