The Tennessee Titans and Indianapolis Colts, while tied at 1-2, are seemingly headed in completely different directions. The Titans have dropped two-straight after their loss to the Cincinnati Bengals on Sunday, while the Colts rebounded from a disappointing 0-2 start to record their first win of the season.
Read on for everything you'll need to know for this upcoming divisional clash, and for more Week 4 previews check out our previews for Saints vs. Cowboys and Chiefs vs. Patriots. It's going to be another explosive game you wouldn't want to miss.
[sc:Football ]
Tennessee Titans vs. Indianapolis Colts Preview
Where: Lucas Oil Stadium, Indianapolis
When: Sunday, September 28, 1:00 PM ET
Line: Tennessee Titans (+7) at Indianapolis Colts (-7); total 45.5 – view all NFL lines
Betting on the Tennessee Titans
Lack of focus and a number of key mistakes led to the Titans' 33-7 blowout loss to the Cincinnati Bengals on Sunday. Just hours after learning of former teammate Rob Bironas' death in a car accident, the Tennessee Titans hardly looked like a cohesive team.
[sc:NFL240banner ]The news seems to have negatively affected the Titans' play. Cornerback Blidi Wreh-Wilson missed on a key opportunity to intercept a pass headed for Bengals quarterback Andy Dalton, while kicker Ryan Succop missed two relatively makeable field goal attempts in the first half. The Titans also committed a safety for holding on a punt in the end zone, and Jake Locker threw only 17-for-34 for 185 yards and two picks while being sacked twice.
The Titans did score on Shonn Green's one-yard run to end the game, but it was too little, too late.
However, expect the Titans to have a much better offensive show against the Colts next Sunday as they won't be hindered by one of the best defenses in the league. The Colts allowed 685 total yards in back-to-back losses to Denver and Philadelphia.
With the Colts' defensive lapses in their secondary, Locker should be able to put up a performance much closer to his 266 yard, two touchdown performance against Kansas City. When Locker has had success this season, it's been on plays connecting with tight end Delanie Walker, who is averaging 13.8 yards per catch and already has two scores this season.
After Sunday's loss, the total has now gone under in the Titans' two road games this season. Tennessee is 1-4-1 ATS in their last six games dating back to last year.
Betting on the Indianapolis Colts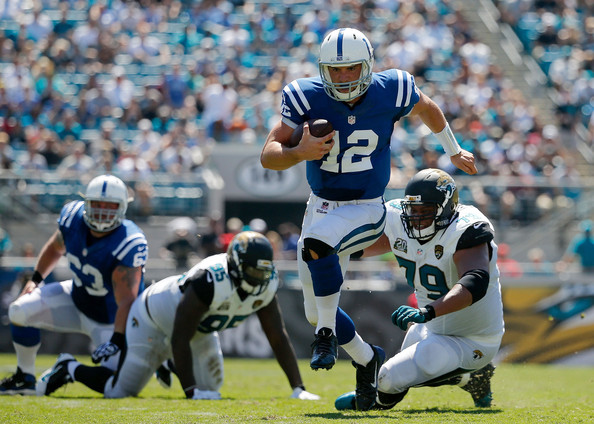 The Indianapolis Colts avoided a potential 0-3 start with a 44-17 rout of the Jacksonville Jaguars on Sunday. Their passing game was on full display as Andrew Luck completed 31-of-39 passes for 370 yards and four touchdowns.
Running back Ahmad Bradshaw, tight ends Dwayne Allen and Coby Fleener as well as wide receiver Hakeem Nicks were the recipients of Luck's four touchdown passes. Meanwhile, leading receiver Reggie Wayne and backup T.Y. Hilton showcased their playmaking abilities combining for an average of 15.8 yards per reception.
Despite all their success, the Colts were facing one of, if not the worst team in the league. Going against the Tennesse Titans' defense will be a completely different challenge.  The Titans have allowed an average of only 170 passing yards per game so far this season. Expect Luck to have a much harder time getting past Tennessee's secondary.
Still, a tight pass defense from the Titans may open up the running game for the Colts. Bradshaw has been excellent at moving the ball after averaging 7.2 yards per carry in his last game. Meanwhile, Luck also showed his scrambling ability, rushing for 15 yards on three attempts. Overall, the Colts possess enough weapons to consistently move the chains and score the points they need.
The Titans will be a welcome challenge for Luck and the Colts as they have won their last five meetings with the Titans both straight up and against the spread.
Writer's Prediction
Jake Locker surprises the Colts (-7) with a couple of early touchdowns. However, Andrew Luck does what he does best and stages a come-from-behind win. Create a betting account now and get yourself deep into all the football action.
[sc:NFL490Banner ]
2,099 total views, 1 views today
Comments
comments