Injuries to key players haven't slowed down the Kansas City Chiefs as much as expected, as they've looked every bit the playoff team they were a year ago in the last two weeks on the road. They return home to Arrowhead this week to host the New England Patriots, who didn't look anywhere near as impressive at home against the lowly Raiders in Week 3.
The New Orleans Saints will also be in search of a more impressive performance when they go on to the Big D to face the Cowboys. See our preview of that game here, and read on for more on this Monday Night showdown.
[sc:Football ]
New England Patriots vs. Kansas City Chiefs Betting Preview and Prediction
Where: Arrowhead Stadium, Kansas City
When: Monday, September 29, 2014, 8:30 PM ET
Line: New England Patriots (-3.5) at Kansas City Chiefs (+3.5); total 45.0 – view all NFL lines
Betting on the New England Patriots
Three weeks into the season and the bad Patriots performances have outweighed the good. In Week 1, they fell as 3.5-point favorites on the road to Miami. They recovered in Week 2 with a 30-7 victory against a Vikings team without Adrian Peterson in Minnesota. But then they failed to blow out the Oakland Raiders, one of the worst teams in the league, as 13.5-point favorites at home last Sunday.
[sc:NFL240banner ]The Patriots' defense did its part on Sunday, limiting its opponent to single-digit scoring for the second-straight week, but their offense just couldn't get anything going. Tom Brady and co. mustered only 16 points and 297 total yards of offense against the Raiders' subpar defense. Through three games, Brady's averaging just over 210 passing yards per game with three touchdowns in total, far below his career norms.
Julian Edelman has been his most reliable target with 22 catches for 260 yards thus far this season, but tight end Rob Gronkowski (11 catches, 116 yards in three games) has yet to return to full speed while Danny Amendola has gone consecutive games without even a single a catch. Brady's a good quarterback and all, but he'll need more than one dependable receiver to jumpstart an offense that has failed to impress thus far.
The Pats also failed to establish any sort of running game against a Raiders defense which had surrendered close to 400 yards rushing in its first two games, with questionable playcalling and poor offensive line play to blame for a paltry 2.4 yards per carry. If Brady can't turn a struggling passing attack around, the Pats will have to get going on the ground against a Chiefs defense that has already given up over 140 yards rushing to the Titans and Dolphins this season.
Create a betting account today and get in on all the great NFL action this season.
Betting on the Kansas City Chiefs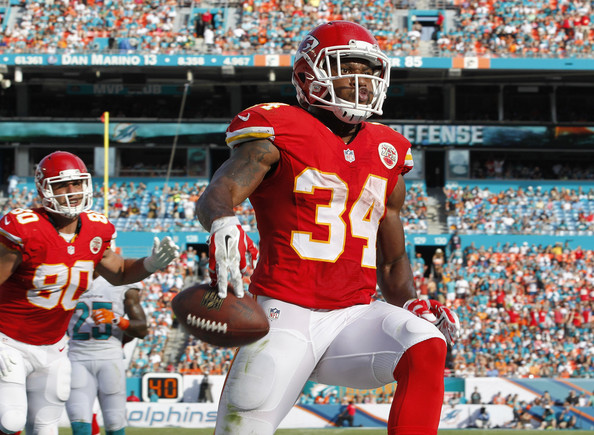 Even with no Jamaal Charles, the Kansas City Chiefs had no problems in Miami – where the Pats lost in Week 1 – as they destroyed the Dolphins, 34-15, on Sunday. This excellent performance came just one week after the Chiefs came into Denver as 13-point underdogs and were yards away from tying or even winning against the Broncos.
Back up running back Knile Davis exploded for 132 rushing yards and a touchdown against Miami, while seldom-used running back Joe McKnight caught a team-high six balls – two for touchdowns – as the two combined to more than make up Charles' abilities both on the ground and in the air.
Alex Smith had only 186 passing yards, but he was highly efficient in getting those yards. He completed 76 percent of his passes and threw for three touchdowns. The Chiefs have made great use of diversifying their passing attack with short, accurate throws to different receivers, which will come in handy in avoiding the Pats' much-improved secondary.
The Chiefs will have their trouble stopping the run all season long after season-ending injuries to two of their best run stoppers, Pro Bowl limebacker Derrick Johnson and tackle Mike DeVito, but they're still capable of getting at the quarterback and disrupting the passing game.
They sacked Ryan Tannehill four times and limited him to 21-for-43 passing for 205 yards. That pass rush will be counted on to put sufficient pressure on Brady and destabilize an already shaky Pats passing game.
Writer's Prediction
Smith and Davis pick the Pats defense apart, while Brady gets pressured into submission by the Chiefs pass rush, and the Chiefs (+3.5) upset the Pats at home.
[sc:NFL490Banner ]
2,690 total views, 1 views today
Comments
comments