The bottom feeders of the NFC East, both of whom have shown flashes of brilliance this season despite their respective 1-2 records, square off in a Thursday Night Football this week that could go a long way in showing us just how capable these teams are.
Can second-string Redskins quarterback Kirk Cousins continue to seize his opportunity and outplay the hot-and-cold Eli Manning? Can Rashad Jennings build on his career-best performance in Week 3? Read on for more on this big Week 4 matchup and don't miss our breakdown of another key tilt on the week's schedule: Cowboys vs. Saints.
[sc:Football ]
New York Giants vs. Washington Redskins Betting Preview and Prediction
Where: FedEx Field, Landover
When: Thursday, September 25, 2014, 8:25PM ET
Line: New York Giants (+3.5) at Washington Redskins (-3.5); total: 45.0 – view all NFL lines
Betting on the New York Giants
The Giants suddenly look like a team full of playmakers. After two games in which Rashad Jennings had just over 100 yards combined and Victor Cruz had just 84 to go with approximately one thousand dropped passes, the two exploded in Week 3 against the Houston Texans en route to a 30-17 win.
[sc:NFL240banner ]Jennings looked explosive in running for a career-best 176 yards and a score. Even so, Jennings will be hard pressed to come anywhere close to that total against the Redskins, who have allowed 64.7 yards per game to opposing ground games, and just 2.8 yards per carry.
Perhaps even more encouraging for the Giants, though, was the play of Victor Cruz. Their Pro Bowl receiver could not catch a ball to save his life/team in New York's opening two losses of the season, but then found his fingers in Week 3, catching five balls for 107 yards and a touchdown–his first since Week 4 of the 2013 season.
Cruz's play helped boost the stats of Manning, who has–as we discussed in our preview of their game against the Texans–turned his game around dramatically after a poor outing in Week 1. Peyton's little brother went 21-for-28 against Houston, and got through his first game without throwing an interception since November 24, 2013.
With their offense clicking, the defense took the opportunity to cover some receivers for the first time this season as well, picking off Ryan Fitzpatrick three times.
Against Washington, the Giants will need everything that Jason Pierre-Paul can offer them. The Redskins have put together the third-best passing offense in the league through three weeks, moving the ball 308.7 yards per game through the air with a combination of the now-injured Robert Griffin III and Kirk Cousins.
To help protect their shaky secondary, Pierre-Paul will need to get to Cousins. The pass rush specialist has 1.5 sacks per season and has been devastating when he's been at his best this year.
Create a betting account now to get set for this NFC East Thursday Night Football clash.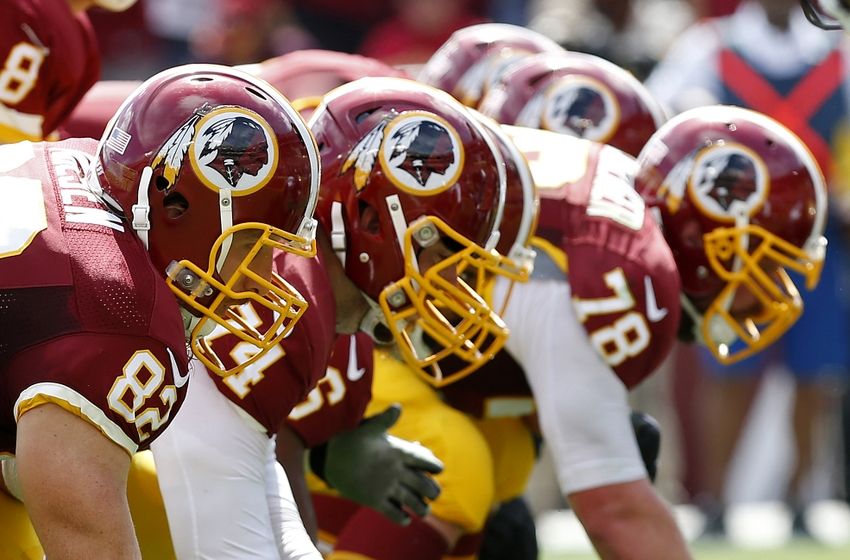 Betting on the Washington Redskins
Despite the best efforts of DeSean Jackson (five catches, 117 yards, TD), the Redskins fell to his former team in what was one of the best games of Week 3, 37-34.
If there was a silver lining to the loss for Washington, it was the excellent play of Kirk Cousins, who continues to help his team's fans forget the reality that RG3 may not be physically able to stay in the line up at any point in his career. Cousins threw 427 yards, three touchdowns and a pick against the Eagles, including an 81-yard bomb to Jackson.
If Cousins can play his game in Week 4, and continue to get the excellent pass protection he enjoyed against the Eagles, he should have options to choose from against the Giants' 11th-best pass defense. If Pierre-Paul does get in close, Cousins may be unphased: he went 7-for-7 with a touchdown against the blitz on Washington's opening possession last Sunday.
Meanwhile, the Redskins could have an answer for Jennings as they shut down perhaps the most dynamic runner in the league last week in LeSean McCoy (22 yards on 19 carries) which in turn should help keep their offense on the field by limiting the Giants' time of possession.
Still, this is a Redskins team that–while doing a number of things right–has still failed to make plays when they need to this season, and that's what has them sitting at 1-2. With the Giants beginning to find their game, the Redskins need to show they can finish when it counts.
Writer's prediction
The Redskins (-3.5) and Giants combine to turn the ball over eight times and it comes down to the final possession as the game dribbles under the total.
[sc:NFL490Banner ]
2,591 total views, 1 views today
Comments
comments