Two teams going on opposite directions meet up this coming Sunday as the streaking Houston Texans put their unbeaten record on the line against the still-winless New York Giants. Texans running back Arian Foster is back to his lethal best and he will look to inflict more misery on Eli Manning and the rest of the Giants who are all still trying to get a grip on their new West Coast offense.
Read on for a preview of this matchup and while you're at it, you can check out our preview of the Chicago Bears vs. New York Jets Monday Night Football game.
[sc:Football ]
Houston Texans vs. New York Giants Preview
When: Sunday, September 21, 1:00 PM ET
Where: MetLife Stadium, New Jersey
Line: Houston Texans (-2.5) at New York Giants (+2.5); total 42.0 – view all NFL lines
Betting on the Houston Texans
What a difference a year makes. After a horrible ending last season where they lost their last 14 games to finish with a 2-14 slate, the Houston Texans have started 2014 with a bang, winning their first two games to go top of the AFC South If they can win even one of their remaining 14 games, they'll have improved on last year's performance.
[sc:NFL240banner ]The Texans coasted to an easy 30-14 win over the Oakland Raiders in Week 2 as they became the first team since the Miami Dolphins in 1994-1999 to start five consecutive seasons 2-0.
Key to Houston's good start this season has been their stellar rushing attack so far led by the unstoppable Arian Foster. The 28-year-old running back has spearheaded this Houston renaissance, rushing for 241 yards and a touchdown on 55 carries as he looks to make up for lost time after he was sidelined with a back injury last season.
Foster is on pace to have 440 rushes this year. His 55 carries are the most he has attempted through two games in his entire career and head coach Bill O'Brien is not concerned one bit with that statistic.
"Most top-flight backs are like that," O'Brien said. "You have to get them into the rhythm of the game. In the National Football League it's very hard to run the ball. It's just a very difficult league to run the ball. I think that really applies, especially early in the game."
Foster's re-emergence has certainly made life easier for quarterback Ryan Fitzpatrick who has settled in quite quickly as the Houston Texans' new starting QB. He may not post eye-popping numbers like a Peyton Manning or a Drew Brees but he's been solid facilitating the Texans offense so far this year.
Through two games, he is only 33rd among starting quarterbacks in total passing yards with just a 172.5 average. What's startling, however, is that he is second among starting QBs in terms of passer rating with a 118.4 mark, next only to Peyton Manning.
He has three touchdown passes and no interceptions in his stint with the Texans so far this season and it will be interesting to see if he can sustain that form when he squares off with the Giants next Sunday. He has a great chance of doing so especially with the Giants being the third-worst team in the league in points allowed this season with opponents averaging 30.0 against them.
The Texans are 4-2 ATS in their last six away games dating back to October 20 of last season. Create a betting account now and cash in on the NFL games.
Betting on the New York Giants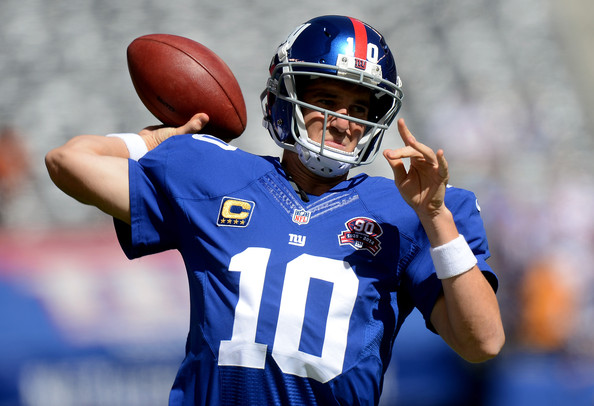 For the second consecutive season, the New York Giants find themselves in a 0-2 hole and just like last year, there seems to be no easy fix for this disjointed football squad.
The Giants only had to blame themselves once again in this game as they turned the ball over four times while their opponents had none. To make matters worse, they also committed nine penalties.
There were some positives however for the Giants to take into account ahead of their meeting with the Texans this coming Sunday. For the first time this season, quarterback Eli Manning looks like he's getting the hang of the new offensive system devised by offensive coordinator Ben McAdoo.
Against the Cardinals, Manning completed 26 of 39 passes for 277 yards and two touchdowns and had numerous other well-thrown passes dropped. Notably, he did continue his habit of throwing picks, adding a couple against Arizona.
On the defensive end, the Giants' pass rush was also productive, recording four sacks against Arizona. Obviously it is still not enough and for Eli Manning in particular, he knows that the buck stops with him if the Giants are to bounce back from this disastrous 0-2 start.
The Giants are fifth-worst in the league in scoring this season with an average of just 14 points per game. That output is simply not enough, especially for a team that at the start of the offseason was harping the benefits of the new West Coast offense.
Unfortunately, learning such an intricate system takes time and it will take a collective effort for all the Giants, not just Manning for them to get over the hump and record that first W. They will know how difficult it is to bounce back from a poor start with their experience last year of starting 0-6 still fresh from their minds so they will have to take their game against the Texans this coming Sunday with a must-win mentality.
The Giants will take heart in the fact that they have won their last two meetings with the Texans, the last one a 34-10 drubbing they inflicted back in October 2010. They are 4-3 SU in their last seven home games dating back to October 21 last season.
Writer's Prediction
The Giants (+2.5) record their first victory of the season.
[sc:NFL490Banner ]
2,165 total views, 2 views today
Comments
comments