Step aside NFL playoffs, the biggest football game that's going to happen this week is in Glendale, featuring No. 1 Clemson and No. 2 Alabama. But before we enjoy tonight's matchup between two heavyweight college programs, let's first take a look at some of the numbers Alabama and Clemson have produced thus far this season.
[sc:NCAAFArticles ]
Alabama Crimson Tide vs. Clemson Tigers Stats Breakdown
Offense
[sc:NCAA-CHMP250 ]Passing. In terms of athleticism, it's easy to pick DeShaun Watson as the better quarterback in this matchup. On the season, Watson has 1,032 rushing yards and 12 touchdowns, superior numbers from that of Jake Coker's.
In addition, Watson is the more efficient passing quarterback, as he's completed 68.2 percent of his passes, while Coker is not far behind with a 67.1% clip. Coker also enters tonight's game on the heels of a strong performance in the Cotton Bowl against Michigan State in which he dissected the Spartans' defense for 286 passing yards and two touchdowns on 25 of 30 completions.
Alabama is 24th in the nation with 214.3 passing yards per game. Clemson, on the other hand, averages a 23rd-ranked 288.5 passing yards per contest.
Rushing. Alabama has Derrick Henry. Enough said. The Crimson Tide running back compiled 2,061 rushing yards and 25 scores, second and first in the nation, respectively, this season, and is looking to smash through Clemson's defense. Clemson has a sturdy defense of its own, but the Tigers focusing too much on Henry might just open doors for Coker to explode once again. In any case, Henry's expected to be a high-volume rusher for Alabama's offense that averages 208.2 yards per game.
As great as Henry has been this season, Clemson's Wayne Gallman deserves some love, too. Gallman has rushed for at least 102 yards in the Tigers' past three games, including a 150-yard effort against Oklahoma in the Orange Bowl. If it weren't for Watson's legs, Gallman could've much better numbers than his 1,482 rushing yards  and 12 touchdowns this season. All told, the Tigers are 23rd in the nation with 222.2 rushing yards per game.
Defense
Passing. On paper, Clemson has the better pass defense, as it allows just 177.2 yards by air per game compared to Alabama's also great stop unit that allows an average of just 186.0. But with the way the experts are talking about it, it's relatively clear that the Crimson Tide has the better pass defense, largely because of their unforgiving front seven.
DeShaun Watson will be hounded all night long in Glendale by the likes of Jonathan Allen and Tim Williams, who've combined for 22.5 of Alabama's 50 sacks, the most in the FBS. Clemson does have a pretty pass rush unit, too, as the Tigers have 43 quarterback takedowns this campaign. Shaq Lawson tops the team with 10.5 sacks, while Kevin Dodd has 9.0.
As for the secondary, Clemson appears to have the slight edge even though Alabama has more interceptions this season than the Tigers, 18-16. Alabama's front seven is so speedy in bursting through opponents' offensive lines that opposing quarterbacks often throw bad passes for the Crimson Tide's secondary to eat. As for Clemson, its secondary is already great with or without a ton of help from the defensive line.  Clemson's secondary surrenders just 166.9 passing yards per game and has recorded all but two of the team's 18 total inteceptions.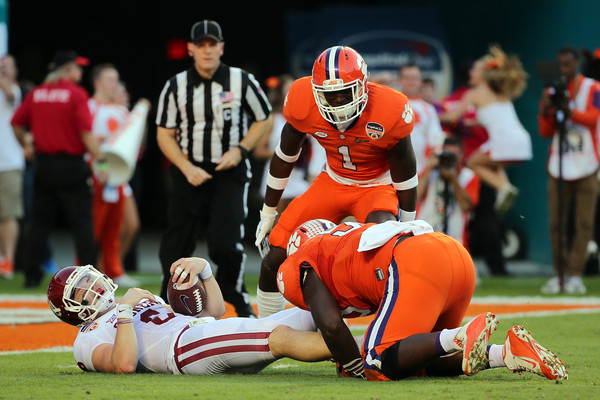 Rushing. Alabama doesn't just run well. The Crimson Tide also defend against the rush like hell. In fact, they are No. 1 in the nation with 70.8 rushing yards allowed per game. Of course, much of the credit goes to the team's massive front seven that played a big part in the team allowing just 49 yards over the past 10 quarters. Thus far this season, Alabama has let just six rushing touchdowns.
Linebackers Reggie Ragland and Reuben Foster stand out as Alabama's biggest weapons against the run, as the two have combined for 161 total tackles. Both will have their hands full against Clemson, which parades a dual-threat quarterback.
The Tigers, meanwhile, are 32nd in the nation with 128.8 rushing yards allowed per game. Among their most effective weapons against the run are Shaq Lawson (leads the nation with 23.5 tackles for loss) Kevin Dodd (18.5 tackles for loss and nine sacks), and B.J. Goodson (14.0 TFL and 5.5 sacks).
Others
| Alabama | Stats | Clemson |
| --- | --- | --- |
|  34.4 PPG | Scoring offense |  28.4 PPG |
|  13.4 PPG | Scoring defense |  20.0 PPG |
|  +9 | Turnover Margin | -1 |
|  36.22% | Third Down Conversions |  47.69% |
|  50.00% | Fourth Down Conversions |  57.14% |
Create a betting account now and  cash in on the final college football action of the season.
[sc:NCAA-CHMP620 ]
1,600 total views, 2 views today
Comments
comments