Four days of pure football madness should be more than enough to satiate NFL fans' longing for their favorite sport. And while we're still only taking about the preseason, who wouldn't want to know more about the status of their favorite team's outlook for the games that will actually matter?
Join us as we tackle one key matchup in each day of competition in Week 1 of the preseason set on August 13-16. We'll also be providing final score predictions for each game that's also slated on a particular game day.
And if you're in need of some more in-depth coverage for the other Week 1 preseason games, head on over to our previews for New England Patriots vs. Green Bay Packers and Carolina Panthers vs. Buffalo Bills.
[sc:Football ]
NFL Preseason Week 1 Preview and Predictions
Washington Redskins vs. Cleveland Browns
Where: FirstEnergy Stadium, Cleveland
When: Thursday, August 13, 8:00 PM ET
Line: Washington Redskins vs. Cleveland Browns – view all NFL lines
Two underachieving teams from last season will try to set the record straight with their respective predicaments at the quarterback position.
[sc:NFL240banner ]It's hard to tell whether or not the Cleveland Browns are downplaying their dilemma in having to pick between Josh McCown and Johnny Manziel as their starting quarterback by the start of the regular season. Both players should have about the same number of snaps in their first preseason game to gauge each other's progress from the offseason (especially for Manziel).
The Browns must also figure out what to do with their young running backs. Sophomores Isaiah Crowell and Terrance West did well in their respective rookie seasons last year by having almost identical stats in attempts and yards gained. But now, a third back in Duke Johnson enters the fray as Cleveland's third-round pick from this year's draft. It'll be interesting to see if head coach Mike Pettine will finally have a feature back, or if he'll continue with the running-back-by-committee using three relatively inexperienced rushers.
As for the Washington Redskins, both of Robert Griffin III's backups in Kirk Cousins and Colt McCoy are in contract years. With Griffin's penchant for injuries the past couple of years, either Cousins or McCoy could take over the fragile quarterback's starting job and net a bigger paycheck from another team next season. But if Griffin is indeed in tip-top shape and can show flashes of his outstanding rookie year once again, then his starting role will no longer be in jeopardy.
Speaking of RG3 and his fragile frame, Washington's front office did a solid job of getting tackle Brandon Scherff from Iowa with the fifth-overall pick from this year's draft. Having Scherff in the o-line should limit the jarring hits that Griffin has sustained from the past couple of years, and his impact will be seen first-hand in the upcoming preseason match against Cleveland.
Writer's Prediction
Cleveland wins, 13-7.
Predictions for the Other Week 1 Games on Thursday, August 13
New Orleans Saints 28, Baltimore Ravens 17
Detroit Lions 18, New York Jets 9
Green Bay Packers 31, New England Patriots 21 (insert link to our full preview article)
Chicago Bears 19, Miami Dolphins 10 (insert link to our full preview article)
Dallas Cowboys, San Diego Chargers (insert link and final score prediction from full preview article)
St. Louis Rams vs. Oakland Raiders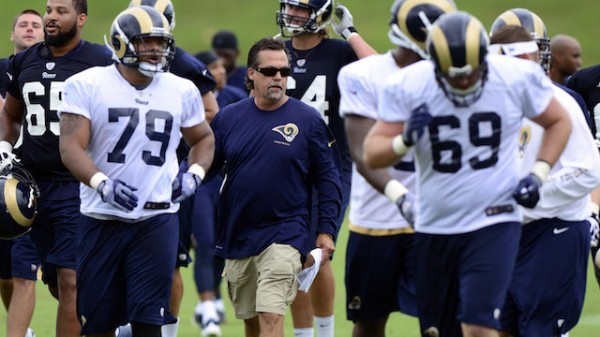 Where: O.co Coliseum, Oakland
When: Friday, August 14, 10:00 PM ET
Line: St. Louis Rams vs. Oakland Raiders – view all NFL lines
Two former Los Angeles-based clubs will square off on the second day of Week 1 this preseason in hopes of finally breaking their respective streaks of mediocrity.
Having Nick Foles as the St. Louis Rams' new starting quarterback won't be as promising as expected if the team's offensive line will not see any improvement. It will be an uphill battle for the Rams' offensive front; they are expected to have two rookies as starting linemen in Jamon Brown and Rob Havenstein.
To add to St. Louis' O-line woes, the team has not yet figured out who its starting center will be yet. Tim Barnes, Barrett Jones and Demetrius Rhaney all have an equal shot at the starting job at center, and their preseason efforts will determine who exactly will snap the ball to Foles come kickoff of the regular season.
The Oakland Raiders, meanwhile, should not lose track of having to develop their young core of talented players led by David Carr on offense and Khalil Mack on defense.
The Raiders' first preseason game against the Rams will be quarterback Carr's first true shot at playing alongside the fourth-overall pick from this year's draft in Amari Cooper. Carr and Cooper's chemistry will further develop when games will really be on the line this season, but we'll get a glimpse of what's to come from their pairing in just a few days' time.
Oakland's probable starters at the two defensive end positions are also of concern. Justin Tuck had a down season last year with the Raiders after being a solid pass rusher for the New York Giants since 2005. This is Tuck's contract year, so he'll definitely have to play harder or die trying.
On the opposite end of the defense's front four, Oakland's second-round pick Mario Edwards Jr.'s starting role is all but guaranteed. However, things may change during the preseason games, as a bevy of D-line backups in the likes of Benson Mayowa, C.J. Wilson and Max Valles lie in wait for the Florida State product to lay an egg.
Writer's Prediction
Oakland wins, 16-10.
Predictions for the Other Week 1 Games on Friday, August 14
Atlanta Falcons 24, Tennessee Titans 10
Buffalo Bills 24, Carolina Panthers 17 (insert link to our full preview article)
New York Giants 21, Cincinnati Bengals 20
Pittsburgh Steelers 17, Jacksonville Jaguars 7
Seattle Seahawks 19, Denver Broncos 17
Tampa Bay Buccaneers vs. Minnesota Vikings
Where: TCF Bank Stadium, Minneapolis
When: Saturday, August 15, 8:00 PM ET
Line: Tampa Bay Buccaneers vs. Minnesota Vikings – view all NFL lines
Barring any further off-field issues, Jameis Winston is poised to lead the Tampa Bay Buccaneers to a brighter tomorrow. The No. 1 overall pick from this year's draft had shown great work ethic and chemistry with receivers Mike Evans and Vincent Jackson in training camp, and now it's time to put his talents on display – albeit during a preseason game with nothing on the line just yet.
Winston will also be joined by a pair of second-round picks in what should be a better Tampa Bay offensive line, but the two hulks in the trenches will have to earn their starting spot this preseason. Donovan Smith of Penn State will have to fight for Kevin Pamphile's slot at right tackle, while Hobart's Ali Marpret will go up against Kadeem Edwards at right guard.
As for the Minnesota Vikings, the return of Adrian Peterson to their lineup is very much welcome. AP will look to maximize his time during the preseason to give his treads a tune-up before he and Teddy Bridgewater wreak havoc in the regular season.
On defense, rookie cornerback and 11th-overall pick Trae Waynes could be promoted to the starting lineup with Josh Robinson nursing an injury, but he'll need to have a good first impression in the game against the Bucs. Likewise, fellow rookie Eric Kendricks had and impressive minicamp for the Vikes himself, and his time at middle linebacker will be one thing to look out for this preseason.
Writer's Prediction
Minnesota wins, 13-6.
Predictions for the Other Week 1 Games on Saturday, August 15
Houston Texans 13, San Francisco 49ers 10
Arizona Cardinals 24, Kansas City Chiefs 15
Indianapolis Colts vs. Philadelphia Eagles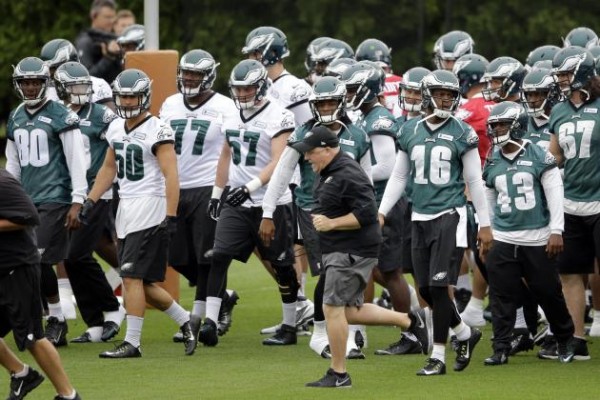 Where: Lincoln Financial Field, Philadelphia
When: Sunday, August 16, 1:00 PM ET
Line: Indianapolis Colts vs. Philadelphia Eagles – view all NFL lines
Only one game remains to be played come Sunday of the preseason's inaugural week, and it's a big one.
There's still a quarterback controversy that needs to be settled in Philly, as head coach Chip Kelly and the Philadelphia Eagles would attest. A lot hinges on Sam Bradford's recovery from injury and how much he's absorbed from Philadelphia's playbook since joining the team. Should Bradford falter in producing efficiently this preseason, or should he suffer more setbacks due to another injury, then the Eagles' starting quarterback from last year – Mark Sanchez – will take over the reins yet again.
Bradford will have a ton of options, but even those weapons need to be handpicked for starting duties. Brent Celek and Zach Ertz will duke it out for the starting tight end spot, while receivers Riley Cooper, Jordan Matthews, Nelson Agholor and Josh Huff will all be fighting for the rights to be on top of the receiving depth chart.
Not much can be said for any possible emerging talents for the Indianapolis Colts, as they mostly upgraded by way of signing key veterans like Andre Johnson and Frank Gore in the offseason. This means that first-round pick Phillip Dorsett is on the shorter end of the stick.
Dorsett has to work his way up the receiver depth chart against Johnson, T.Y. Hilton, Donte Moncief and Duron Carter if he wants to prove that he's worth every bit of the first round pick that the Colts used to get him. Still, Dorsett's jets could get him a lot of buzz during the preseason as he's already penciled in as the team's kick and punt returner for the regular season.
Indy's defense is also one thing to look out for. The Colts didn't really do much to improve or update their defensive starters from last season, which has got to be worrisome. The spotlight, then, will be pointed at two defensive players that weren't in the Colts' starting lineup – defensive end Kendall Langford and safety Dwight Lowery. Both of their outputs as early as this preseason will serve as the barometer for the Colts' questionable decision to not go for more improvements in their defense.
Writer's Prediction
Philadelphia wins, 24-21.
Create a betting account now to start wagering on all of the NFL's preseason action.
[sc:NFL490Banner ]
2,137 total views, 1 views today
Comments
comments