For the first time since 2005, the New England Patriots and the Green Bay Packers are going to meet in a preseason game. The Packers are coming off a heartbreaking loss in last season's NFC title game at the hands of the Seattle Seahawks, and they'll make their first step towards redemption with this matchup. As for the Pats, the defending champions look to shake off that Super Bowl hangover when they eye a win at Foxborough.
In another NFL Week 1 preseason matchup, the Panthers will go up against the Bills, who now are under new head coach Rex Ryan.
[sc:Football ]
Green Bay Packers vs. New England Patriots Betting Preview and Prediction
Where: Gillette Stadium, Foxborough
When: Thursday, August 13, 7:30 PM ET
Line: Green Bay Packers vs. New England Patriots – see all NFL lines
Why This Game Matters
[sc:NFL240banner ]It's not the Super Bowl (although it might be this February). It's not even a regular season game. But it's always interesting to see a game pitting the Packers and the Patriots against each other. That being said, this matchup is more than just a glorified tune-up game.
For the Packers, this will be the first time the public will see rookies like Jake Ryan and former UCLA star Brett Hundley wearing Packers colors. The Patriots, meanwhile, will use this game as part of their preparation for life without Tom Brady, albeit temporarily.
Betting on the Green Bay Packers
Nope. You're not going to see Aaron Rodgers sling the pigskin for many minutes in this game. For now, expect the Packers to give lots of playing time to a slew of backups, rookies, and other players hoping to make the team's final cut. That should include the other quarterbacks, namely Scott Tolzien and rookie Brett Hundley.
With Matt Flynn gone, the Packers are now left with Tolzien and Hundley sharing the backup role. Tolzien, however, is considered next to Rodgers in the QB pecking order this coming season because of his experience.
Still, it's intriguing to see how Hundley will fare in his first crack at a legit NFL football contest. Hundley has scouts raving about his athleticism but his quarterback skills leave much to be desired. The Packers could certainly use preseason games like the one against the Pats to help sharpen Hundley's game. Hundley offers the Packers intriguing possibilities on offense given his ability as a dual-threat quarterback.
In three seasons at UCLA, Hundley racked up 9,968 passing yards and 75 passing touchdowns. He also totaled 1,747 rushing yards and 30 rushing scores throughout his stay at Pasadena.
Another rookie to watch out for is Jake Ryan out of Michigan. Selected in the fourth round of the 2015 NFL draft, Ryan is expected to provide a solution to the inside linebacker issues of Green Bay. With Ryan in tow, Clay Matthews may finally focus full time on being an outside linebacker. As for the pair of Damarious Randall and Quinten Rollins, they will have to prove that general manager Ted Thompson was right in using the Packers' first two picks on secondary pieces.
The Packers pass defense ranked 10th last season in the NFL with 226.4 passing yards allowed per game, but the losses of Tramon Williams and Davon House puts a damper on Green Bay's secondary unit.
The Packers are 2-0 ATS in their last two road games.
Create a betting account now and cash in on all the NFL preseason action.
Betting on the New England Patriots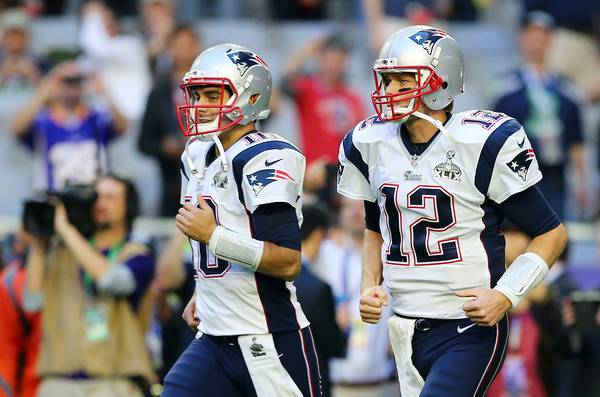 Regardless of the outcome of Tom Brady's appeal for his four-game suspension, chances are you're not going to see much of him against Green Bay. Instead, look for Jimmy Garoppolo and former Packers backup Matt Flynn to eat up minutes in the team's preseason Week 1 clash with New England.
Garoppolo is rumored to be the Pats' choice to be their stopgap solution at quarterback  while waiting for Brady's return. That seems to be the right idea for the Pats even though Garoppolo clearly lacks experience.
In 2014, his first season in the league, Garoppolo compiled only 182 passing yards and a touchdown while completing 19 of his 27 attempts. Bill Belichick's final decision of whether to hand the temporary starting gig to Garoppolo or Flynn, however, should become clearer after each preseason game, including the one against Green Bay. As for Flynn, the 10-year veteran passed for just 66 yards with zero touchdowns across seven games played for the Packers last season.
On defense, the Patriots are eager to test their new look secondary group that lost Darrelle Revis and Brandon Browner in the offseason. The loss of Revis alone leaves a big gaping hole for the guys left in the Pats' secondary to fill in. The Pats signed the likes of cornerbacks Bradley Fletcher and Robert McClain in the offseason but New England is still far away from eliciting fear from opposing teams. This preseason game opposite the Packers should help the Pats assess where their pass defense is currently at in terms of effectiveness.
New England is 5-2 in its last seven home games overall.
Writer's Prediction
Green Bay wins, 31-21.
[sc:NFL490Banner ]
2,640 total views, 1 views today
Comments
comments