The Carolina Panthers have won the NFC South over the past two seasons but Cam Newton and company should not be pleased with last season's sub-.500 campaign. The Panthers will begin their road g deto a third-straight NFC South title in preseason when they travel to Buffalo for a matchup with the Bills.
In another NFL Week 1 preseason matchup, the Packers will go up against the defending champions, Patriots. Click here for the preview.
[sc:Football ]
Carolina Panthers vs. Buffalo Bills Betting Preview and Prediction
Where: Ralph Wilson Stadium, Orchard Park
When: Friday, August 14, 7:00 PM ET
Line: Carolina Panthers vs. Buffalo Bills – see all NFL lines
Why This Game Matters
[sc:NFL240banner ]The Carolina Panthers are going to go as far as Cam Newton takes them. That's why they will have to find a fix to their faulty offensive line or else end up risking their quarterback's limbs again. A matchup with the Buffalo Bills is one way for the Panthers to know if they're capable enough to protect their franchise player this coming season.
As for the Bills, the reign of Rex Ryan has clearly engulfed Buffalo. Along with former San Francisco 49ers offensive coordinator Greg Roman, it's fair to assume that change is on the way for the Bills.
Betting on the Carolina Panthers
Does Carolina have what it takes to protect Cam Newton this coming season? That's the most persistent question swirling around the Panthers' camp this offseason, largely fueled by a rickety offensive line last year that saw opponents get to Carolina's quarterbacks for 2.6 sacks per game.
This glaring weakness in Carolina's game is something the team hopes to address—at least partially—when the Panthers begin their preseason campaign. And there's no better opponent for the Panthers to test their O-line than Buffalo, owner of the most unforgiving front seven last season.
In 2014, the Bills racked up 54 sacks, the most in the NFL that year. After the health troubles of Cam Newton last season, wherein he missed a game for the first time in his career, the Panthers are definitely pressed to improve the way they protect their franchise quarterback.
Another point of interest for the Panthers in the Buffalo game is the play of their rookies, Shaq Thompson and Devin Funchess in particular.
Thompson has a chip on his shoulder this coming season with several analysts saying they're uncertain whether the former Washington Huskies hybrid would excel at whichever position he'll eventually fill in as a pro. In college, Thompson played linebacker, safety, and even running back.
Devin Funchess, meanwhile, is in the same predicament as Thompson in terms of role uncertainty. Some say he's not fast enough to be a receiver and lacks the size to be a tight end. Hopefully for the Panthers, their preseason games will help them sort out these issues before September.
Carolina is 2-0-1 ATS in its last three road games.
Create a betting account now and cash in on all the NFL preseason action.
Betting on the Buffalo Bills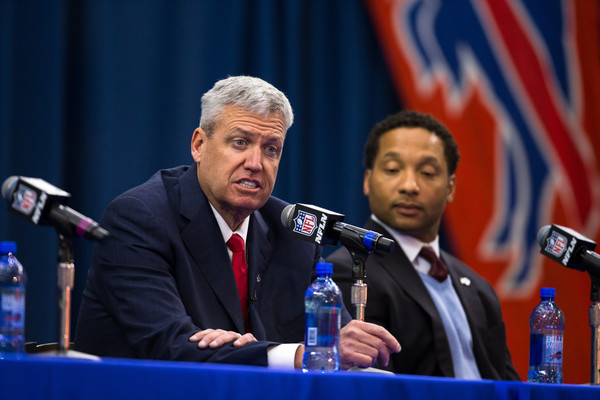 The Bills had quite a share of the limelight this offseason. They signed new coach Rex Ryan to a five-year deal and got their backfield a shot in the arm with the acquisition of LeSean McCoy via a trade with the Eagles.
Ryan is a defensive-minded coach, making his partnership with a Buffalo team that finished fourth in the NFL in total defense last season look like a match made in football heaven. However, expect Ryan to put more focus on their offense during the preseason. After all, the Bills' offense was far from spectacular in 2014, finishing 18th in passing yards (225.9 yards per game) and 25th in rushing yards (92.6).
With McCoy now suiting up for the Bills, one of the team's priorities is to open up spaces for the backfield. Having rookie right guard John Miller in the fold should help the Bills' power-running game Greg Roman has installed to run as smoothly as possible. Miller will have a chance to strut his wares as early as Week 1 of the preseason.
Still in the O-line, look for Richie Incognito to make an appearance against Carolina. Incognito hasn't seen action in a year but preseason games should shed some of the rust he's accumulated after a lengthy absence.
Buffalo is 3-0 SU and ATS in its last three home games.
Writer's Prediction
Buffalo wins, 24-17.
[sc:NFL490Banner ]
2,067 total views, 1 views today
Comments
comments