As the Detroit Red Wings saw their four-game winning streak come to an end on Monday, the Arizona Coyotes now have a four-game run of their own after getting an overtime victory on Tuesday.
[sc:NHL250 ]Will the Coyotes extended their own winning stretch to five games, or will the Red Wings notch another road win over in the West Coast? Let's take a look at this stunning Thursday night matchup below.
Afterwards, be on top of the other exciting hockey action slated that same day with our previews for Rangers vs. Islanders and Blackhawks vs. Canadiens.
[sc:NHLArticles ]
Detroit Red Wings vs. Arizona Coyotes Preview
Where: Gila River Arena, Glendale
When: Thursday, January 14, 9:00 PM ET
Line: Detroit Red Wings (-115) at Arizona Coyotes (-105); total: 5.0 – view all NHL lines
Betting on the Detroit Red Wings (22-14-7, 51 pts)
The Detroit Red Wings saw their four-game win streak come to an end at the hands of the Los Angeles Kings, 4-2, on Monday. It was the fifth entry of Detroit's six-game road swing, which ends with this Thursday's trip to Arizona.
[sc:NHL240 ]Poor goaltending came to be Red Wings' undoing in the loss. Jimmy Howard started Thursday's contest and bagged 27 saves, but he did still give up four goals to the Kings and extended his winless skid to six starts. Making matters worse, Howard has not won a game away from home since November 21 of last year.
If Detroit wishes to escape this rather brutal six-game road trip with another 'W' in Glendale this Thursday, the team might be better off with Petr Mrazek guarding the net instead of Howard. Mrazek has won all four games he's started during this current road trip, even allowing just one goal or none at all over the past three contests.
Apart from solid net-minding coming from either of their goalies, the Red Wings also need another offensive spark apart from rookie standout Dylan Larkin, who failed to find the back of the net against Los Angeles.
Fellow center Gustav Nyquist saw his goal-less drought increase to ten games now, and even star winger Henrik Zetterberg only has two points in five games this January. As it stands, Detroit just ranks 21st in the league in goals per game, averaging just 2.5 goals per contest.
Furthermore, the Red Wings may be 4-1 in the midst of their their six-game road trip right now, but they're just 5-5 over the past ten road games overall and just 2-5-3 against the spread.
Create a betting account now to get in on all the fast-paced action from the NHL.
Betting on the Arizona Coyotes (22-16-4, 48 pts)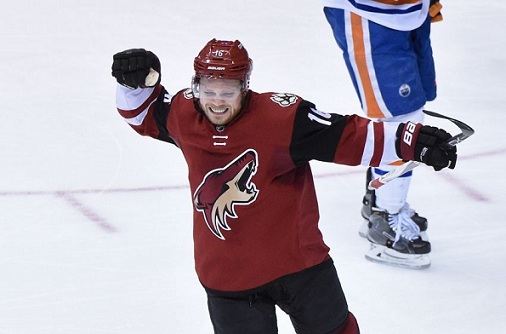 After a 4-3 overtime victory over the Edmonton Oilers on Tuesday, the Arizona Coyotes now have a four-game winning streak going to make things a little bit more interesting out in the middling Pacific division.
Center Max Domi, son of notorious NHL-fisticuffer Tie Domi, provided a three-hit combo of his own by way of a hat-trick against the hapless Oilers to put an end to his personal 10-game goal-less skid. And with that three-goal performance, Arizona now leads the league in hat-tricks with five for the season, and is now the fifth-best team in scoring with 2.9 goals per contest.
While Domi's barrage is indeed quite a delight on its own, the Coyotes would not have won Tuesday's match if it wasn't for defenseman Oliver Ekman-Larsson's game-clinching goal with just nine seconds left in the extra period. Not only did Ekman-Larsson bag the win for his team, but he also assisted on all three of Domi's goals earlier in the game.
Arizona also saw goalie Louis Domingue make 25 saves for his fourth-consecutive win in spite of giving up three goals to lowly Edmonton. In addition, Domingue now has a remarkable record of 7-0-2 as the team's starter this season.
In the end, though, it has always been the Coyotes' potent offense that has kept them alive in games, especially down the stretch. Domi scored two of his three goals in the final frame of the win over the Oilers to tie the contest, and to also give his team at least one goal in the third period over the past 10 games.
Throw in the fact that the total has gone over in four of the past five Coyotes' home games, and we can pretty much conclude that Thursday's match with the Red Wings will at least go over the total that was set at 5.0.
Writer's Prediction
Makes that five-straight wins for Arizona, 4-2.
[sc:NHL620 ]
1,754 total views, 1 views today
Comments
comments