An 8-8 season was unacceptable by Pittsburgh Steelers standards. Fans and experts are quick to ask questions and express concerns—and rightly so. Can the Steelers bounce back for the 2013 NFL season?
5 Burning Questions for the Pittsburgh Steelers 2013 Season:
| | | |
| --- | --- | --- |
| | Expert A | Expert B |
| Can the Steelers Have Another Season of Great Defense? | The Steelers showed everyone how to stop foes on air and on ground with a league leading passing defense (185.2/game) and second-best rushing defense (90.6). But much of the worry this season comes from the pass rush where the team has been pedestrian. It mostly depends whether Pittsburgh's rookie Jarvis Jones and Jason Worilds can compensate for James Harrison's departure. | For one, Troy Polamalu is back. And if we're going to believe what the long-locked safety claims, then there is reason to believe that they're going to get better defensively. Drafting Jarvis Jones in the first round patched a hole in their defense left by James Harrison, and a determined (and disciplined) LaMarr Woodley could spell a lot of body aches for opposing quarterbacks. |
| Can Pittsburgh's Key Players Avoid Injuries? | A season-ending injury to Ben Roethlisberger or something that requires a number of weeks to heal can instantly define the Steelers' fate this season. An injury to Heath Miller late in the 2012 season was a gut shot for the Steelers. He's even projected to miss all of September. | Injuries could bother them all season long. Guys like Steelers quarterback Roethlisberger and Troy Polamalu can say how fit they feel this season all they want, but I don't feel confident about it ntil I've seen them play a few games. Not with a questionable pass rush—plus the age factor of Polamalu. |
| What Will Heath Miller's Continued Absence Mean For the Steelers? | As great a player as was Miller last season, he will not be there to catch Ben Roethlisberger's passes at all in September. Other than Mike Wallace, he's the only Steeler who has at least eight touchdowns. But guess what? Wallace is gone. And had it not been for Miller's injury, Pittsburgh could have been more confident in putting more of the offensive burden on him rather than on the untested David Paulson. | Miller was playing beautiful music with Ben Roethlisberger under the offensive tutelage of Todd Haley; Miller registered 71 catches for 816 yards and eight touchdowns last season. However, there are rumors that Big Ben and Haley aren't seeing each other eye-to-eye and were even named as the "most combustible" relationship in the NFL. With Miller's absence, Roethlisberger loses a reliable partner. It doesn't help having poor chemistry with offensive coordinator Haley. |
| Is Ben Roethlisberger Going To Produce Top-notch Numbers This Season? | It depends on the tools available to him. Questions are left and right for the Steelers both on offense and defense. The team has so many issues. At the end of it all is Roethlisberge,r who has to make do with an offense without Mike Wallace and Heath Miller. Add to that the Steelers suspicious pass rush defense. | The reported dissonance between him and offensive coordinator Todd Haley is not a good sign. But the biggest question is whether or not Big Ben is 100% healthy. |
| Who Will Catch Ben Roethlisberger's Passes? | What the Steelers have now are Antonio Brown and Emmanuel Sanders. Those are their two best receivers last season next to the Mike Wallace (signed to Miami Dolphins) and to the injured Heath Miller. | There's no doubt that the Steelers have a very shaky status when it comes to their receivers. Plaxico Burress could soothe even a little of Pittsburgh's trouble in that department but he suffered a torn rotator cuff even before the season began. The Steelers will have to rely on untried youngsters like tight end David Paulson, Markus Wheaton, and undrafted free agent J.D. Woods. |
[sc:Other490banner ]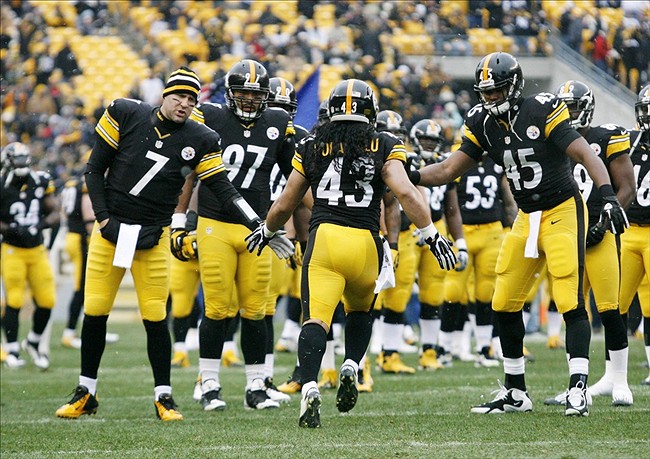 The questions concerning the Steelers in the 2013 NFL season can ultimately be answered once the season kicks off. As for now, you can take a peek into the team's future odds of winning the AFC North, the AFC, and the Super Bowl. Also, visit our sportsbook to see the latest odds and lines of Steelers games.
[sc:SteelersArticles ]
5,196 total views, 1 views today
Comments
comments