Coming into this preseason Week 2 tilt the Cleveland Browns' fierce quarterback battle looks set to boil over as rookie Johnny Manziel gets his feet wet and the veteran Hoyer uses his experience to lead the team. The team also made some noise after they signed highly-sought free agent running back Ben Tate, but it remains to be seen whether the RB will have more opportunities to get some live reps in this game or if he gives way for backup RBs.
For the preseason, records don't matter, so the Browns can play up to their potential with the absence of the added pressure of the regular season. They will have another chance to strut their stuff against a tough Washington side that demolished the New England Patriots 23-6.
Read on for the five storylines you'll need to be aware of when the Browns take to the field against the Redskins and be sure to catch our breakdown of the big questions around the league in Week 2.
[sc:Football ]
Five Key Storylines for the Cleveland Browns vs. Washington Redskins Week 2 NFL Preseason Game
1. Quarterback Battle Between Johnny Manziel and Brian Hoyer
QB Johnny Football impressed in his preseason debut against the Detroit Lions on Saturday, showcasing fancy footwork, as well as some sharp passing.
[sc:NFL240banner ]Manziel completed seven passes for 63 yards, one more pass than his competition for the starting job, Brian Hoyer. The rookie also led the Browns in rushing offense, running the ball for 27 yards on six carries to prove that he's a dual threat QB. Overall, Manziel showed poise and maturity directing Cleveland's offense while he played, something that can only add to his chances of starting in the regular season.
On the other hand, six-year veteran Hoyer seemed to be free of any post-injury rust as he passed for 92 yards against Detroit. Being a veteran, Hoyer has the advantage of experience in play-calling and reading the defense over Manziel. Hoyer is also more comfortable with offensive coordinator Kyle Shanahan's system.
Hoyer led the team to win three-straight games in 2013. However, his season ended early when he tore his ACL in Week Five against the Buffalo Bills. Hoyer finished the season with 615 passing yards, a 59.4% completion rate and five TDs in three games.
Nevertheless, despite both players having solid games, Manziel is rumored to start the game against Washington on Monday Night. A strong performance would put him in the driver's seat as the regular season draws closer.
2. Will Manziel Get a Taste of First-Team Offense?
Against Detroit, Johnny Football got his first taste of NFL action, but it was only with Cleveland's second-string offense, which didn't play to up to Manziel's level. He had incomplete passes to rookies Taylor Gabriel, Willie Snead and Jonathan Krause. The first-team offense will be pivotal in opening up Manziel's game.
The rookie QB fully has already shown his ability to work with top-tier talent. At Texas A&M, Manziel connected with 2013 Consensus All-American and All-SEC selection WR Mike Evans. With Evans catching his passes, Manziel completed 595 passes for 7,820 yards and 63 touchdowns over two years. Click here to read our breakdown of the five questions that will define Johnny Football in the 2014-2015 NFL Season.
3. Which Starters Will Play?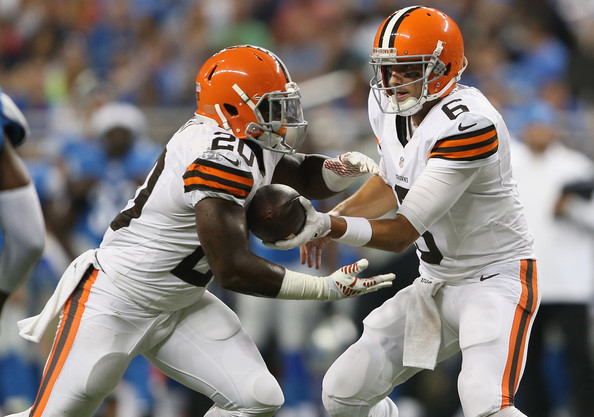 Browns fans will be hungry to see more of their much-hyped running back Ben Tate hit the field, and he or Terrance West are probable to start against Washington. Tate already had a taste of preseason action against Detroit with six carries for 25 yards. With five years of experience, he may not start against Washington to give way for the rookie, West, to get more reps as the number one RB against Washington.
Tight end Jordan Cameron had a minor shoulder injury which prevented him to play in the preseason opener. The four-year TE was back to training on Monday and will need to get some live reps soon against Washington to get him up to speed. Last season, Cameron caught 80 passes for 917 yards and seven touchdowns last season.
4. Improved Rushing Yards
The Cleveland Browns were a poor running team in 2013. They were only ranked 27th in the league with 86.5 rushing yards per game and had just 21.8 attempts per game, far below the league average of 27.09. The Browns made sure to fix this issue in the offseason with key draftees RB West and QB Manziel. However, the brunt of Cleveland's rushing offense will come from their prized acquisition RB Tate.
Tate had a solid 2013 season, finishing with 181 carries for 771 yards and four TDs as perhaps the best back up in the game. Over the course of three years, West had 802 rush attempts for 4,854 yards with 84 touchdowns capped off by setting the NCAA FCS records for Single Season Rushing Yards (2,509) and Single Season Rushing Touchdowns (41).
Tate, Manziel and West will give Cleveland's running game a new look this season.
5. Can Cleveland's Wide Receivers Remain Healthy?
Cleveland wide receivers Miles Austin, Andrew Hawkins, and Nate Burleson all have injury concerns. Meanwhile, expected top receiver Josh Gordon is facing a season-long suspension due to a failed drug test for marijuana use. Gordon's indefinite one-year suspension is coming on the heels of his third violation of the league's substance abuse policy.
Despite the suspension, Gordon played in the Browns' preseason opener against Detroit catching two passes for 32 yards. However, if the WR can win his legal proceedings and suit up for the Browns, then QBs Hoyer and Manziel will be ecstatic to have a reliable target. Gordon had 87 receptions for 1,646 yards and nine TDs in 2013.
How much these receivers play will go a long way in determining if the Browns can hang around in a division full of good-if-not-great teams.
There are three more weeks of preseason action to give you some betting practice for the regular season. Create a betting account now and cash in on the juicy craziness that is the NFL's exhibition round.
[sc:NFL490Banner ]
1,732 total views, 1 views today
Comments
comments