After a grueling 14-week regular season schedule, it all boils down to this. Only two teams remain in the ACC as defending champion Florida State and Georgia Tech lock horns in the championship match at Bank of America Stadium this coming Saturday.
All the pressure will definitely be on the Seminoles who know that a win will virtually assure them of a spot in the season-ending College Football Playoff. Grabbing that victory won't be that easy, though, as standing in their way is Georgia Tech who is fresh off an exhilarating six-point win over rivals Georgia to extend their winning streak to five games.
Can the Seminoles stretch their winning run to 29 games and keep their title hopes alive? Or will the Yellow Jackets put a damper on their plans? Read on for a preview of this important matchup and while you're at it, you can check out our preview of Arizona vs. Oregon here.
[sc:NCAAFArticles ]
Florida State Seminoles vs. Georgia Tech Yellow Jackets Betting Preview
Where: Bank of America Stadium, Charlotte
When: Saturday, December 6, 2014, 8:00 PM ET
Line: Florida State Seminoles (-3.5) vs. Georgia Tech Yellow Jackets (+3.5) – view all NCAA Football lines
Betting on the Florida State Seminoles
The Florida State Seminoles bucked yet another poor start as they extended their winning streak to an astonishing 28 games with a tough 24-19 over state rivals Florida Saturday night in Will Muschamp's final game as the Gators' head coach.
[sc:NCAA240banner ]This is the first time in their school history that they have completed consecutive undefeated regular seasons. They will now head to their ACC championship game with Georgia Tech with the knowledge that a win there will guarantee them a spot in the season-ending College Football Playoff.
Judging by how things have transpired this season, it definitely won't be a walk in the park for the Seminoles, especially with their best player struggling for form at the present time. Jameis Winston had his worst outing of the season against Florida, completing just 12 of 24 passes for 125 yards and two touchdowns with a career-high four interceptions, three of which came in the first quarter.
Fortunately for Florida State, its running game bailed them out as they racked up 181 yards on the ground against the Gators. They were led by Dalvin Cook who ran for a career-high 144 yards on 24 carries to breathe life into a sloppy offense that was held to only 306 total yards, its lowest of the season.
They can ill-afford to do that against a Georgia Tech team that is in the midst of a five-game winning run. The onus is on Winston, the reigning Heisman Trophy winner, to carry the Seminoles on his back once again. Winston, who is 15th among starting quarterbacks in passing with 3,125 yards, will need to take advantage of Georgia Tech's mediocre secondary which is only 59th in passing defense this season, allowing 223.3 YPG.
The most important task, however for coach Jumbo Fisher this week is how to prepare his side for Georgia Tech's tricky triple-option scheme. In order for the Seminoles to have some level of success on Saturday, they will need to stop quarterback Justin Thomas. The sophomore has been excellent this season for Georgia Tech, especially on the ground rushing for 861 yards and five touchdowns to lead all Yellow Jackets in that department.
Florida State's defensive line will need to do a much better job of pressuring Thomas this coming Saturday. The Seminoles have been woeful on the defensive end this season, allowing 379.2 total yards per game this season, 54th in the entire FBS.
Create a betting account now and cash in on these NCAA college football games.
Betting on the Georgia Tech Yellow Jackets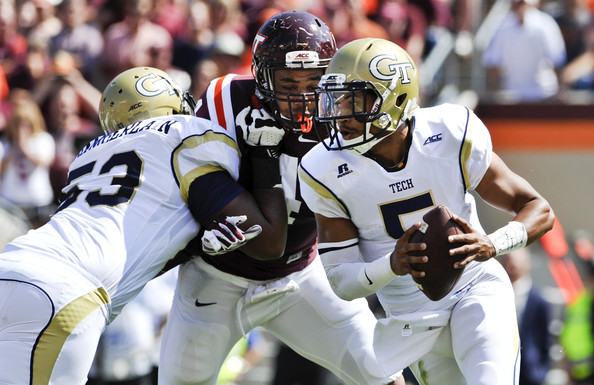 Georgia Tech will head into their ACC championship match with Florida State with all the momentum on their side following their thrilling 30-24 overtime win over state rivals Georgia on Saturday.
It was the Yellow Jackets' running game that proved to be the difference once again as they rushed for a total of 399 yards against the Bulldogs. Zach Laskey was the star of the show for Georgia Tech, rushing for 140 yards on 26 carries with three touchdowns including the game-winning two-yard score in overtime that gave the Yellow Jackets the precious victory.
That running attack is what makes Georgia Tech a tough proposition for Florida State heading into their ACC championship clash this coming Saturday. Paul Johnson's triple-option is a tough matchup for any team including the Seminoles who were almost upset 21-15 by the Yellow Jackets in the ACC title game back in 2012.
Incidentally, that was their last meeting and seeing that it gave Florida State fits, it's not hard to think that it will happen again this time around. Ball control and time of possession are the hallmarks of this offense and that was in total display Saturday against Georgia where they had control of the possession for a whopping 36 minutes and 23 seconds.
That will come in handy against a Florida State team that has a penchant of falling behind in their games this season. If the Yellow Jackets can get to an early lead, they can dictate the tempo of the match with their ground game which is fourth-best in the FBS with a 327.9 yard-per-game average. They will definitely have their chances against a Florida State team that is 45th nationally in rushing defense, allowing 148.8 YPG.
Another key for the Yellow Jackets is their play on third down. For a team that loves to bleed the clock to death, it is highly-important for them to convert on their third down opportunities. And this season, they have proven to be the best in the nation in that department converting 58.3 percent of their third-down chances. They will be licking their chops at the prospect of facing a Seminoles defense that is only 103rd in the FBS in third-down defense this season.
Writer's Prediction
Florida State (-3.5) wins a tight one, 27-24.
1,843 total views, 1 views today
Comments
comments