After losing Game 1, basketball fans anticipated a brutal retaliation from the Golden State Warriors in Game 2, and a resounding statement they did get this past Wednesday.
Not all hope is lost for the Oklahoma City Thunder, though, as the series shifts to the Sooner State for the next two meetings. The Thunder will be geared up to regain the series lead in front of their home crowd this Sunday night, but still have to be wary of another Golden State explosion.
Who will prevail with the crucial victory this weekend? Let's find out more about this blockbuster showdown below. For a closer look at another postseason clash this Sunday – this time from the NHL – check out our coverage of Game 5 between Tampa Bay and Pittsburgh right after this.
NBA News & Predictions
---
Golden State Warriors vs. Oklahoma City Thunder Game 3 Preview
Where: Chesapeake Energy Arena, Oklahoma City
When: Sunday, May 22, 8:00 PM ET
Line: Golden State Warriors (-3) at Oklahoma City Thunder (+3); total: 220.0 – view all NBA lines
TV Broadcast: TNT
---
Betting on the Golden State Warriors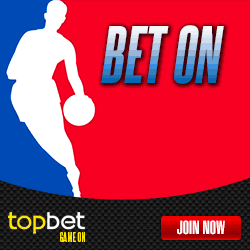 Golden State Warriors fans had to be worried about that Game 1 loss to the Oklahoma City Thunder on Monday, but the Dubs reassured everyone that they haven't lost a step at all in their dominant 118-91 Game 2 victory on Wednesday.
Not only was it a commanding blowout win for Golden State, but the team also improved its record this season to a perfect 12-0 in games following a loss. And as expected, two-time league MVP Stephen Curry led the way for his team with 29 points in Game 2 (5-of-8 from three-point range), with 17 of them coming in the third quarter alone and 15-straight in less than two minutes of play at one point during that same frame.
Fellow Splash Brother Klay Thompson scored just 15 points that evening, which snapped his personal streak of eight games with 20 or more points scored in a contest. Nevertheless, a well-rounded offensive attack by Golden State on Wednesday was all the more important in sealing the win, with seven Warriors scoring in double digits.
Perhaps the biggest surprise in Game 2's matchup was the Dubs' prowess on the boards. They out-rebounded the regular season's best rebounding team in the Thunder that night, 45-36, and another solid effort on the glass in Sunday's showdown will go a long way towards securing the series lead.
In addition, the Warriors have won six of their last eight games away from the Bay Area (just 4-4 ATS during that stretch, though), so you know they won't be easily fazed by the raucous OKC crowd this weekend.
Betting on the Oklahoma City Thunder
It will be constantly stressed from here on out that the Oklahoma City Thunder's best shot of upending the Warriors in this series is by simply outhustling them for loose balls.
The Thunder stole Game 1 from Golden State by way of their 52-44 rebounding advantage in the contest. And in February 27's regular-season meeting, the Thunder outright owned the boards, 76-41, only to fall to the Dubs after Curry's unbelievable 32-foot buzzer-beater for the win.
Kevin Durant had a solid evening in Game 2 with his 29 points, but only scored six points in the second half. His trusty running mate, Russell Westbrook, scored 16 points and dished out 12 assists, but only made five of his 14 shot attempts from the floor.
While they both have the means to catch fire at the same time, Durant and Westbrook will not always have efficient shooting nights, especially against Golden State's formidable defense. As such, big men Steven Adams, Enes Kanter and Serge Ibaka have to do their role in securing second-chance opportunities for their big guns. The three combined for just 20 boards in Game 2, the same number that Golden State's relatively-undersized trio of Draymond Green, Harrison Barnes and Andrew Bogut hauled in (which shouldn't be the case at all).
Furthermore, the Thunder have got to match the Warriors' attack from deep much better this Sunday night. They went just 7-of-23 from three-point range in Game 2's loss after going a superb 8-of-17 in the victory from Game 1.
Nevertheless, an 8-2 home record versus Golden State over their last 10 meetings (5-3-2 ATS) leaves room for optimism, even if those two losses came within their last three encounters.
Writer's Prediction
The Warriors (-3) eke out a tremendous road victory, 108-106.
Create a betting account now to win big from all the exciting action of the NBA Playoffs.

Comments
comments