Week 8's Sunday Night Football offering is simply perfect. The Green Bay Packers and Denver Broncos will both enter their primetime matchup at Mile High with undefeated records, but only one will leave 7-0.
The Packers have arguably the best quarterback in the NFL – Aaron Rodgers – in their corner, although he hasn't been at his best lately. Can he get the better of the in-decline Peyton Manning, who will have arguably the best, most dominating defense in the league on his side?
Read on as we break down this potential Super Bowl preview. And for more big-time matchups featuring Super Bowl contenders, check out our preivews of the Seahawks vs. Cowboys and Bengals vs. Steelers.
[sc:Football ]
Green Bay Packers vs. Denver Broncos Preview
Where: Sports Authority Field at Mile High, Denver
When: Sunday, November 1, 8:30 PM ET
Line: Green Bay Packers (-3) at Denver Broncos (+3); total 45.5 – view all NFL lines
TV Broadcast: NBC
Betting on the Green Bay Packers (6-0)
The Green Bay Packers got away with one. The Packers were pushed all the way by the San Diego Chargers at Lambeau Field in Week 6, but Aaron Rodgers and co. just about held on for the 27-20 win.
[sc:NFL240banner ]Rodgers was quite un-Aaron-Rodgers-like against San Diego as he went just 16-of-29 – 55 percent, his lowest completion percentage of the season – for 255 yards and two touchdowns. Meanwhile, the Packers defense gave up the most passing yards in a single-game so far in this season as Philip Rivers torched them for 503 yards and two touchdowns.
However, it's not quite time to worry about the Packers, and Rodgers in particular, just yet. Rodgers – the reigning NFL MVP – is still really good, and is arguably the best quarterback in the league today. He's currently second in the league in passer rating (115.9) and has a very nice 15:2 touchdown-to-interception ratio.
While Denver's defense has been phenomenal through six games, Derek Carr and Josh McCown still had a fair bit of success passing the ball and creating enough offense to stay within a score of Denver in recent games. If those two could do it, there's a pretty good chance Rodgers and the high-powered Packers offense can manage as well.
Meanwhile, despite giving up all that yardage against the Chargers, the Packers are still ranked No. 6 in defensive DVOA. The Packers pass rush, which is second in the league with 23.0 sacks this season, should be able to force a ton of pressure on Peyton Manning, who just hasn't received adequate protection from his offensive line.
The Packers are also tied for third in interceptions with eight, and will definitely have their chances to gain a few more possessions with how poorly Manning – the league leader in interceptions (10) – has been playing.
Create a betting account now and cash in on all the top NFL action this week.
Betting on the Denver Broncos (6-0)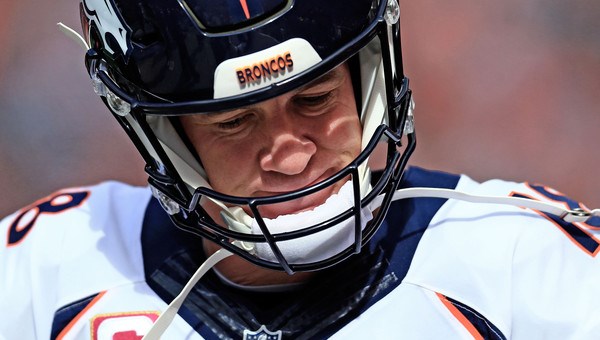 It's seven weeks into the season, and it's becoming less and less likely that the Peyton Manning of old will ever return.
The record five-time MVP has simply been a shell of his old self this season. He's completing just 61.6 percent of his passes and is on pace for just 19 touchdowns (both would be career lows). He's also on pace for 27 interceptions, which would be one shy of the career-high 28 he threw as a rookie.
Despite all those horrendous numbers, though, the Broncos are still a perfect 6-0 because their defense is just that great. The Denver D is currently the No. 1 overall defense via DVOA, and is No. 1 in pass defense by a huge margin. It's also tops in the NFL in sacks (26.0) and defensive touchdowns (three), and is No. 2 in interceptions (nine).
Aaron Rodgers has historically been immaculate at Lambeau Field, but has been merely mortal at times away from home. He was downright awful in last year's Week 15 loss on the road against the Bills and their dominant defense.
The Broncos are definitely on the level of that Bills D, and have the pass rushers in Von Miller and DeMarcus Ware, who's all set to return after missing their last game against the Browns with a back injury, to cause Rodgers all sorts of problems in the pocket.
Maybe a week's rest can do Manning some good. But if he continues to struggle, the Broncos will need more from their running game, which finally showed signs of life against Cleveland. Ronnie Hillman and C.J. Anderson combined for 152 yards on 33 carries.
The bye week should help consolidate the Broncos' disjointed O-line and give them a running threat against a Packers defense that is just 20th against the run via DVOA.
The Broncos are 15-1 (9-7 ATS) in their last 16 regular season home games. However, it'll be the first time the Broncos will be home underdogs in four seasons with Manning at quarterback.
Writer's Prediction
As great as Rodgers is, he's not the same quarterback outside Lambeau. The Denver defense should cause him a lot of problems, enough for the Broncos to beat the Packers at home.
[sc:NFL490Banner ]
2,733 total views, 1 views today
Comments
comments