Just when you thought the 2015-16 NCAA Football Season was run by the running backs, here come the best signal callers of the nation rallying for the Heisman Trophy. Gone are the likes of Ezekiel Elliott and Leonard Fournette from the top five after horrible performances in Week 12. In go quarterbacks Christian McCaffrey, Baker Mayfield and Keenan Reynolds as sleepers to win college football's most prestigious award.
Check out some of the best players of college football with our complete previews for Alabama vs. Auburn and Notre Dame vs. Stanford.
[sc:NCAAFArticles ]
Top Five Heisman Trophy Hopefuls
Derrick Henry, Running Back (Alabama)
[sc:NCAA240banner ]Derrick Henry has a great shot of ending the five-year streak of quarterbacks winning the Heisman Trophy. He's been the best running back in the nation this year rushing for a whopping 1,526 yards, averaging 6.1 yards per carry, with 21 touchdowns. He's scored at least two touchdowns in each of his last five games, rushing for 200-yard games in three of those outings.
Henry's the best running back in college football right now, and he's a -300 favorite to win the Heisman Trophy.
Deshaun Watson, Quarterback (Clemson)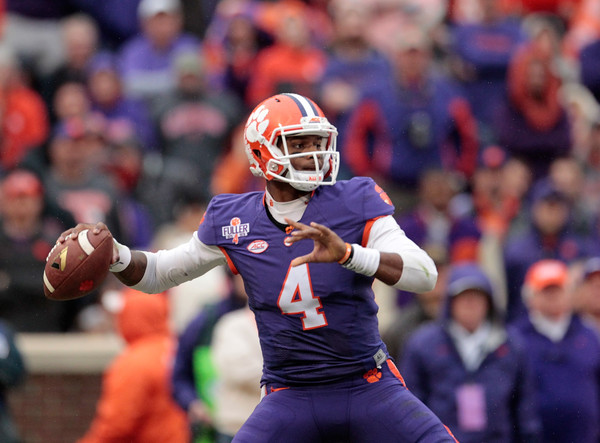 The Heisman Trophy has been a quarterback's award, and Deshaun Watson is by far the best signal caller to bet on to clinch it. Watson has thrown for 2,944 yards on a 70.1 percent completion rate this season with 26 touchdowns. He's also proven to be great at using his legs with 642 yards rushing and six scores. Watson also happens to lead the No. 1 team in the country, which should make him a frontrunner for the award.
Watson is a sweet price of +300 to win the Heisman Trophy.
Christian McCaffrey, Running Back (Stanford)
Setting a school record with 389 all-purpose yards gave Christian McCaffrey plenty of attention in the Heisman Trophy talks. McCaffrey ran for 192 yards on 29 carries, caught a 49-yard touchdown pass and had three kick returns for 148 yards and a score. That kind of explosive performance should get him plenty of attention, especially if he has an encore performance against No. 6 Notre Dame in the final week of the college football regular season.
McCaffrey is +1,000 to win the Heisman Trophy.
Baker Mayfield, Quarterback (Oklahoma)
Baker Mayfield is having quite a season as Oklahoma's starting quarterback. He's passed for 3,209 yards with 33 touchdowns and just five interceptions this year. But Mayfield's chances of winning the Heisman Trophy took quite a hit in the Week 12 game against TCU. He completed just 9 of 20 passes for 127 yards and two touchdowns before exiting the game due to a head injury.
If Mayfield shows no ill effects and leads Oklahoma to the College Football Playoff, then he may be a steal at +1,500 to win the Heisman Trophy.
Keenan Reynolds, Quarterback (Navy)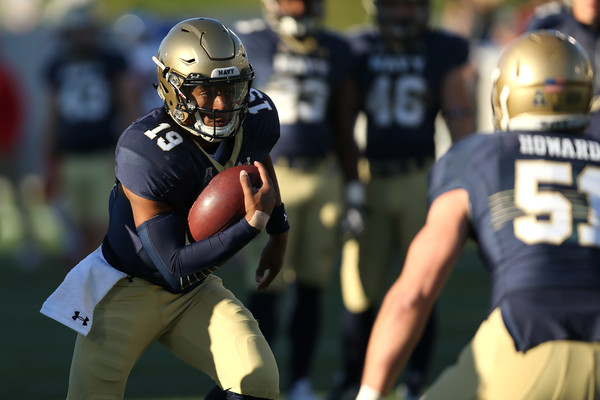 Uninspiring games from Ohio State's Ezekiel Elliott (33 yards rushing) and LSU's Leonard Fournette (third straight loss for the team) have put Navy quarterback Keenan Reynolds in the top five Heisman Trophy hopefuls. Reynolds has already broken the FBS record for most rushing touchdowns with 82 scores as one of Navy's best runners in its triple-option offense.
Reynolds is also 66 yards away from breaking Napoleon McCallum's school record for rushing yards in a career and two scores away from breaking former Wisconsin running back Montee Ball's FBS record of 83 total touchdowns. If there's a performance that could garner enough votes, it's record setting ones. Reynolds is +1,500 to win the Heisman Trophy.
Create a betting account now and put your bets in quickly as the Heisman Trophy ceremony inches closer.
[sc:NCAA490banner ]
Comments
comments