Oklahoma State came crashing back to earth on Saturday as it suffered a surprising 15-point defeat to the TCU Horned Frogs. The Cowboys will look to get their season back on track when they face the surging Iowa State Cyclones who are coming off a resounding victory over the West Virginia Mountaineers.
In this battle between seeded teams, who will grab the advantage? Read on below for a preview of this Big 12 showdown and while you're at it, you can check out our preview of the game between Louisville and Syracuse here.
[sc:MarchMadness ]
Iowa State Cyclones vs. Oklahoma State Cowboys NCAA Basketball Betting Preview
Where: Gallagher-Iba Arena, Stillwater
When: Wednesday, February 18, 9:00 PM ET
Line: Iowa State Cyclones (+2) at Oklahoma State Cowboys (-2) – view all NCAA Basketball lines
Betting on the Iowa State Cyclones
The Iowa State Cyclones returned to winning ways on Saturday with an emphatic 79-59 victory over then-No. 21 West Virginia in a one-sided Big 12 contest. It was a huge bounce-back performance for the Cyclones who were uncharacteristically flat in their previous defeat at the hands of No. 17 Oklahoma last Thursday.
[sc:NCAAB240banner ]Key to the Cyclones' huge win was their impressive play on the defensive end. After allowing Oklahoma to explode for 94 points in their previous outing, Iowa State ratcheted up its defensive intensity against West Virginia, limiting the Mountaineers to just 59 points, way below West Virginia's season average of 75.0 PPG.
Fred Hoiberg's men applied tremendous ball pressure all throughout the game as they forced West Virginia to commit a total of 19 turnovers. That clearly disrupted the Mountaineers' offensive flow as they were held to just 37.9 percent shooting (22-of-58) from the field.
The Cyclones were outstanding on the offensive end as well with five Iowa State players scoring in double-figures. Monte Morris scored 19 points, including back-to-back triples in the second half that put the outcome of the game beyond doubt.
Jameel McKay also impressed in his third consecutive start since replacing Bryce Dejean-Jones in the starting lineup, putting up 12 points, eight rebounds and five blocks against the Mountaineers. Dejean-Jones, on the other hand, looks to be adapting to his new role as well, scoring 10 points off the bench on a perfect 4-of-4 shooting from the field.
A main concern for the Cyclones, however, is the ongoing struggles of Georges Niang. The 6-8 forward is averaging just 9.0 PPG in Iowa State's last two outings, with Niang shooting a measly 36.8 percent.
It won't get any easier for Niang against Oklahoma State, as he has struggled mightily in his past appearances against the Cowboys. In fact, in their first encounter this season, Niang managed to score just 10 points on a paltry 25% shooting.
If that happens to be the case once again, the onus is on Dustin Hogue and Naz Long to pick up the scoring slack for Iowa State. The two of them combined for 24 points on 10-of-15 shooting to lead Iowa State to a thrilling 63-61 win over Oklahoma State in their first meeting this season.
Hogue and Long have been offensive stalwarts for Iowa State this season, averaging 10.7 PPG and 11.4 PPG, respectively.
The Cyclones are 5-5 ATS in their last 10 games on the road.
Create a betting account now and cash in on all the NCAA college basketball action.
Betting on the Oklahoma State Cowboys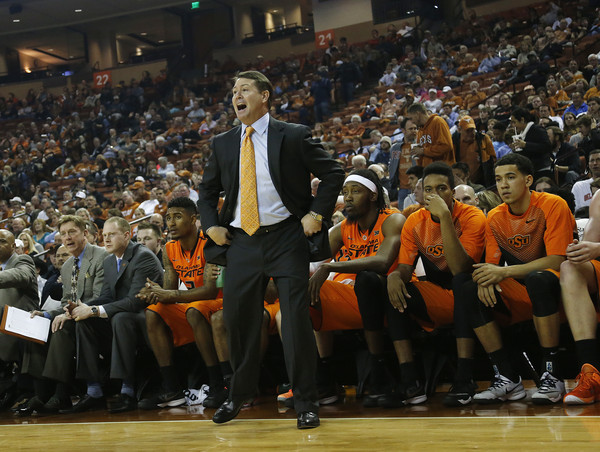 Oklahoma State had their three-game winning streak snapped Saturday night with a 70-55 upset loss to the TCU Horned Frogs. The defeat was a costly one for the Cowboys as they dropped down to fifth place in the Big 12 standings with a 7-6 slate.
Trailing by three with 4:52 remaining in the game, the Cowboys' shooting suddenly went cold as they were held scoreless for the next 3 ½ minutes. The Horned Frogs took full advantage, going on a 10-0 run to cruise to the victory.
What makes this defeat such a bitter pill to swallow for the Cowboys was that they were playing some excellent basketball prior to this loss. For the first time in their history, the Cowboys had won three consecutive games against Top 25 teams in the regular season. And with Oklahoma State unbeaten in its last eight trips to TCU, no one expected such a shocking loss and a heavy defeat at that.
What led to Oklahoma State's defeat Saturday was its  poor outside shooting. The Cowboys shot just 3-of-16 (18.8 %) from beyond the arc against the Horned Frogs, tying their season-low mark which they set in both of their games against Kansas.
Cowboys coach Travis Ford was fuming with his side's performance after the game. "I'm just disappointed. We just didn't respond very well. We were flat," Ford said. They will need to get off to a hot start and get their offense going quickly when they take on the Iowa State Cyclones next.
During their three-game winning run, the Cowboys were averaging 68.9 points per game. They clearly benefited from their superb ball movement as they averaged 12 assists per game during this period. The Cowboys failed in this regard against the Horned Frogs, recording just nine dimes against TCU.
They will need to make an effort to pass the basketball and locate the open man against the Cyclones. They will be licking their chops, however, at the prospect of facing an Iowa State side that is 252nd in the entire nation in scoring defense, allowing 68.8 points per game.
The Cowboys are 8-2 ATS in their last 10 home games.
Writer's Prediction
Iowa State (+2) edges past Oklahoma State, 77-73.
[sc:NCAAB490Banner ]
2,169 total views, 1 views today
Comments
comments