West Virginia's strong start to the season continued on Monday as they racked up their eighth consecutive victory with a comprehensive 11-point win over Texas Tech. Extending that winning streak to nine games won't be that easy, though, as standing in their way this coming Saturday are the Iowa State Cyclones who are playing some terrific basketball as well, having won eight of their last nine games.
Read on for a preview of this matchup and while you're at it, you can check out our preview of the game between Arizona and Oregon here.
[sc:MultiSportArticles ]
Iowa State Cyclones vs. West Virginia Mountaineers Betting Preview
Where: WVU Coliseum, Morganstown
When: Saturday, January 10, 2015, 8:00 PM ET
Line: Iowa State Cyclones at West Virginia Mountaineers – view all NCAA Basketball lines
Betting on the Iowa State Cyclones
Dustin Hogue played the game of his life Wednesday against Oklahoma State, scoring all of his 17 points in the second half to lead the Cyclones to a nerve-wracking 63-61 victory over the Cowboys. Hogue played his part on the defensive end as well, blocking Tavarius Shine's three-point attempt with under a second remaining in the game clock to help seal the victory for Iowa State.
[sc:NCAAB240banner ]After their gut-wrenching defeat to South Carolina last Saturday, the pressure was on Iowa State to deliver a much better performance in their Big 12 opener against Oklahoma State. Things weren't that different however for the Cyclones as they struggled with their field goal shooting once again. They shot just 43 percent from the field, far below their season average of 49.4 percent.
Hogue was in a different class, however, hitting seven of his nine field goal attempts for an impressive 77.8 percent clip. His towering performance was enough for Georges Niang to blurt out "he was our Superman."
With that being said, the Cyclones can't rely on Hogue to do this game in and game out. The onus is on Niang, Bryce Dejean-Jones and Naz Long to carry the scoring cudgels for the Cyclones against West Virginia. They are averaging 43.0 points per game this season, more than half the team's total output.
Surprisingly, they were held to just 23 points by a relentless Oklahoma State defense. It won't get any easier for them this coming Saturday against the Mountaineers. West Virginia is 70th in the entire NCAA in scoring defense this season allowing 61.2 points per game.
Create a betting account now and cash in on the exciting NCAA basketball games.
Betting on the West Virginia Mountaineers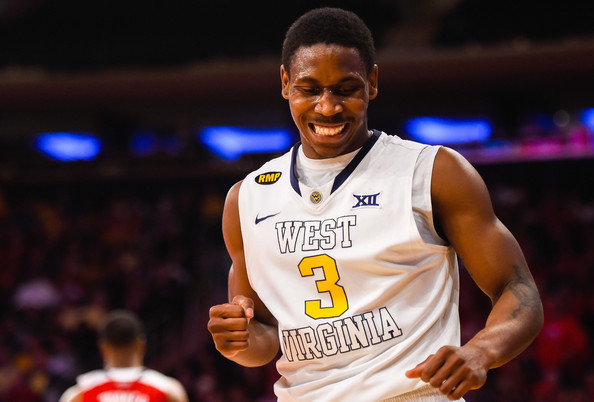 West Virginia stretched their winning streak to eight games with a 78-67 victory over Texas Tech Monday night. Juwan Staten led the way for the Mountaineers with 16 points as he showed no ill effects of his recent bout with the flu. Staten has been a vital cog for the West Virginia offense this season, averaging a team-best 16.1 points per game.
The main reason behind West Virginia's rise in the team standings, however, has been their excellent play on the defensive end. The Mountaineers are tops in the steals department, averaging 13.1 swipes per game this season.
Their ball pressure was pretty much evident in their game against the Raiders where they scored 16 points off the 22 turnovers that they created. Even with those stats, head coach Bob Huggins was still not impressed with the way his team defended against the Raiders.
"I thought our rotations weren't very good. I think what hurt us the most was our ball pressure wasn't near what it has been," Huggins said. The Mountaineers only had nine steals against the Raiders Monday.
The onus is on Jevon Carter and Jonathan Holton to up the ante on the defensive end this coming Saturday against Iowa State. They lead the team in the steals department this season, averaging 2.3 and 1.7 steals per game respectively this season.
Disrupting Iowa State's offense is vital for West Virginia as the Cyclones are 13th in the tournament in scoring this season, averaging 82.4 points per game.
Writer's Prediction
West Virginia's defense will be too much for Iowa State to handle as the Mountaineers cruise to a 64-52 win.
[sc:NCAAB490Banner ]
2,600 total views, 1 views today
Comments
comments