The first round was certainly no cake walk for the Oklahoma City Thunder or Los Angeles Clippers, who won their respective opening round playoff series in seven grueling games. The next round won't be any easier as they prepare to face off in another possible seven-game war.
It's a match up that many experts forecasted in our look at the pre-playoffs experts' predictions, but few thought it would take 14 games to finalize. In part, the delay on the Clippers' end could be explained as a product of the distraction cause by a vile racist.
Here are five key questions that could define what has the potential to be the best series of the playoffs.
[sc:NBAArticles ]
NBA Playoffs Round 2 Los Angeles Clippers vs. Oklahoma City Thunder Series Preview
Series Schedule & Results
Game 1 – May 5, 9:30 PM ET – Los Angeles (+5.5) at Oklahoma City (-5.5); total: 212.0 – view all NBA lines
Game 2 – May 7, 9:30 PM ET – Los Angeles at Oklahoma City
Game 3 – May 9, 10:30 PM ET – Oklahoma City at Los Angeles
Game 4 – May 11, 3:30 PM ET – Oklahoma City at Los Angeles
Game 5 (if necessary) – May 13, TBA – Los Angeles at Oklahoma City
Game 6 (if necessary) – May 15, TBA – Oklahoma City at Los Angeles

Game 7 (if necessary) – May 18, TBA – Los Angeles at Oklahoma City
1. Can Blake Griffin outplay Kevin Durant?
The marquee matchup in this series is between superstar forwards Kevin Durant and Blake Griffin. Durant (30 PPG in the playoffs) looks every bit the MVP-to-be after turning the series against Memphis on its head in Games 6 and 7.
[sc:NBA240banner ]Meanwhile, Griffin (23.3 PPG in the playoffs) has cooled off after two 30-point games in his first three games in these playoffs, but he's still the Clippers' most consistent offensive force in the playoffs. Still, even if Griffin doesn't completely outplay Durant – KD outscored Blake 3-1 in the season series – playing him to close to a draw would be a win for the Clippers.
2. Will Scott Brooks bring Thabo Sefolosha back?
Thabo Sefolosha was benched in favor of Caron Butler for the final two games of the Memphis series, both of which the Thunder won in impressive fashion. With all of the Clippers' perimeter threats, the Thunder will need Thabo's defense in the series. But will Scott Brooks be willing to tinker with a line-up that brought great results and if he does, how will that affect a revitalized Thunder offense?
3. Can Chris Paul keep up with Russell Westbrook?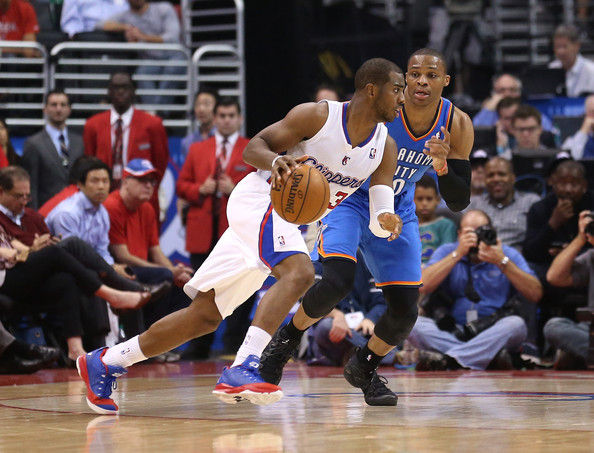 Chris Paul (17.4 PPG, 9 APG, 42% FG%) has had a steady, if not underwhelming, postseason thus far, most of which is due to the various injuries he's been carrying. Russell Westbrook, on the other hand, has found another gear in the playoffs (25.6 PPG, 9.7 RPG and 8.0 APG vs. Memphis), and after a rocky start against the Grizzlies has finally found the right balance with Kevin Durant.
Head coach Doc Rivers will likely keep Paul from being the main defender on Westbrook as the effort he put in on Golden State's Stephen Curry clearly affected his ability to contribute offensively. But even if Paul is able to concentrate on the offensive end, will he come close to matching the production of his more athletic counterpart for the duration of the series?
4. Who will win the Battle of the Sixth Men?
After slow starts to the postseason, both the Thunder's Reggie Jackson and the Clippers' Jamal Crawford finally turned it on in the last four games. Jackson scored over 17.5 PPG while Crawford averaged 21.5 PPG during that time. Their bench production is crucial to their respective teams, and could decide a game or two in the series.
In the regular season Crawford and the Clippers had the distinct advantage. Crawford's 24.7 PPG average and 55% shooting vs. the Thunder were his best marks against any team this season, while Jackson's 8.5 PPG vs. the Clippers was his worst for any opponent he faced four times.
5. Will Donald Sterling Distract the Clippers?
With an entirely unique and unprecedented situation in their hands, it's difficult to predict just what bearing – whether positive or negative – the whole Sterling saga will have on the Clippers' playoff run.
The results in the immediate aftermath haven't been entirely promising; the Clippers are 2-2 SU/1-3 ATS since the news broke and even came close to losing Game 7 at home.
Still, with more than a week to digest the entire situation, it will be up to head coach Doc Rivers and team leader Chris Paul to channel whatever energy there is in their locker room and use it in their favor.
Writer's Prediction
Durant and the Thunder finished strong against Memphis and should carry that good form to win Game 1 at home, covering -5.5. As for the series, home court advantage should also prove decisive for OKC. The Thunder win the series in six games.
[sc:NBA490banner ]
1,938 total views, 1 views today
Comments
comments