Two losses this season aren't enough to diminish the threat posed by the revenge-seeking Tigers to their rival and current BCS No. 1 school, Alabama.
The Tigers are still hoping that they can snare the top spot in the SEC West, and that mission begins with a win over Alabama. Meanwhile, a win by the Crimson Tide virtually assures them an appearance in the SEC championship game.
Betting Preview: LSU Tigers vs. Alabama Crimson Tide
Game Details:
When: 8:00 PM ET, November 9, 2013
Where: Bryant-Denny Stadium, Tuscaloosa, Alabama
Odds:
*As of November 6.
Money: LSU (+400) vs. Alabama (-500)
Spread: LSU (+12.5) vs. Alabama (-12.5)
Totals: 55.0
| | LSU Tigers | Alabama Crimson Tide |
| --- | --- | --- |
| ATS Record | 4-4-1 | 5-3 |
| Over/Under | 7-2 | 5-3 |
| Last Game | Furman (W 48-16) | Tennessee ( W 45-10) |
| Player To Watch | QB Zach Mettenberger (2492 Passing Yards) | RB T. J. Yeldon (10 Rushing TDs)  |
Betting on the LSU Tigers:
Still hurting from their 27-24 upset loss to Ole Miss last October 19, the Tigers regrouped and vented their frustrations in the following game against Furman. LSU conducted a clinic, paying no respect to the Paladins' defense and crushing it for 672 total yards.
Quarterback Zach Mettenberger threw for 328 yards, the third time he's thrown for at least 300 yards this season. Running backs Jeremy Hill and Terrence Magee rushed for two TDs apiece, while WR Odell Beckham accounted for two more touchdowns. The game against Furman re-established Les Miles' vaunted offense, which has recorded 40.2 PPG – 14th best in the FBS.
[sc:NCAA490banner ]
But defense can steal the limelight for LSU on any given Saturday. When the Tigers defeated then No. 17 Florida 17-6 in Week 7, Heisman Trophy candidate and Gators' QB Tyler Murphy got sacked four times.
The Tigers lost their last two meetings against Alabama, and both those defeats were in Baton Rouge. Now, they're looking to return the favor to the Crimson Tide when they square off next Saturday. LSU is 4-1 SU in their last five games at Tuscaloosa.
Bet now on the LSU Tigers.
Betting on the Alabama Crimson Tide: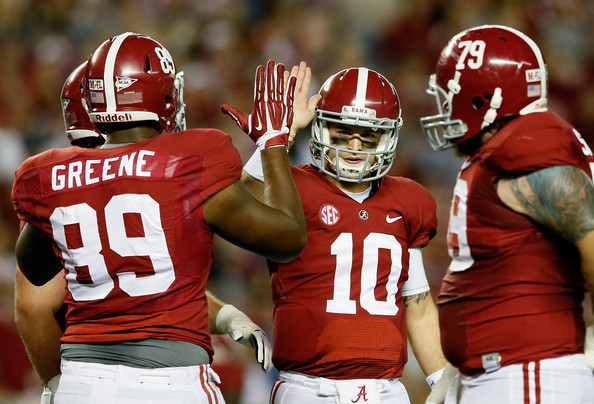 Head coach Nick Saban remarked that Alabama students watching their games at Bryant Denny should stay around until time expires instead of leaving early. With the way the Crimson Tide have been spoiling their fans with blowout wins one after another, sometimes you can't blame them for leaving way before the end of the game. [sc:NCAA240banner ]
Alabama remains at the top of the SEC West with an overall 8-0 SU record and are coming off of a 45-10 annihilation of the Tennessee Volunteers. AJ McCarron went 19-of-27 for 275 yards and two touchdowns. The Crimson Tide got additional support from running back T.J. Yeldon, who had a season high three rushing TDs against Tennessee. It's no small feat stopping the Crimson Tide offense.
But like the Volunteers, every other team that's faced Nick Saban's boys have found it equally as difficult to score against them. In the last four games, the Crimson Tide outscored their foes, 190-20. The team is averaging 41.3 PPG, ranked 13th best in FBS. Their defense is even more impressive. In fact, it's the best in the nation, allowing just 9.8 PPG.
Alabama looks to extend their current winning streak of seven games at home. The team is also 3-0 ATS in their last three games.
Bet now on the Alabama Crimson Tide
2,882 total views, 1 views today
Comments
comments