Let's get ready to rumbleeeeeeee! Manny Pacquiao. Tim Bradley Jr. III. The rubber match is on with the Filipino legend Pacquiao making his retirement fight against one of the best up-and-coming pound-for-pound fighters in the world, Bradley. The two have met before with Pacquiao dominating the first two matchups in spite of a highly-controversial split decision win for Bradley in the first matchup.
Those thinking that Bradley will lose once again may be in for a surprise. Desert Storm has truly evolved into one of the elite boxers in the world, all thanks to the highly-regarded trainer Teddy Atlas. It's going to be one hell of a night for fisticuffs with these two talented boxers duking it out in the middle of the ring.
Care for more action? Check out tomorrow's big (and I mean literally) UFC Fight Night 86. Four heavyweight bouts strengthen the main card, headlined by the top contenders Ben Rothwell and Junior Dos Santos.
Sports News and Predictions
Manny Pacquiao vs. Timothy Bradley Jr. Preview
Where: MGM Grand Garden Arena, Las Vegas
When: Saturday, April 9, 9:00 PM ET
Line: Manny Pacquiao (-210) vs. Timothy Bradley Jr. (+165) – view all Boxing lines
TV Broadcast: HBO PPV
Betting on Manny Pacquiao
Manny Pacquiao wants to call it quits, but he wants one more big fight (and a win) before hanging up the gloves. That's why he handpicked Timothy Bradley Jr. for his farewell bout. Pacquiao already beat Bradley in one-sided fashion in 2014. It could also be argued that Pacman beat Bradley in 2012 as well, but two of the three judges ringside controversially scored the fight for the American.

$50 Free to bet on Sports! Open an account and deposit $100 to claim.
Pacquiao outlanded Bradley 253-159 in the controversial first fight, landing a whopping 190 of his power shots. Bradley was badly hurt prancing around the ring, but kept firing back. Pacquiao also had a decisive rematch against Bradley. He struggled in the early rounds, but still got the upper hand cruising to a unanimous decision victory.
Nevertheless, the Pacquiao that appeared in the second Bradley fight was already a shell of his former self. He was a step slow, landed less punches (198) and looked almost gassed before finding his second wind. It doesn't help the Filipino boxing icon that he's coming off shoulder surgery and has been a beacon for controversy in his native home of the Philippines.
Pacman is running for a Senate seat in the Philippines, and faced plenty of backlash for likening LGBTs to less than animals. He was even nearly attacked by a stranger after dining in a posh restaurant in Los Angeles just this week. Pacquiao may not be the beloved boxer he once before, which may come as a shock to him. He was also dropped by Nike amidst the aforementioned controversial comments, so he's not exactly sitting very comfortable heading into fight night.
Aside from the issue above, Pacquiao also has other external factors which may hinder him in this fight. As mentioned above, he's coming into this fight after shoulder surgery in a very advanced age of 37 (for boxing that is). His right shoulder may not be conditioned enough in a real fight to keep pumping jabs and powerful lead hooks as a southpaw. Dropping his right due to fatigue or slower reactions from that side would also open him up to Bradley jabs and lead hooks.
Pacquiao may not look like the same bulldozer he once was earlier in his career. Rather, he may look like the same fighter who looked lost in the ring against an excellent counter-striker in his latest outing. Pacquiao dropped a clear-cut unanimous decision loss against unbeaten Floyd Mayweather Jr. last summer and has not fought since. Ring rust will definitely be a factor.
Betting on Timothy Bradley Jr.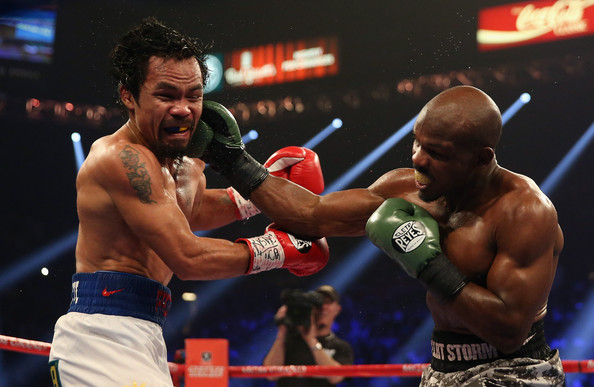 Timothy Bradley should be a cake walk for Manny Pacquiao right? Nope. Not this version of Desert Storm. Bradley has been on a rise the moment Teddy Atlas stepped into the ring with him. He's completely enraptured by his new trainer, pushing his boxing skills to newfound heights. The level of belief Bradley has in Atlas is one factor, which could be the difference in his third fight against Pacquiao.
While Pacquiao has been somewhat distracted by some controversy, Atlas and Bradley are busy training their butts off for this rubber match. It also helps that Atlas has 72 minutes of film to study ahead of this rubber match. Bradley was good in the first two bouts, but Pacquiao was just a tad bit better. Atlas is now here to help Bradley find Pacquiao's flaws and weaknesses. He already has laid down a strategy for Bradley to follow—the Marquez.
Bradley will implement a gameplan dubbed by Atlas as the Marquez. The duo is planning on using Juan Manuel Marquez's approach to knock Pacquiao out in 2012. It's not out of the realm of possibility. Bradley is faster and more athletic than the plodding Marquez. He's also a very good counter-boxer, which he didn't utilize in the rematch. Instead he spammed overhand right after overhand right.
When thinking of how Bradley will look like ahead of this match, just check out his utter demolition of Brandon Rios. It was his first fight under Atlas' guidance. Bradley landed a whopping 254 punches, while limiting the game Rios to just 81. It was Rios' first ever loss via stoppage; Pacquiao didn't even land a knockdown on him.
Bradley landed 45 percent of his shots, which was a tremendous step up from his 34 percent against Jesse Vargas. It wasn't his new offense that was amazing; it was his ability to avoid getting hit unlike his previous fights.
Bradley also showed a great deal of power and speed with Atlas, which could be the deciding factor heading into this rubber match. Pacquiao has an iron chin, but we all know that boxers' abilities to take a punch deteriorate aplenty as they age. While Bradley doesn't have the raw power to switch off Pacquiao's lights, he may have enough to occasionally stun the Filipino in this fight.
Writer's Prediction
Pacquiao has plenty on his mind right now. Desert Storm is a man on a mission. All Pacquiao cares about now is money; Bradley legitimately wants to establish himself as the best boxer on the planet.
Bradley's (+165) immense belief in himself and higher ceiling should propel him to a decision victory. His defeat of Pacquiao would give him the superstar status he truly deserves.
Don't miss out on this blockbuster night of boxing. Create a betting account now and land a knockout punch of your own in Pacquiao vs. Bradley III.

Comments
comments