Iiiiiiit's time! The UFC finally touches down on Croatia for Fight Night Zagreb on Sunday. They didn't hesitate bringing out their big guns with top heavyweight contenders Ben Rothwell and Junior Dos Santos headlining the event. There's plenty more firepower across the rest of the card with three more heavyweight matchups leading to the main event.
Don't miss out on this historic event. Read on as we breakdown each of the 13 fights on the card for a Sunday of jaw-dropping, hard-hitting action. Want a change of pace? There's plenty more fisticuffs to be had this weekend starting with Saturday's blockbuster Pacquiao vs. Bradley III.
Sports News and Predictions
UFC Fight Night 86: Rothwell vs. Dos Santos Preview
Heavyweight: Ben Rothwell vs. Junior Dos Santos
Line: Ben Rothwell (EVEN) vs. Junior Dos Santos (-130) – view all UFN 86 lines
How do you even call this fight? It's going to be one hell of a matchup. On one corner, you have an absolute bruiser of a man in Big Ben Rothwell, who has finished 92 percent of his wins. On the other corner, there's former champ Junior "Cigano" Dos Santos, one of the best pure boxers in the UFC Heavyweight Division. One thing's for sure—there will be fireworks.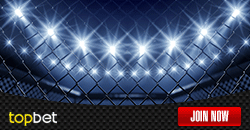 Rothwell loves to control the center of the Octagon. He'll be very selfish with it, refusing to relinquish his position. He does so by keeping his opponents under pressure. Rothwell will be in his opponents' faces for pretty much the entire fight, making the Octagon very small and claustrophobic for his foes. It is through this forward movement which Rothwell loves to unleash the clubs he has for hands.
Big Ben is a wild man. His punching has little to no technique, but he has raw unadulterated power which can turn anyone's lights off. A right uppercut and overhand right combination have been his money shots as the combination works oh so well with his upright stance.
Rothwell hits like a truck, but he's also very crafty in cranking necks for submissions. He has 13 submission victories, none more devastating than his last two. His patented gogo choke forced Josh Barnett to submit for the first time in mixed martial arts competition. The same move also forced contender Matt Mitrione to tap out.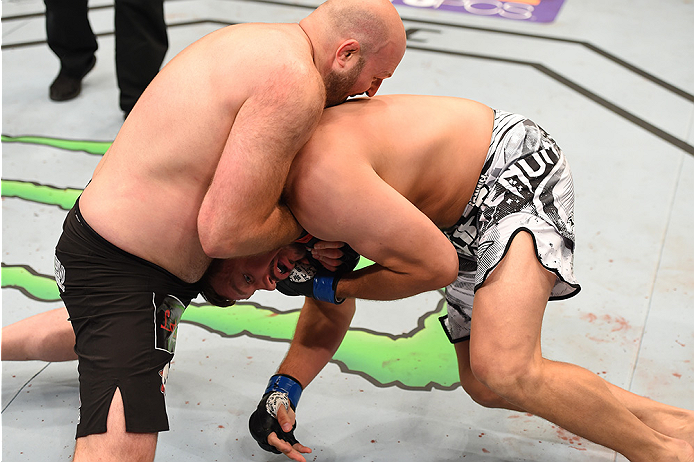 Alas, Rothwell may not have a use for the gogo choke. Dos Santos isn't one to shoot for takedowns. Rather, he loves to knock people silly with his fists of fury. A former UFC Heavyweight Champion, JDS has won 71 percent of his victories via knockout or TKO. He has the most knockdowns landed (12) among heavyweights as well as the most significant strikes landed (730).
Dos Santos is also very difficult to take down. His 80 percent takedown defense is second among UFC big men. Speed and movement will be Dos Santos' bread and butter in this matchup as one of the most athletic heavyweights. He has an excellent control of distance with a knack for gauging the range of his opponents.
Cigano loves to utilize punches in bunches with his amazing boxing. But his kicks could be the X-factor in this matchup. He can unload on spinning heel kicks to his opponents' domes or unleash a traditional round house to the head. Dos Santos' well-rounded striking skillset may be enough to give him a victory he so desperately craves.
Writer's prediction: The fairy tale is over for Rothwell. Dos Santos (-130) decapitates Big Ben with a right uppercut. JDS by knockout in the third.
Heavyweight: Derrick Lewis vs. Gabriel Gonzaga
Line: Derrick Lewis (-140) vs. Gabriel Gonzaga (+110) – view all UFN 86 lines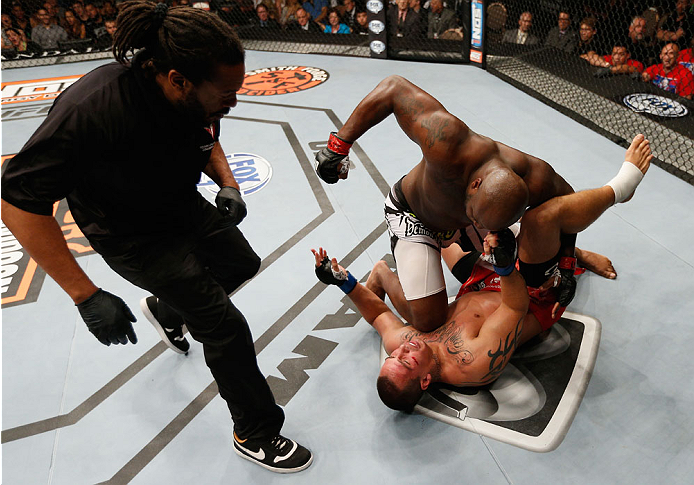 Derrick "The Black Beast" Lewis is steadily climbing up the UFC Heavyweight Division ladder. He gets a chance to break through to the top 15, meeting journeyman Gabriel "Napao" Gonzaga in the co-main event of UFC Fight Night 86. Lewis has never been submitted in his 18-fight career. He does his best work on the ground, raining heavy ground-and-pound on his opponents. He's coming off back-to-back TKO victories over grappling-based fighters.
Gonzaga is no slouch on the ground as he happens to be a Brazilian Jiu Jitsu black belt, who once submitted headliner Ben Rothwell. Nevertheless, Gonzaga is on the downswing, having lost three of his last four. He was horrible in his last fight in December, gassing out early against Konstantin Erokhin in spite of a unanimous decision win.
Writer's prediction: Lewis (-140) unleashes the Black Beast on Gonzaga for a second round TKO victory.
Heavyweight: Francis Ngannou vs. Curtis Blaydes
Line: Francis Ngannou (-135) vs. Curtis Blaydes (+105) – view all UFN 86 lines
Francis "The Predator" Ngannou made an explosive debut in the UFC, knocking out Luis Henrique Barbosa de Oliveira in December. But he did show a chink in his armor—he was taken down by the much smaller Brazilian. Ngannou now he has an even more formidable foe in the debuting Curtis "Razor" Blaydes. The newcomer was a junior college national champion in freestyle wrestling. It may be a rough night for the Predator if Blaydes drags him to the mat.
Writer's prediction: Blaydes (+105) unloads on a tiring Ngannou for a second round TKO.
Heavyweight: Timothy Johnson vs. Marcin Tybura
Line: Timothy Johnson (+150) vs. Marcin Tybura (-180) – view all UFN 86 lines
Timothy Johnson suffered a road block in his second UFC fight, losing to Jared Rosholt in August. But he could get back on the right track at Zagreb when he takes on heralded grappler Marcin Tybura. Johnson may want to use his Division II All-American wrestling pedigree in reverse to ensure that the fight doesn't touch the ground against such a good grappler.
Johnson has shown power in his strikes with five career knockout victories. He should be head-hunting against the much smaller Tybura. But the Pole happens to be the more well-rounded striker with decent punches and kicks. Tybura has all the edge in almost every of MMA to wow audiences in his Octagon debut.
Writer's prediction: Tybura (-180) gets the first round submission after hurting Johnson on the feet.
Light Heavyweight: Igor Pokrajac vs. Jan Blachowicz
Line: Igor Pokrajac (+280) vs. Jan Blachowicz (-360) – view all UFN 86 lines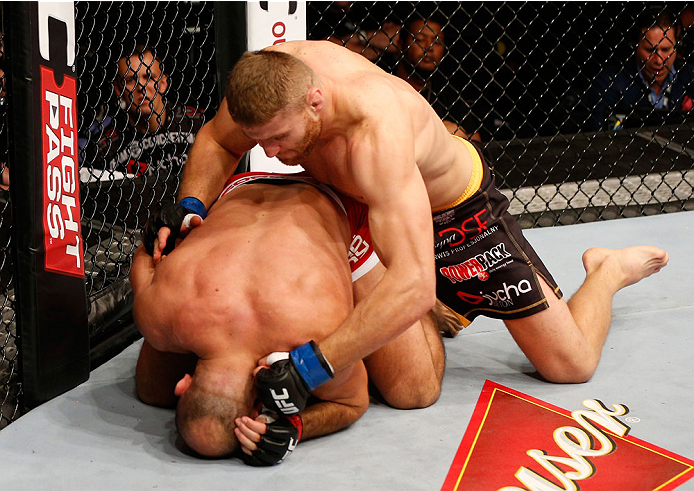 Jan Blachowicz has seen this fight before. Well, at least he's already beaten a similar fighter like Igor Pokrajac earlier in his career in the form of Goran Reljic. Blachowicz brings a solid striking game and serviceable wrestling to hang with most light heavyweights. Pokrajac is good at both striking (15 KOs) and grappling (nine submissions), but doesn't seem to be UFC level judging by his 0-4, 1 NC in his last five Octagon appearances which ultimately gave him the pink slip.
Writer's prediction: Blachowicz (-360) cruises to a unanimous decision victory.
Women's Strawweight: Maryna Moroz vs. Cristina Stanciu
Line: Maryna Moroz (-190) vs. Cristina Stanciu (+155) – view all UFN 86 lines
"The Iron Woman" is set to return when Maryna Moroz opens the UFN 86 main card against Octagon newcomer Cristina "Barbie" Stanciu. Barbie is a mystery ahead of her UFC debut, but one thing's for certain—she's a pretty good grappler having finished three of her five pro fights by submission. Moroz is also a solid grappler, but has good boxing to keep her competitive on the feet.
Writer's prediction: This fight is a mystery. The two fighters are pretty much identical on paper, so the value lies in Stanciu as a +155 underdog.
Fox Sports 1 Prelims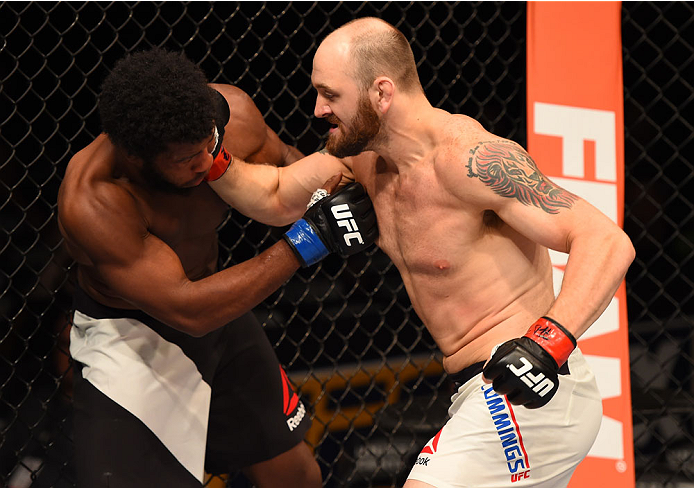 Zak Cummings (+145) will be too strong to shake off. He uses his wrestling to take a unanimous decision against Nicolas Dalby.
Ian Entwistle (-155) has a knack for cinching in submissions. He forces Alejandro Perez to tap out in the first round.
Mairbek Taisumov could be in for a barnburner. He faces off against Bosnian slugger Dami Hadzovic in the Fox Sports 1 Prelims. Hadzovic (+240) gets the surprise victory in his Octagon debut.
Filip Pejic opens up the festivities on Fox Sports 1 in a bantamweight showdown against Damian Stasiak. The Polish grappler, Stasiak (-130) should have what it takes to spoil Pejic's Octagon debut.
UFC Fight Pass Prelims
Rob Whiteford (-105) is steadily improving as a member of the American Top Team. The Scott will be right at home in Europe as he ekes out a tough decision against Brazilian Lucas Martins.
Jared Cannonier (-160) knocks out Cyril Asker in the first round of this heavyweight showdown.
Two debuting fighters start off Fight Night Zagreb when Alessia Di Chirico takes on Bojan Velickovic. Di Chirico likes to take his opponents down and grind out victories. But Velickovic (-170) is the more established grappler and should get the decision victory.
Don't miss out on action-packed Sunday. Create a betting account now and don't pull any punches as you win big on world-class MMA action.

Comments
comments