Two Big Ten programs going in opposite directions go head-to-head, as the Minnesota Golden Gophers, who have yet to win a game in conference play, welcome the sixth-ranked Maryland Terrapins into Williams Arena. Who will prevail in this match? Will the Terps breeze towards an easy win? Or will the Golden Gophers pull off the improbable upset?
Read on further for a full breakdown of this battle. And if you're craving for some NBA action as well, you can check out our preview of the Chicago Bulls vs. Cleveland Cavaliers.
Maryland Terrapins vs. Minnesota Golden Gophers Preview
Where: Williams Arena, Minneapolis
When: Thursday, February 18, 2016, 8:00 PM ET
Line: Maryland Terrapins (-10.5) at Minnesota Golden Gophers (+10.5)– view all NCAA Basketball lines
TV Broadcast: BTN
Betting on the Maryland Terrapins (22-4, 10-3 Big Ten)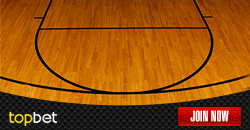 It was just one of those off-nights for the No. 6 Maryland Terrapins. They did everything they could to put the rock inside the hoop, but most of their shots refused to go in. As a result, the Terps dug their own grave and inevitably faltered at home against Wisconsin on Saturday night, 70-57.
With the loss, Maryland has fallen out of a first-place tie in the Big Ten and had its 27-game home winning streak snapped. And making matters worse is that the Terps are going to have to play without Diamond Stone, who was suspended one game for this flagrant foul against the Badgers, in their game tonight versus the Minnesota Golden Gophers.
Well even without Stone suited up, the Terps still have more than enough weapons to run over a Minnesota defense that's allowing 74.6 points this season. For one, there's their all-around point guard Melo Trimble, who'll be looking to bounce back from a lackluster performance during the loss to Wisconsin. Trimble is averaging team-highs of 14.2 points on 43.8 percent shooting and 5.3 assists per contest.
Meanwhile, Robert Carter and Rasheed Sulaimon are going to be tough coverages for the opposition as well. Both have had a stellar campaign thus far, posting 12.7 and 11.3 points per game respectively. Sulaimon, in particular, has been on fire lately as he's scored in double-figures in his previous four outings, including a 21-point effort versus Purdue on February 6.
Maryland is 7-3 SU and 4-4-2 ATS in its last 10 road games.
Create a betting account now and cash in on all the NCAAB action.
Betting on the Minnesota Golden Gophers (6-19, 0-13 Big Ten)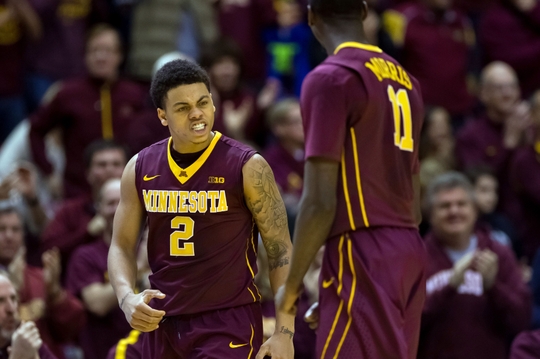 Despite falling short against No. 4 Iowa on Valentine's Day, the Minnesota Golden Gophers ought to be satisfied about the way they fought in that match.
Minnesota actually outscored the Hawkeyes in the second half, 43-41, and even had a chance to steal the win in the final three minutes. But the Golden Gophers stayed true to their usual selves as they failed to deliver the goods down the stretch. That setback makes them 0-13 in conference play, which ties them up with Rutgers for last place in the Big Ten.
Nevertheless, the Golden Gophers will strive to provide another solid effort and hopefully come away with the win when they play host to the sixth-ranked Maryland Terrapins, who will be without the suspended Diamond Stone.
That being said, Minnesota ought to consistently pound the ball inside to their forwards in Joey King and Jordan Murphy. Both players have been relatively productive for the team this season, contributing 22.2 points and 11.2 rebounds combined.
Besides capitalizing on the inside, the Golden Gophers can look to Nate Mason, their top offensive threat, to punish the Terps' defense with his play-making abilities. Mason leads the team in scoring (13.7) and assists (4.5) across 25 games. He's only shooting 39.0% from the field, however.
Ultimately, this game's going to be decided on the defensive end of the floor and things are not looking too good for the Golden Gophers, who are giving up almost 80 points per game in their current 14-game losing streak.
Minnesota is 0-7 SU and 3-4 ATS in its past seven games at Williams Arena.
Writer's Prediction
Maryland (-10.5) wins, but fails to cover the spread.
Create a betting account now and build a winning college basketball parlay.

2,150 total views, 1 views today
Comments
comments