The Big Ten has been blessed this season with an incredible crop of freshman guards. Maryland's Melo Trimble and Ohio State's D'Angelo Russell have been two of the standouts in the class, and have taken starring roles for their respective teams. They will go head-to-head for the first (and possibly only) time in college this Thursday as two of the Big Ten's big guns battle it out in Columbus.
Which first-year phenom comes out on top? Read more about this marquee college hoops matchup below. Speaking of marquee matchups, click here for our preview of the titanic Duke vs. Virginia showdown on Saturday.
[sc:MultiSportArticles ]
Maryland Terrapins vs. Ohio State Buckeyes Betting Preview
Where: Value City Arena, Columbus
When: Thursday, January 29, 2015 9:00PM ET
Line: Maryland Terrapins (+8) vs. Ohio State Buckeyes (-8) – view all NCAA Basketball lines
Betting on the Maryland Terrapins
No. 16 Maryland bounced back from its biggest loss of the season – a 89-70 road blowout at Indiana – with a razor-thin 68-67 win at home over Northwestern on Sunday. Freshman sensation Melo Trimble made up for his disappointing 10-point performance against the Hoosiers with 27 big points to lead the Terps.
[sc:NCAAB240banner ]Trimble is averaging a team-high 16.3 points per game, but he has struggled mightily on the road during conference play. He's averaging just under 14 points per game and shooting an atrocious 30 percent from the field in four road games against Michigan State, Illinois, Purdue and Indiana.
Unsurprisingly, Maryland has not been anywhere near as impressive away from home, in large part due to its star player's ineffective play. Two of the Terps' three losses this season have come on the road, and needed double-overtime to beat a subpar Spartans team, 68-66, in East Lansing.
Veterans Jake Layman (14.3 points per game) and Dez Wells (13.6 PPG) are good enough to break out with a big game, but the Terps will be hard-pressed to prevail if Trimble continues to be off his game.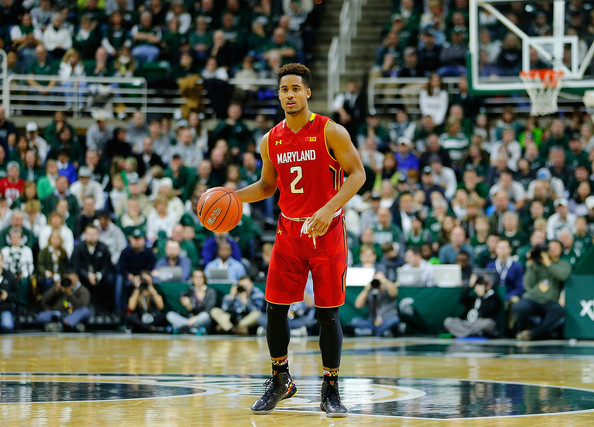 Create a betting account now and get into the exciting game of college hoops.
Betting on the Ohio State Buckeyes
D'Angelo Russell is balling. The sweet-shooting lefty has been scoring for fun in Big Ten conference play, averaging 23.6 points per game in Ohio State's last seven games.
Russell has been particularly impressive in the Buckeyes' current two-game winning streak. He notched a career-high 33 points on 12 of 17 shooting in their close road win over Northwestern, and had 22 points with 10 assists in Sunday's 82-70 win over Indiana.
Russell is averaging 19.4 points per game on the season, and is the highest scoring freshman in Division I basketball.
However, Ohio State has been way too over-reliant on Russell to carry much of the team's offensive burden. It's no surprise to see that three of Russell's worst games this season against North Carolina (11 points, 4-of-17 FGs), Iowa (13 points, 4-of-16 FGs) and Indiana (13 points, 3-of-15 FGs) have all resulted in Buckeye losses.
Head coach Thad Matta has been experimenting with a small-ball lineup in recent games, which could give them an air of unpredictability against Maryland.
One of Matta's moves – putting freshman Ja'Sean Tate into the starting lineup – paid off handsomely against Indiana as he scored a career-high 20 points on 9 of 10 shooting. Tate has shot 16 of 18 over his last three home games.
Writer's Prediction
Ohio State's Russell outshines Trimble as the Buckeyes win and cover at home.
[sc:NCAAB490Banner ]
1,732 total views, 1 views today
Comments
comments