Following a thrilling win against Iowa, the eighth-ranked Maryland Terrapins will now look to make it back-to-back wins when they pay the Ohio State Buckeyes a visit at the Value City Arena this Sunday afternoon. Will the Terps succeed in doing so? Or will the Buckeyes pull off the improbable upset?
Read on below for a detailed breakdown of this promising Big Ten matchup.  And while you're at it, you can check out our preview of the Northwestern vs. Iowa and Villanova vs. St. John's.
[sc:MarchMadness ]
Maryland Terrapins vs. Ohio State Buckeyes Preview
Where: Value City Arena, Columbus, Ohio
When: Sunday, January 31, 2016, 1:00 PM ET
Line: Maryland Terrapins (-5) vs. Ohio State Buckeyes (+5)– view all NCAA Basketball lines
TV Broadcast: CBS
Betting on the Maryland Terrapins (18-3, 7-2 Big Ten)
[sc:NCAAB240banner ]What a huge win for Maryland! The Terrapins successfully bounced back on Thursday night at the expense of Iowa, 74-68. During that win, the pair of Robert Carter Jr. and Rasheed Sulaimon led the way with 17 points apiece and shot the rock really well at 63.6% and 54.5% respectively. They'll definitely be aiming to sustain this momentum versus the Ohio State Buckeyes later.
Key to their triumph will ultimately depend on their loaded offense that's putting up 77.3 PPG this season, which is among the highest in the country. A testament to this is none other than their all-around sophomore guard in Melo Trimble, who's having another spectacular campaign.
Trimble currently leads the Terps in points (14.3) and assists (5.5) across 21 games thus far and has finished in double-figures in his previous three outings. That stretch includes their match with the Spartans on January 23, wherein Trimble had 24 points on 9-of-17 shooting along with seven boards and three dimes.
Furthermore, Trimble's play has also forced many opposing teams to focus their attention on him most of the time. In effect, his teammates in Carter Jr., Sulaimon and Diamond Stone have been able to relatively impose their will on the court.
Carter Jr., in particular, has been the most impactful as he's managed to score 10 points or more in his last seven games. He is also currently the second-leading point-getter for the Terps with 13.4 PPG. Sulaimon and Stone, meanwhile, have combined for 23.6 PPG and 8.9 RPG this year.
Maryland is 7-3 SU and 5-3-2 ATS in its last 10 road games.
Create a betting account now and cash in on all the NCAAB action.
Betting on the Ohio State Buckeyes (14-8, 6-3 Big Ten)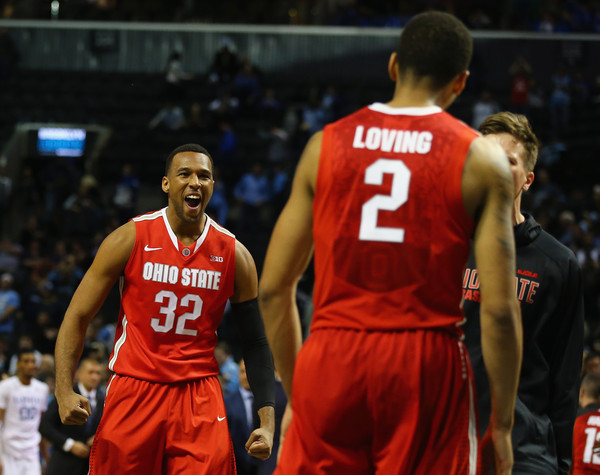 There's no doubt that the Ohio State Buckeyes head into this matchup with revenge on their minds. Just about two weeks ago, they were dominated by the Terrapins with the final score of 100-65. That was the first time that the Buckeyes allowed 100 or more points since 1998. But what's done is done and there's no point on crying over spilled milk. It's time for them use that loss as another source of motivation later.
Speaking of later, look to the pair of Marc Loving and Keita Bates-Diop to lead the charge on offense for the Buckeyes. Both guards are averaging 25.5 PPG and 11.8 RPG combined this season. Bates-Diop, in particular, has been hot lately, posting 13.2 PPG on 48 percent shooting.
Furthermore, Jae'Sean Tate could be a key factor in this game as well. He's third-best in the team when it comes to scoring (11.0) and second-best in rebounding (6.1). Tate has also finished in double-figures in four of his past five games. In that span, he's delivering solid numbers of 13.4 PPG, 5.4 RPG, 2.0 APG and 2.0 SPG.
Defense, however, will remain to be the Buckeyes' strongest weapon. Their defense has been exceptional this season, giving up only 65.8 PPG. At home games, it's actually even more lethal with just 60.4 points allowed per contest. So long as they sustain this level of intensity at this end of the floor, the Buckeyes are bound to keep this game very interesting down the stretch.
Ohio State is 9-1 SU and 7-3 ATS in its previous 10 home games.
Writer's Prediction
Maryland (-5) wins, 81-73.
Create a betting account now and build a winning college basketball parlay.
[sc:NCAAB490Banner ]
1,778 total views, 1 views today
Comments
comments