The Golden State Warriors were very much aware that they could not afford to lose Game 4 to the Memphis Grizzlies. They responded with a resounding 101-84 win on Monday over the Grizzlies to even their series at two games apiece. Golden State seems to have rediscovered its offensive rhythm in Game 4, while Memphis lost the defensive grit that they had for Games 2 and 3 of the series.
The series returns to Oracle Arena for Game 5 on Wednesday, as both the Warriors and Grizzlies attempt to take the upper hand in the series. Will Golden State's high-octane offense launch the Warriors to another home win? Or can Memphis' defense shut down the Warriors and pull off another upset on the road?
There's another pivotal NBA playoff showdown happening on Wednesday. Head on over here for our preview of the Game 5 matchup between the Washington Wizards and the Atlanta Hawks.
[sc:NBAArticles ]
Memphis Grizzlies vs. Golden State Warriors Game 5 Preview
Series Scores and Schedule
Game 1 — May 3 – Memphis Grizzlies 86 at Golden State Warriors 101
Game 2 — May 5 – Memphis Grizzlies 97 at Golden State Warriors 90
Game 3 — May 9, Golden State Warriors 89 at Memphis Grizzlies 99
Game 4 — May 11 – Golden State Warriors 101 at Memphis Grizzlies 84
Game 5 — May 13, 10:30 PM ET, Memphis Grizzlies at Golden State Warriors – view all NBA lines
Game 6 — May 15, Time TBD, Golden State Warriors at Memphis Grizzlies
Game 7* — May 17, Time TBD, Memphis Grizzlies at Golden State Warriors
* if necessary
Betting on the Golden State Warriors
With the Golden State offense sputtering for the past two games, Stephen Curry finally provided the spark early on in Game 5 en route to the 101-84 victory. Curry broke out of his mini-slump and finished with 33 points in the game, with 21 of those points coming before halftime.
[sc:NBA240banner ]Golden State led by as much as 26 points in Game 5, and made 14 of their 33 three-point attempts. Klay Thompson, Draymond Green and Andre Iguodala each made three baskets from long range, while Curry made four. In their two losses against the Grizzlies, the Warriors were a combined 12-52 from beyond the arc.
The Warriors have not yet lost three consecutive games this entire season, and Game 4 served as proof that they are not ready to break against the Grizzlies that easily. As the series shifts back to Oakland for Game 5, look for the Warriors to come out guns blazing in front of their raucous fans in Oracle Arena. The Warriors have won 21 out of their last 22 games at home.
Golden State is 8-2 straight-up, but is only 3-7 against the spread in its last 10 games.
Betting on the Memphis Grizzlies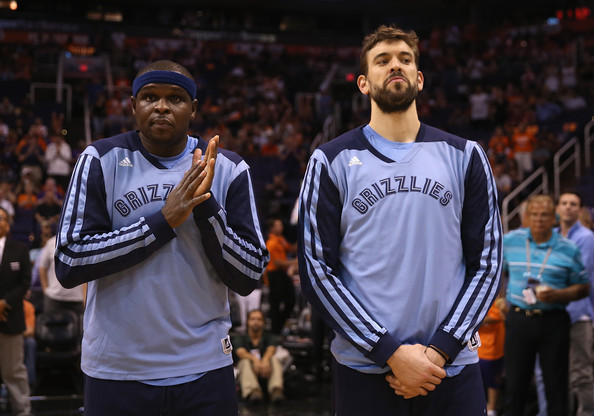 Just when the Memphis Grizzlies thought they had Golden State's offense figured out, the Warriors countered with their own defensive effort by limiting Memphis to 84 points in Game 4. Memphis made just 37% of their shots from the field, and 4-of-18 from long distance.
Not one player for Memphis scored more than 20 points in Game 4 against the Warriors. Marc Gasol led all Grizzlies scorers, as he finished with 19 points, 10 boards and six assists. Fellow starting big man Zach Randolph also had a double-double, with 12 points and 11 rebounds. Mike Conley, who is still playing with the protective mask for his facial fracture, finished with 10 points on 4-of-15 shooting in 33 minutes.
Memphis lost its fourth straight Game 4 matchup, with three of those loses coming at FedEx Forum.
What Memphis needs to do in Game 5 is to limit the Warriors' chances of knocking down those damaging threes, and keep the score as low as possible. In this season against Golden State, the Grizzlies are 3-0 when limiting the Warriors to less than 100 points. They are 0-5 when the Warriors break the 100 point mark.
For the last 10 games that the Grizzlies have played in May, they are 2-8 straight-up 3-7 against the spread.
Writer's Prediction
The Warriors come out on top 114-98, and regain the series lead.
[sc:NFL490Banner ]
2,056 total views, 2 views today
Comments
comments