Major League Baseball puts more games on the field than the NHL and NBA combined. To try and help you through the madness, we look at five games and betting lines worth a wager on May 30, 2014.
There are some solid pitchers taking the mound tonight in the majors, including Stephen Strasburg, Julio Teheran, and Justin Verlander. Will each of those pitchers tear apart their respective opposition?
Create your own betting account now and go long with our breakdown of the best lines in baseball today, below.
[sc:MultiSportArticles ]
MLB Picks and Predictions for Friday, May 30, 2014
Minnesota Twins vs. New York Yankees (7:05 PM ET)
Line: Minnesota Twins (+135) at New York Yankees (-150); total: 9.0 – see all MLB lines
The Minnesota Twins' pitching staff owns the majors-worst 4.54 ERA, and with the struggling Ricky Nolasco (2-5, 6.12 ERA) on the mound, expect the New York Yankees' bats to come out alive tonight to give starter Vidal Nuno his first career win at Yankee Stadium. The Yankees are 7-3 in their last 10 games against Minnesota.
Writer's prediction: The Yankees win the first game of their three-game homestand.
Texas Rangers vs. Washington Nationals (7:05 PM ET)
Line: Texas Rangers (+150) at Washington Nationals (-170); total: 7.0 – see all MLB lines
[sc:MLB240banner ]Stephen Strasburg (3-4, 3.42 ERA) has been pitching well in his last few starts, but isn't getting enough run support from the Washington National's slumping offense. His frustrations will continue against the Texas Rangers, who are currently seventh in the majors in runs (232). The Rangers have won seven of their last 10 games overall.
Writer's prediction: Rangers carve out a road win.
Atlanta Braves vs. Miami Marlins (7:10 PM ET)
Line: Atlanta Braves (-125) at Miami Marlins (+115); total: 7.0 – see all MLB lines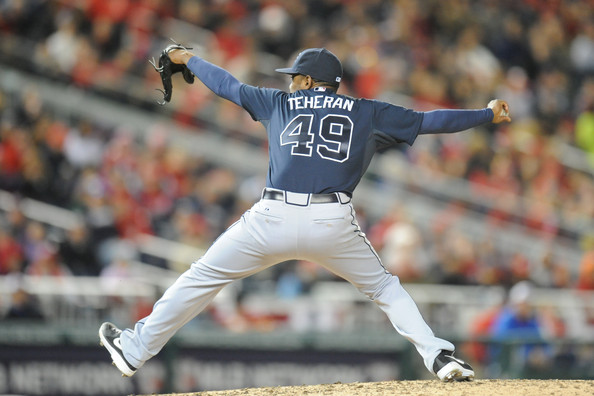 The Atlanta Braves are fresh off a heartbreaking 4-3 walk-off loss to the Boston Red Sox to push their losing streak to four straight games. The losing may end today as Julio Teheran (4-3, 1.77 ERA) is set to start in the first game of the series against the Miami Marlins. The Braves are 8-2 in Teheran's last 10 starts.
Writer's prediction: Teheran dominates the Marlins.
Baltimore Orioles vs. Houston Astros (8:10 PM ET)
Line: Baltimore Orioles (-111) at Houston Astros (+101); total: 9.0 – see all MLB lines
The Houston Astros are on a searing six-game winning streak, largely because of their outstanding pitching. But with shaky Brett Oberholtzer (1-6, 5.32 ERA) up next in their rotation, the Baltimore Orioles' offense will do better than their one-run output in the first game of this series, where they lost 3-1. The Orioles are 6-4 in their last 10 games against Houston.
Writer's prediction: The game will go over the total, as the Orioles snap Astros' run.
Detroit Tigers vs. Seattle Mariners (7:05 PM ET)
Line: Detroit Tigers (-109) at Seattle Mariners (-101); total: 7.0 – see all MLB lines
Justin Verlander hasn't had his A-game of late, having given up 22 hits while allowing 11 earned runs over 6.1 innings in his last two starts.  However, three straight bad outings is something of an alien concept to the former Cy Young winner. He'll take care of the Seattle Mariners, who are dead last in the American League in batting average (.234)
Writer's prediction:  Verlander silences the Mariners.
[sc:MLB490banner ]
1,544 total views, 1 views today
Comments
comments