The NBA 2K Players Tournament is in the books, with Devin Booker claiming the victory as we predicted before it all began. Now we move on to an even more exciting affair that is not played on a digital platform. That's right – some of your favorite NBA (and WNBA) stars are competing in a week long game or HORSE. Ballers who have courts at home can compete, which may leave out Giannis Antetokoumpo (he has no home hoop) but allows the likes of Trae Young and Zach LaVine along with alumni such as Paul Pierce to pick up the rock and show us their best trick shots.
All games will be streamed from players' respective homes' indoor or outdoor courts as they compete shot-for-shot in the traditional playground game format. This is the HORSE you know and love – but on steroids! For the uninitiated, competitors must breakdown each shot that they are about to take (i.e. bank shot, behind the back with one-hand, etc.). If the first player makes the shot, his/her opponent must mimic it and score. If they miss, they get a letter. When an initiating player misses their shot, the turn passes to the other. The first player in each game to collect the letters "H-O-R-S-E" after failing to match five shots is eliminated from the round.
Note: To level the playing field, dunking is now allowed. After the recent All-Star fiasco we're happy that's out of the equation!
To keep things even more interesting and more lucrative during the sports betting dry spell the sportsbook is also offering actionable odds. Register below to make your picks and check out our prediction before making your wagers.
Click here to make your NBA picks
Betting Preview for the NBA HORSE Tournament Running from April 12 to 16 2020
Where: At home (NBA players, and you)
When:
First Round – Sunday April 12, 7 PM ET
Semifinals – Thursday April 16, 9 PM ET
Semifinals – Thursday April 16, 11 PM ET
Live Broadcast: ESPN, ESPN2
Lines:
---
THE BRACKET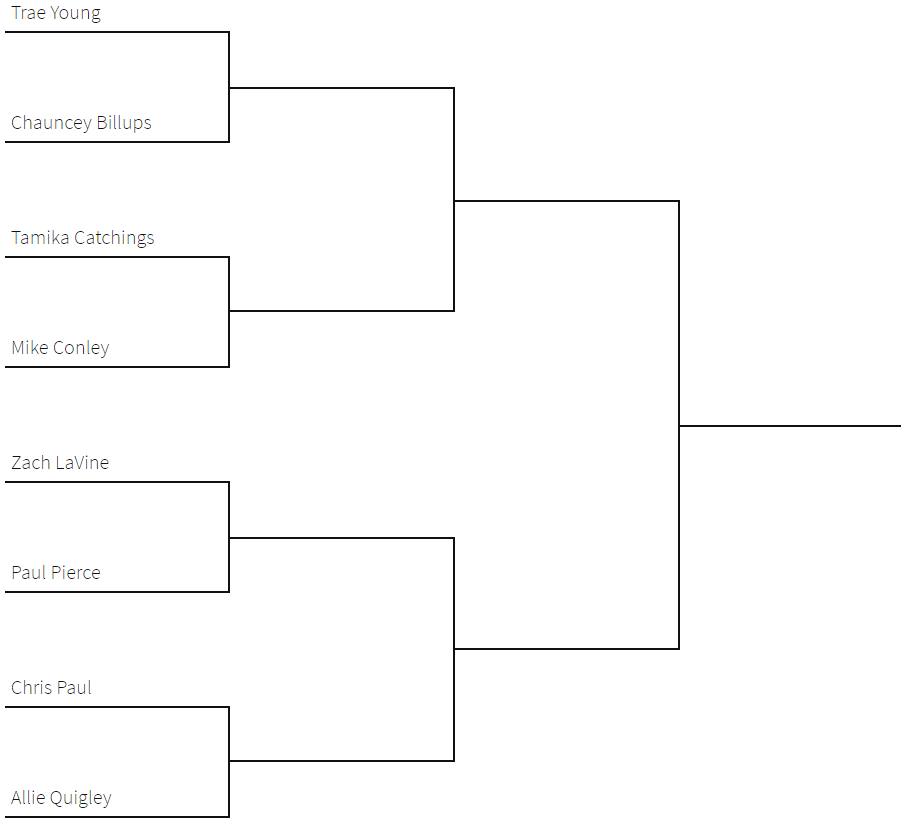 ---
FIRST ROUND ODDS
Trae Young (-210) vs Chauncey Billups (+165)
Is there any way that Trae Young doesn't make it out of the first round? After recently declaring himself the second coming of Steph Curry he may have shot himself in the foot with fans but there's no denying that this kid can hit from anywhere on the court he damn well pleases.
Tamika Catchings (+280) vs Mike Conley Jr (-360)
Former WNBA Indiana Fever star Tamika Catchings is up against one of the most effective yet least decorated NBA players in the league – Mike Conley Jr.. The Utah Jazz player can host a shooting clinic any day, while Catchings hasn't been on a competitive court in quite some time. Hard to see Conley not take this win.
Zach LaVine (-140) vs Paul Pierce (+110)
This is the most anticipated first round meeting, with Zach LaVine being pitted against icon Paul Pierce. Pierce has been highly visible in the commentators booth since his retirement, but that doesn't mean he's been home (or on any court for that matter) knocking down impossible threes like he used to over his 19 year career. High-energy LaVine has got this one, but Pierce will make it entertaining throughout.
Chris Paul (-300) vs Allie Quigley (+220)
Chris Paul should be busy as the president of the NBA Players Union, convincing his peers to agree to some form of regular season play under the spotlights of an empty arena in Vegas. But for now he's doing his PR duty by competing against Allie Quigley, an American–Hungarian professional basketball player for the WNBA's Chicago Sky. Quigley recently issued this to her competitors:
"I can go with the famous Larry Bird quote," Quigley told the Chicago Sun-Times in a phone interview. "Which one of you guys is coming in second?"
If you've watched her games with the Chicago Sky you know she's got skills from the outside. She will surprise Chris Paul to deliver the first upset of the NBA Horse Tournament.
---
TOURNAMENT ODDS
With the first round odds out of the way we now look to the overall player odds to win the inaugural NBA HORSE tournament:
Trae Young, Atlanta Hawks +195
Chris Paul, OKC Thunder +280
Mike Conley Jr, Utah Jazz +350
Zach LaVine, Chicago Bulls +360
Paul Pierce, retired +400
Chauncey Billups, retired +600
Allie Quigley, Chicago Sky +850
Tamika Catching, retired +1200
---
TOURNAMENT WINNER PREDICTION
We nailed the pick when we predicted Devin Booker to win the first NBA 2K Players Tournament, and we're doing it again by going with odds-on-favorite. Trae Young will make all of his opponents spell out H.O.R.S.E as he rides off into the sunset with a cool $100,000 for charity.
Click here to make your NBA 2K picks

600 total views, 1 views today
Comments
comments