Bowl season is almost here! While the College Football Playoff is obviously the main attraction, it shouldn't be forgotten that there are a host of other excellent matchups up and down the loaded bowl schedule. With that said, let's take a quick look at the 10 most intriguing non-CFP bowl games, and pick out winners against the spread on each one.
Meanwhile, don't forget to check out our predictions for the College Football Playoff national semifinals as well as the title game here. And for those who don't even know what the CFP is, check out our piece on how the college playoff format works here.
[sc:NCAAFArticles ]
2015-16 Bowl Season Picks
Russell Athletic Bowl – North Carolina vs. Baylor (Dec. 29, 5:30 PM ET, ESPN)
Line: North Carolina Tar Heels (+3) vs. Baylor Bears (-3) – view all NCAA football lines
North Carolina had a terrific season, going on an 11-game winning streak before falling just short against Clemson in the ACC title game. Fueled by the all-around brilliance of senior quarterback Marquise Williams, the Tar Heels averaged 40.9 points per game, No. 11 in the country.
Baylor once again led the nation in scoring at 48.0 points per game, but is still unsure of who will start at quarterback in the bowl game. Jarrett Stidham could make his return after being sidelined due to multiple injuries, but Chris Johnson should be ready to start just in case after suffering a concussion against Texas.
The potential game-changer, though, could be the Bears defense, which has more playmakers to swing what is expected to be an offensive battle.
Writer's Prediction: North Carolina (+3) beats Baylor, 41-37.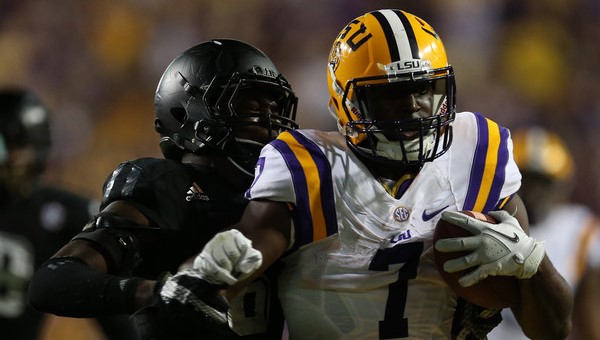 Texas Bowl – LSU vs. Texas Tech (Dec. 29, 9:00 PM ET, ESPN)
Line: LSU Tigers (-7) vs. Texas Tech Red Raiders (+7) – view all NCAA football lines
LSU suffered a turbulent last month of the season, with three consecutive losses and speculation surrounding the future of head coach Les Miles. Meanwhile, Texas Tech possesses the explosive offense that can give the Tigers D a few problems.
However, the time off should be enough to get LSU back on the same page. Also, the battle between the country's leading rusher (LSU's Leonard Fournette) and the third-worst run defense in the nation doesn't figure to end well for the Red Raiders.
Writer's Prediction: Fournette turns in a huge performance as LSU (-7) runs away with a 45-32 win.
Holiday Bowl – USC vs. Wisconsin (Dec. 30, 10:30 PM ET, ESPN)
Line: USC Trojans (-3) vs. Wisconsin Badgers (+3) – view all NCAA football lines
Despite a midseason coaching change, USC still had a fairly successful season and claimed the Pac-12 South. However, the mounting injuries, particularly on defense, have taken their toll on the Trojans, who lost two of its last three games, including a 19-point drubbing against Stanford in the Pac-12 title game.
Meanwhile, Wisconsin's defense has been one of the best in the nation – it's No. 1 in scoring defense (13.1 points allowed per game) – but the offense has been unable to capitalize, most notably in their close losses to Iowa and Northwestern.
All things considered, USC is the much more well-rounded offense, and should be able to move the ball more effectively both on the ground and through the air.
Writer's Prediction: USC (-3) has enough offense to produce a rather comfortable 27-20 win.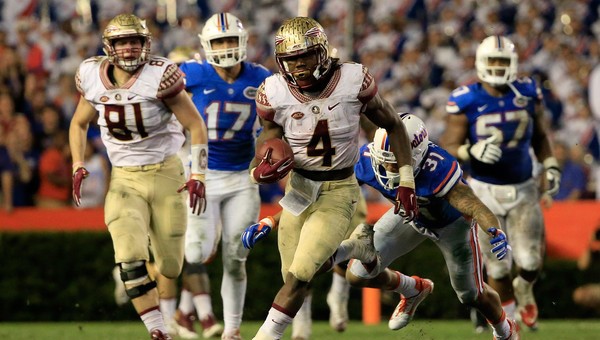 Peach Bowl – Houston vs. Florida State (Dec. 31, 12:00 PM ET, ESPN)
Line: Houston Cougars (+7) vs. Florida State Seminoles (-7) – view all NCAA football lines
Houston had a terrific season under first-year head coach Tom Herman. They went 12-1 to win the AAC, and are still undefeated when junior Greg Ward Jr. starts at quarterback. The dual-threat QB leads a prolific offense that averages 40.6 points per game, 12th in the nation.
However, the Cougars face a stern test in Florida State. The Seminoles possess some terrific athletes on defense that can limit the damage Ward can do on the ground. Meanwhile, explosive Noles running back Dalvin Cook will be tough to contain. He rushed for over 180 yards on the road against the very solid defenses of Clemson and Florida.
Writer's Prediction: The Seminoles (-7) show their class and pull away for a 42-32 win.
Citrus Bowl – Michigan vs. Florida (Jan. 1, 1:00 PM ET, ABC)
Line: Michigan Wolverines (-4.5) vs. Florida Gators (+4.5) – view all NCAA football lines
Points will be at a premium in this battle between two of the best defensive teams in the country. Florida is No. 8 in points allowed per game this season (16.5) while Michigan is No. 10 at 17.2.
Neither offense inspires too much confidence, to be painfully honest. The Gators, in particular, have only scored 17 points over the last two games, nine of which have come via a punt return for a touchdown and a safety.
At least the Wolverines can point toward some stellar performances from senior quarterback Jake Rudock in wins against Rutgers and Indiana, as they scored 97 total points in those two games.
Writer's Prediction: Michigan (-4.5) produces enough offense to edge out a 21-13 win.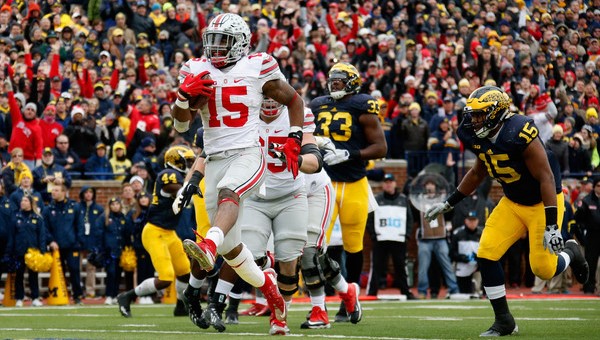 Fiesta Bowl – Notre Dame vs. Ohio State (Jan. 1, 1:00 PM ET, ESPN)
Line: Notre Dame Fighting Irish (+6.5) vs. Ohio State Buckeyes (-6.5) – view all NCAA football lines
The Irish and Buckeyes were right in the thick of the playoff picture until the last few weeks of the season. Now, they face off in the Fiesta Bowl for a star-studded matchup on both sides of the ball.
Both teams can run the ball very well, although the Buckeyes run defense will take a hit now that defensive tackle Adolphus Washington will be suspended. The Irish also have the explosive deep threat in Will Fuller that can take the top off the Ohio State defense.
However, the Buckeyes' defense is much stronger overall even without Washington. The offense should also be very effective as long as they commit to the run with Ezekiel Elliott.
Writer's Prediction: Ohio State (-6.5) has too much for the Irish and comes away with a 38-31 win.
Rose Bowl – Stanford vs. Iowa (Jan. 1, 5:00 PM ET, ESPN)
Line: Stanford Cardinal (-7) vs. Iowa Hawkeyes (+7) – view all NCAA football lines
The marquee matchup in the Rose Bowl will be Iowa's defense and special teams going up against Stanford's Heisman Trophy finalist Christian McCaffrey.
McCaffrey is coming off a record-breaking performance in the Pac-12 title game against USC. He had 461 all-purpose yards (205 as a rusher) to break Barry Sanders' all-time single-season record for all-purpose yards. Oh, and he also ran, caught and threw for a touchdown.
However, Iowa's D proved its mettle by limiting Michigan State to a season-low 16 points in the Big Ten title game. The Hawkeyes should also have a bit more success running the ball against a Stanford run defense that has slipped from elite status this year.
Writer's Prediction: Iowa (+7) hangs on to cover in a 31-27 loss.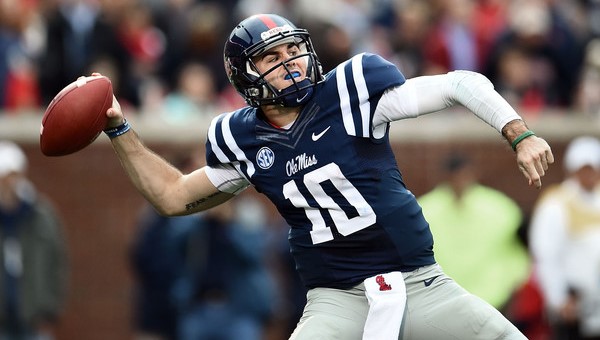 Sugar Bowl – Oklahoma State vs. Ole Miss (Jan. 1, 8:30 PM ET, ESPN)
Line: Oklahoma State Cowboys (+7) vs. Ole Miss Rebels (-7) – view all NCAA football lines
[sc:NCAA240banner ]The Sugar Bowl shapes up to be high-scoring affair, with both Oklahoma State and Ole Miss averaging 40 points per game this season. That means defense will likely be the deciding factor in this matchup, and of the two, Ole Miss has the better track record of coming up with strong defensive performances.
The Cowboys defense failed the team in losses to Baylor and Oklahoma in their last two regular season games. The presence of Ole Miss' star left tackle Laremy Tunsil should also limit Emmanuel Ogbah's ability to put pressure on Rebels quarterback Chad Kelly.
Writer's Prediction: Ole Miss does enough to slow down Oklahoma State's offense as the Rebels (-7) run away 42-31 winners.
Outback Bowl – Northwestern vs. Tennessee (Jan. 1, 12:00 PM ET, ESPN2)
Line: Northwestern Wildcats (+8) vs. Tennessee Volunteers (-8) – view all NCAA football lines
The Northwestern Wildcats have been one of the top defensive units in the nation, ranking No. 7 in scoring defense (16.4 points allowed per game). However, the running game has been crucial in their last four wins, with sophomore Justin Jackson averaging 153 rushing yards per game with three touchdowns during that span.
Tennessee has had a strong last two months, going 6-1 with the lone loss coming at Alabama by five. But the Vols' run defense has been mediocre, as has their ability to close out games. They lost fourth quarter leads to Oklahoma, Florida and Bama. Meanwhile, the Wildcats are 5-0 this season in one-score games.
Writer's Prediction: Northwestern (+8) makes enough plays on defense to hang on and cover despite a 27-21 loss.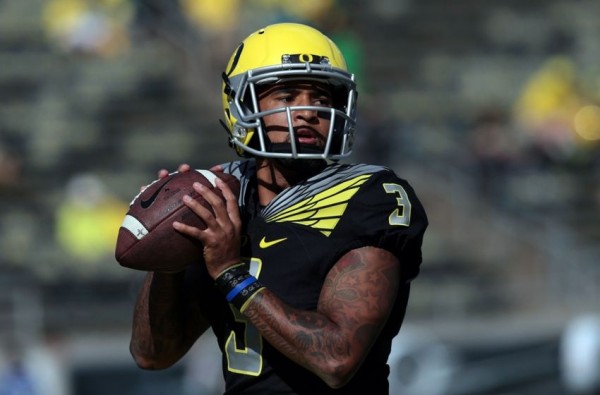 Alamo Bowl – Oregon vs. TCU (Jan. 2, 6:45 PM ET, ESPN)
Line: Oregon Ducks (PK) vs. TCU Horned Frogs (PK) – view all NCAA football lines
Offense has not been a problem for Oregon recently. After some early-season struggles, the Ducks ended the year with six-straight wins and averaged almost 45 points per game thanks to the strong play quarterback Vernon Adams.
TCU didn't finish as strongly, in large part due to injures to QB Trevone Boykin and wide receiver Josh Doctson. But Boykin should be fully recovered from an ankle injury, and Doctson could also make his return from a wrist injury.
Even if Doctson does return, though, the rust factor could be too much to overcome for the Horned Frogs to stay in step with the high-flying Ducks.
Writer's Prediction: Oregon (PK) outguns TCU, 45-38.
Create a betting account now and cash in on all the best college football action on offer during bowl season.
[sc:NCAA490banner ]
2,381 total views, 2 views today
Comments
comments