The AFC East is off to a perfect 4-0 start this season, with the New England Patriots and Buffalo Bills both recording impressive home wins in Week 1. However, that 100 percent division record won't last past Week 2, when the Pats and Bills face off in Buffalo.
The Pats have owned the Bills for a decade and a half, but Rex Ryan's team will be primed to put a stop to that poor home record against New England, much like how they stopped Andrew Luck and the Colts at home in Week 1.
Get the full breakdown of this AFC East showdown with our preview below. And for more Week 2 matchups between division rivals, check out our previews of the Broncos vs. Chiefs and Buccaneers vs. Saints.
[sc:Football ]
New England Patriots vs. Buffalo Bills Preview
Where: Ralph Wilson Stadium, Buffalo
When: Sunday, September 20, 1:00 PM ET
Line: New England Patriots (-1) at Buffalo Bills (+1); total: 45.0 – view all NFL lines
TV Broadcast: CBS
Betting on the New England Patriots
Tom Brady put the entire Deflategate saga behind him with a terrific showing in his season debut against the Pittsburgh Steelers. The Super Bowl MVP was incredibly efficient as he went 25-of-32 for 288 yards and four touchdowns to lead the Pats to a 28-21 win. And he did it without the use of under-inflated balls!
[sc:NFL240banner ]Despite missing the likes of Brandon LaFell (injury), LeGarrette Blount (suspension) and Shane Vereen (Giants), Brady showed that he still has more than enough weapons on offense to cope.
Three of Brady's touchdowns went to Rob Gronkowski, who finished with five catches for 94 yards. Julian Edelman had 11 catches on 12 targets with 97 yards and unheralded running back Dion Lewis came from nowhere to total 120 yards from scrimmage.
That offense will have to be at its best when it goes up against the Bills and their top defense. But the Pats have a way of moving the ball even against elite defenses (see: Super Bowl XLIX vs. the Seahawks).
Brady wasn't going full effort in the Pats' 17-9 meaningless Week 17 home loss to the Bills last season. However, Brady did preside over the Pats' 37-22 beat down of the Bills in Buffalo on Week 6. Brady went 27-of-37 for a season-high 361 yards – Gronk and Edelman combined for 16 catches and 165 yards – with four touchdowns.
The Pats have been nothing short of dominant against the Bills for well over a decade. Since 2000, they've gone 13-2 (10-4-1 against the spread) at Buffalo.
Betting on the Buffalo Bills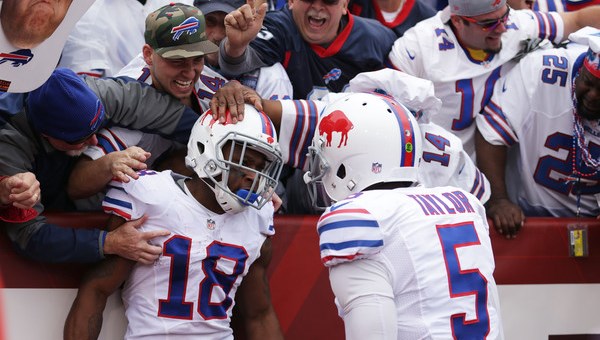 For anyone still wondering how good the already-elite Buffalo Bills defense could still get with Rex Ryan, just ask Andrew Luck and the Indianapolis Colts. The Bills shut out Indy for the entire first half and picked him off twice en route to a big 27-14 home win. Buffalo also held the anemic Colts running game to just 64 yards on 3.8 yards per carry.
The Bills, who also beat the Packers at home in Week 15 last season, are now 4-0 (straight-up and against the spread) in their last four home games.
The more surprising part of their win against Indy was how well the offense played. Quarterback Tyrod Taylor, who was making his very first NFL start, was particularly impressive as he completed 14 of 19 passes for 195 yards and a touchdown.
Meanwhile, the running game exploded for 147 yards, and only 41 of those came from star running back LeSean McCoy. Taylor ran for 41 yards, while rookie Karlos Williams had 55 on just six carries with a touchdown.
After seeing how porous the Pats defense looked against the Steelers – 464 total yards allowed, including 134 on the ground – it's not out of the question that the Bills offense can produce another strong showing. The Bills' dominant defensive line – which will have star tackle Marcell Dareus back from his one-game suspension – should also continue to find success against a Pats O-line that will be missing starting center Bryan Stork, who is suffering from a neck injury.
Ryan, of course, has all sorts of experience facing Brady and Bill Belichick. Although his Jets teams were just 3-9 all-time against them in the regular season, his defenses have consistently slowed the Pats down. New England averaged 27.3 points and 347 yards per game against Ryan's Jets defenses, down from the 31 points and 402 yards they averaged against all other teams over that span.
Writer's Prediction
The Bills give the Pats all they can handle, but Brady finds a way to get it done for a hard-earned 24-21 road win. Create a betting account now and earn your way to some major winnings this NFL season.
[sc:NFL490Banner ]
2,623 total views, 1 views today
Comments
comments