The New England Patriots still have something to play for in Week 17. The Pats lost to the New York Jets on Sunday, which means the Pats still aren't locked in to the No. 1 overall seed in the AFC. But with all the injuries the Pats have dealt with this season, could Bill Belichick decide to punt on their regular season finale against the sinking Miami Dolphins?
Get a complete breakdown of this all-AFC East Week 17 matchup. Also, don't forget to check out our previews of the Buccaneers vs. Panthers and Lions vs. Bears.
[sc:Football ]
New England Patriots vs. Miami Dolphins Preview
Where: Sun Life Stadium, Miami
When: Sunday, January 3, 1:00 PM ET
Line: New England Patriots at Miami Dolphins – view all NFL lines
TV Broadcast: CBS
Betting on the New England Patriots (12-3)
The good news for the Pats: despite all their injuries, they still managed to dig themselves out of a 17-3 hole in the second half against a very formidable Jets defense to force overtime. The bad news: they made a costly error by electing to kick off and eventually lost in overtime with Tom Brady not even touching the ball. With the loss, the Pats are now just 2-4-1 ATS in their last seven games.
[sc:NFL250 ]The injury-hit Pats also received more bad news as Sebastian Vollmer, the best and most experienced offensive lineman they have left, was carted off in the first quarter with a left leg injury and didn't return.
With all the injuries the Pats have suffered and a first-round bye secured, it's now a legitimate question whether Bill Belichick will even risk playing the likes of Tom Brady and Rob Gronkowski in Week 17 against the Miami Dolphins.
If Belichick does elect to play his stars, though, the Pats shouldn't have much trouble taking care of a Dolphins team that has seemingly given up on this season. How else would you explain the Fins losing to third-string Colts QB Charlie Whitehurst at home?
Brady tore the Dolphins D to shreds in a 36-7 New England win at home earlier this season. He had 356 yards and four touchdowns, with Gronk grabbing six catches for 113 yards and a touchdown.
The Pats are averaging 28.9 points per game on the road this season, but have gone just 3-4 ATS despite a 5-2 SU road record.
Create a betting account now and cash in on all the top NFL action this week.
Betting on the Miami Dolphins (5-10)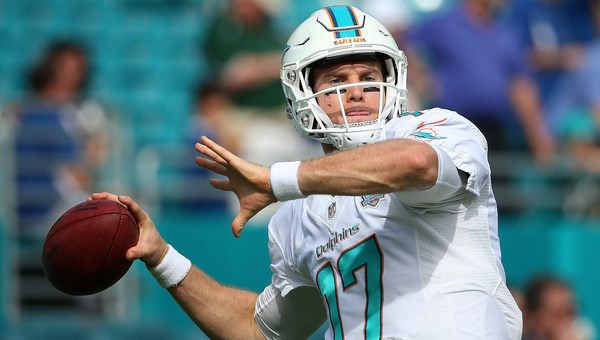 After showing some signs of improvement in their first couple games under new offensive coordinator Zac Taylor, the Dolphins offense has returned to its ineffective ways over the past few weeks.
The running game, in particular, has struggled after that initial surge. The running back platoon of Lamar Miller and Jay Ajayi has rushed for just 93 yards on 39 carries in their last two games. The ground game was also limited to a pitiful 15 yards on 13 carries in their first meeting with the Pats.
The Dolphins haven't had anything to play for over the last few weeks, and it's shown in their listless losses to the equally inept Chargers and Colts, where they scored just 26 total points. Miami is just 1-5 in its last six games.
It won't be too much of a surprise if the Dolphins just continue to sleepwalk through the season finale, but it also won't be a shock if Miami somehow gets up for the challenge of playing spoiler for its bitter division foe.
The Dolphins' job could be made much easier if Belichick does indeed decide to sit Brady and other Pats starters. Meanwhile, the Dolphins pass rush – led by Olivier Vernon – should be able to find some success in getting pressure on the Pats QB with all the problems in the New England O-line.
Miami has beaten New England on home turf in each of the last two seasons.
Writer's Prediction
The Pats play Brady and Gronk to secure homefield, and they succeed with a 27-17 win over Miami.
[sc:NFL620 ]
2,165 total views, 1 views today
Comments
comments