The AFC West has always been a shark tank full of contenders, but the Denver Broncos have been a step ahead of the rest of them. Will the Broncos remain as the best divisional powerhouse? Or will a new contender rise up to unseat the past four years' division champions? Read on as we take a closer look at AFC West and each team's win total prediction.
Get your fix of NFL futures action. Check out our team win total previews for NFC West and NFC North.
[sc:Football ]
2015 NFL AFC West Regular Season Wins Preview
San Diego Chargers
2014 Record: 9-7
Over/Under Wins: 8.5 – view all NFL regular season wins total
The San Diego Chargers may finally have a shot at clinching the AFC West since winning four straight division titles from 2006 to 2009. San Diego has an excellent quarterback in Philip Rivers who could possibly have big MVP-like performances.
[sc:NFL240banner ]Rivers will have plenty to work with in the ever-reliable tight end Antonio Gates, who caught a team-high 12 touchdowns last season, and a potential star in rookie running back Melvin Gordon. The former Wisconsin Badger led the entire FBS with 2,587 rushing yards and 29 touchdowns in his senior year last season.
A healthier offensive line should also help the Chargers' offense stay on the field long enough to score plenty of points. San Diego's excellent passing defense – fourth in the league last season – should also keep one of their bigger divisional rivals in the Denver Broncos in check.
Prediction: OVER 8.5  
Denver Broncos
2014 Record: 12-4
Over/Under Wins: 10.5 – view all NFL regular season wins total
The Denver Broncos have never made five straight playoff appearances in franchise history. Getting an automatic berth by winning AFC West this year is even tougher considering the numerous changes to the team ahead of the 2015 NFL regular season.
Peyton Manning returns as the Broncos' premier signal caller, and he'll have at least one more shot at winning a Super Bowl this season. But he won't have Pro Bowl tight end Julius Thomas (now with the Jaguars) and starting guard Orlando Franklin. Manning will also have to work under a new system with Gary Kubiak taking over as head coach after the Broncos parted ways with John Fox after their AFC Divisional Playoff loss last season.
But Kubiak is excellent at utilizing the talent available to the team. He coached Denver running back Terrell Davis to the Pro Bowl and NFL MVP in 1998. He also found a gem during his tenure in Baltimore last season, helping journeyman Justin Forsett lead the league with 5.4 yards per carry among all running backs. Kubiak will also have Broncos running back C.J. Anderson to work with this season. Anderson rushed for 648 yards and eight scores on 140 carries in the last six games of the 2014 regular season.
While Denver may struggle right out of the gates, expect them to remain competitive toward a Wild Card berth.
Prediction: UNDER 10.5
Get ready for a brand new season of football. Create a betting account now and catch all the futures lines before the pigskin year begins.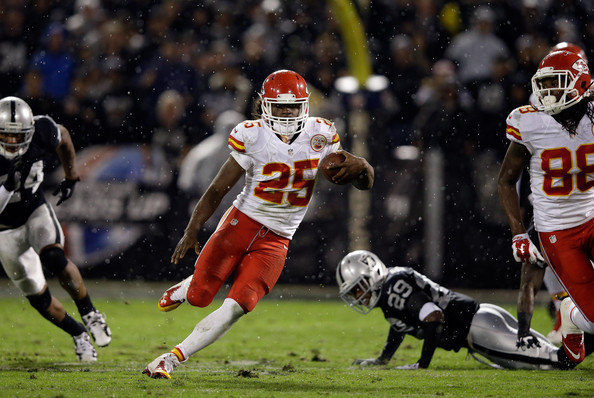 Kansas City Chiefs
2014 Record: 9-7
Over/Under Wins: 8.5 – view all NFL regular season wins total
Last year's Kansas City Chiefs took a step back from the 2013 11-win team. The Chiefs won just nine games last season as their limitations were on full display.
Alex Smith is a good quarterback, completing 65.3 percent of his passes last season with 18 touchdowns and just six interceptions. But he doesn't have the receiving corps to wreak havoc on opposing secondaries.
The addition of Jeremy Maclin gives Smith an explosive deep threat receiver, but he won't have much beyond Maclin with the likes of Albert Wilson, Frankie Hammond, Junior Hemingway and Jason Avant making up the rest of the receiving corps. Prolific running back Jamaal Charles gives the Chiefs a solid option on the ground game, but injuries may limit his production.
A budding defensive star in Justin Houston also gives the Chiefs a fighting chance. Houston signed a record six-year, $101 million contract with Kansas City. The linebacker is just into his fourth year in the league, but he already set a single-season franchise record with 22 sacks last year. Houston will get better, and so will Kansas City's defense against a pass-heavy division.
Prediction: UNDER 8.5
Oakland Raiders
2014 Record: 3-13
Over/Under Wins: 5.5 – view all NFL regular season wins total
Big steps were taken by Oakland in the 2015 NFL Offseason. The Raiders hired Jack Del Rio as their head coach, who has already guided a team toward a Super Bowl title (in SB XXXV as the Baltimore Ravens' linebacker coach). They also handed the defensive coordinator spot to ex-Seattle assistant Kenny Norton.
The Raiders also managed to nab wide receivers Michael Crabtree (free agency) and Amari Cooper (first round draft pick) to give their budding quarterback Derek Carr some versatile weapons to work with. Crabtree is a veteran who spent his first six years in the league as a deep threat receiver for San Francisco. Meanwhile, Cooper broke numerous records on the way to winning the Biletnikoff Award last season.
While the Raiders may not yet be a contender this season, they can surely cause problems for the rest of the big dogs in the division.
Prediction: OVER 5.5
Writer's Prediction
The San Diego Chargers win the division with an 11-5 record. Denver comes in second sporting 10 wins, while Kansas City comes in third at 8-8. The Raiders pull off some surprises to double their wins from last year en route to a 6-10 record.
[sc:NFL490Banner ]
2,115 total views, 1 views today
Comments
comments