A brand new year welcomes a brand new season for football. The NFL landscape has changed tremendously with some big moves in the 2015 NFL Offseason. One of the busiest teams had been the Seattle Seahawks, who retooled their offense to be even more devastating this year. '
The rest of the NFC West didn't follow suit though as St. Louis and San Francisco continue to look for answers. But the Cardinals, still with their tough defense, could remain a threat to topple Seattle's reign. Read on for a complete look at NFC West's regular season wins totals.
Already excited for the 2015-2016 NFL Season? Check out the regular season wins total for NFC North.
[sc:Football ]
2015 NFL NFC West Regular Season Wins Preview
Seattle Seahawks
2014 Record: 12-4
Over/Under Wins: 11.0 – view all NFL regular season wins totals
Super Bowl XLIX runners-up, the Seattle Seahawks, may be much deadlier heading into the upcoming 2015 NFL regular season. Stellar running back Marshawn Lynch returns after rushing for 1,306 yards with 13 touchdowns last season. He also led the Seahawks with four receiving touchdowns.
[sc:NFL240banner ]The Seahawks may have rectified their lack of receiving corps by trading for tight end Jimmy Graham. The former Saint has scored 51 touchdowns over the last five seasons. He scored 10 times in 2014 and led the league with 16 in 2013. Graham will be a huge boost to quarterback Russell Wilson's passing game.
The threat Graham brings to the Seattle offense should mask the absence of center Max Unger (now a Saint), who is one of the best run blockers in the league. Having Graham running roughshod to catch possible deep passes should give enough space for Lynch to work his magic on the ground.
Seattle should also remain as one of the best defenses in the league with the return of linebacker Bruce Irvin, strong safety Kam Chancellor and cornerback Richard Sherman. Expect the Seahawks to wreak havoc over a weakened NFC West.
Prediction: OVER 11.0 wins
Arizona Cardinals
2014 Record: 11-5
Over/Under Wins: 8.5 – view all NFL regular season wins totals
The Arizona Cardinals once held the top spot in the league with a 9-1 record in the 2014 regular season. But injuries derailed their chances of clinching their division, as well as finishing as the best team in the conference.
Heading into the 2015 regular season, the Cardinals return as a sleeper in the competitive NFC West. Despite the exit of cornerback Antonio Cromartie and defensive end Darnell Dockett, the Cardinals should still have a solid defense that could hound opposing offenses. Arizona has ranked in the top six in points allowed per game in the past two seasons.
The Cardinals will also benefit from the return of quarterback Carson Palmer due to an ACL tear. Palmer won all six games he started in the 2014 season en route to ranking eighth in the league with a 95.6 passer rating. As long as Palmer remains healthy, the Cardinals should once again be a force in the NFC.
Palmer has a proven weapon in veteran wide receiver Larry Fitzgerald (784 yards and two touchdowns in 2014). But the aging wide receiver may be more of a mentor to Arizona's young, up-and-coming receivers like John Brown (five touchdowns in 2014) and Michael Floyd (six touchdowns in 2014).
Prediction: OVER 8.5 wins
St. Louis Rams
2014 Record: 6-10
Over/Under Wins: 8.0 – view all NFL regular season wins totals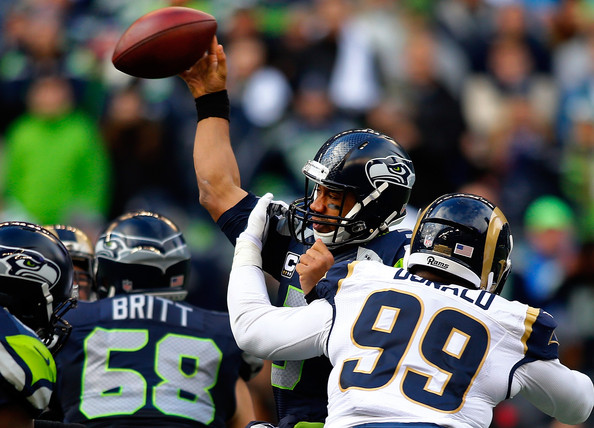 The St. Louis Rams may not be an offensive juggernaut. But they have a defense capable of winning games. The Rams finished the 2014 season with 40 sacks; they had eight in just one game against San Francisco in Week 9.
St. Louis will have a duo of excellent defensive tackles in offseason acquisition Nick Fairley and 2014 Defensive Rookie of the Year Aaron Donald. Fairley recorded 17 quarterback hurries last season despite playing in just eight games due to injury, while Donald had 29 last season.
The Rams may also have a boost on offense, receiving quarterback Nick Foles from the Philadelphia Eagles in exchange for the oft-injured Sam Bradford. Foles led the Eagles to a 6-2 record through nine weeks in 2014 before injuring his left shoulder in Week 9 against the Houston Texans. He finished with 2,163 yards and 13 touchdowns last season.
Prediction: UNDER 8.0 wins
San Francisco 49ers
2014 Record: 8-8
Over/Under Wins: 6.5 – view all NFL regular season wins totals
Woe are the San Francisco 49ers. The former NFC West power suffered a mass exodus of players during the offseason.
The Niners' defense was ravaged by retirements with linebackers Chris Borland and Patrick Willis, defensive end Justin Smith and safety Bubba Ventrone all calling it quits before the start of the 2015 season. The Niners also won't have head coach Jim Harbaugh and defensive coordinator Vic Fangio, under whose reign (four years) San Francisco ranked in the top five in total defense.
Key offensive players in wide receiver Michael Crabtree and running back Frank Gore also left via free agency. But San Francisco did reload with running back Reggie Bush and wide receiver Torrey Smith. Bush is a versatile running back who could also catch the ball (3,489 career receiving yards), while Smith gives quarterback Colin Kaepernick a deep threat for his strong arm.
Despite their reinforcements, the Niners may not have much ammunition against the excellent defensive teams that inhabit NFC West.
Prediction: UNDER 6.5 wins
Writer's Prediction
The Seahawks clinch the division with a 13-3 record, the Cardinals follow with a 10-6 record. The Rams fall short of covering their regular season wins total by just one game, 7-9. The Niners go under, winning just five games.
Create a betting account now and dive into lucrative NFL futures.
[sc:NFL490Banner ]
2,070 total views, 1 views today
Comments
comments