Most if not all of the starters will be resting in Week 4 of the NFL Preseason. But that doesn't mean that we have to miss out on some great betting spots available this week. There are a couple of games on Thursday night that should give us incredible primetime football action.
The Baltimore Ravens take on the Atlanta Falcons to kick off the night. A little later on, the Houston Texans take on the Dallas Cowboys as they prepare to enter the 2015 NFL Regular Season. Read on as we break down these two games on Thursday night.
Looking for some last-minute reading on the NFL preseason? Check out our complete picks and predictions for Week 4 as well as the previews for the Broncos vs. Cardinals and Chiefs vs. Rams.
[sc:Football ]
Baltimore Ravens vs. Atlanta Falcons
Where: Georgia Dome, Atlanta, Georgia
When: Thursday, September 3, 7:00 PM ET
Line: Baltimore Ravens (+1) at Atlanta Falcons (-1); total 40.0 – view all NFL lines
It's Week 4 of the preseason, which means the starters get to get some much needed rest; even more so considering the bevy of injuries that knocked stars like Jordy Nelson, Shaun Suisham and Kelvin Benjamin out for the season.
[sc:NFL240banner ]Second-year player Michael Campanaro and rookie tight ends Maxx Williams and Nick Boyle should see plenty of time on the gridiron in Week 4 as they take over the Ravens' receiving corps. Campanaro looked solid in his only preseason game in Week 1, catching two passes for 58 yards and a score against the New Orleans Saints. Williams also had a good outing in that game, catching two of three targets for 36 yards.
The three will likely have third-stringer Bryn Renner as their starting quarterback in Week 4 of the preseason. Renner has been serviceable this preseason, going 25 for 41 for 281 yards with two touchdowns and two interceptions through the first three games.
Atlanta's backup quarterback T.J. Yates has been banged up through the first three games of the preseason. While he has completed 35 of 58 passes for 370 yards, he has also thrown two interceptions and has been sacked five times. He'll have backup wide receiver Leonard Hankerson, who has been impressive in training camp, to throw some bombs to. Hankerson has 73 yards and a score on seven catches thus far in the preseason.
The Falcons have lost five of their last six preseason Week 4 games.
Writer's Prediction
The Ravens' (+1) reserves outplay Atlanta's.
Houston Texans vs. Dallas Cowboys
Where: AT&T Stadium, Arlington, TX
When: Thursday, September 3, 8:00 PM ET
Line: Houston Texans (-4) at Dallas Cowboys (+4); total 39.0 – view all NFL lines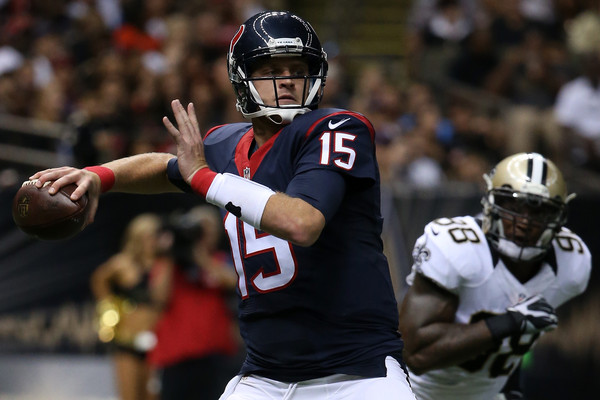 Ryan Mallett was frustrated that Brian Hoyer won the starting gig for Week 1 of the NFL regular season. He may be able to unload his anger in the final game of the preseason by going up against the Dallas Cowboys, who seem to be easy pickings after dropping their first three games.
Mallett has made 24 of 35 passes for 190 yards with a touchdown and no interceptions. He hasn't been sacked all preseason long, but could face more pressure against the Cowboys. Dallas has eight sacks through the first three games of the preseason.
The Cowboys are also set with their starting quarterback in Tony Romo. But they're primary backup, Brandon Weeden is being evaluated for a concussion. If Weeden can't make it to Week 1 of the regular season, then the Cowboys will likely keep Dustin Vaughan or Jameil Showers as Romo's backup.
The two will likely be embroiled in a quarterback battle in Week 4. Vaughan has passed for 228 yards with two interceptions in the preseason. Showers has less yardage in his short appearances with just 120 yards passing, but has not thrown an interception the entire preseason as well.
Writer's Prediction
The Texans beat Dallas comfortably, covering -4. Create a betting account now and catch the last week of the NFL preseason.
[sc:NFL490Banner ]
1,894 total views, 1 views today
Comments
comments