Super Bowl 50 is just one week away! So, football fans get ready and gear up for an enormous night of gridiron action.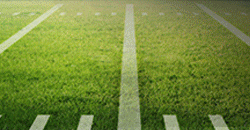 Coming from the NFC, the Carolina Panthers attempt to solidify themselves as the league's best team coming in after a sparkling 15-1 regular season record and a two blowout victories in the playoffs. The AFC's Denver Broncos may not have posted gaudy numbers, but have a chance to give their legendary quarterback a chance to go out on top.
Can Peyton Manning win one more Super Bowl before calling it quits? Can he bag the MVP Award with a victory? He'll need one hell of a game considering all the contenders vying for the Pete Rozelle Trophy. Let's take a look at the field of competitors in the running to win Super Bowl MVP.
Get everything you need to know heading into the big game. Check out our complete preview for Super Bowl 50 as well as our collection of experts' picks.
NFL News and Previews
Super Bowl 50 Odds Update for the MVP Award
Favorites – Cam Newton and Peyton Manning
He runs. He Flies. He scores touchdowns at the speed of light. Carolina Panthers quarterback Cam Newton is basically the NFL's Superman. He's basically a lock to win the regular season MVP after throwing for 35 touchdowns and scoring 10 more on the ground.
-150
to bring home extra hardware after Super Bowl 50.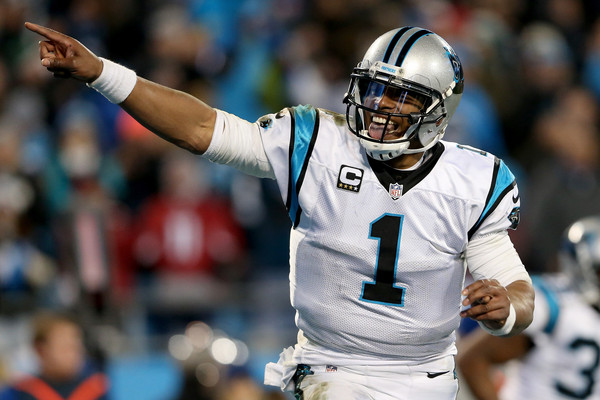 Carolina's Newton is solid and all. He's definitely getting up there when it comes to elite quarterbacks. But one signal caller already in the conversation for greatest of all time is Denver's Peyton Manning. He's not the same quarterback who threw for 55 touchdowns in a season. But he still has his best weapon: his mind.
Manning is still one of the smartest quarterbacks on the planet. He'll use his wealth of experience and high football IQ to make clutch plays when need be. He threw for under 200 yards his last time out, but did come up with two touchdowns to beat New England in the AFC Championship game. If Manning tosses what would be a Super Bowl-winning touchdown, then the MVP Award is his for the taking at +325.
Sleepers – C.J. Anderson and Josh Norman
If Manning struggles against Carolina, then two sleepers could wind up with the MVP Award.
C.J. Anderson could take over Denver's offense by churning out big runs against Carolina. It won't be easy, though. The Panthers have one of the best rushing defenses in the league, allowing just 88.4 yards per game this season. Beating that kind of defense would make a Super Bowl-winning performance even more impressive.
Anderson is no stranger to game-winners. He broke out for a 48-yard touchdown run in overtime to beat New England in Week 13. He also scored the game-winner in the Divisional Round game against Pittsburgh. He's worth a bet at +1,600 for another tantalizing performance.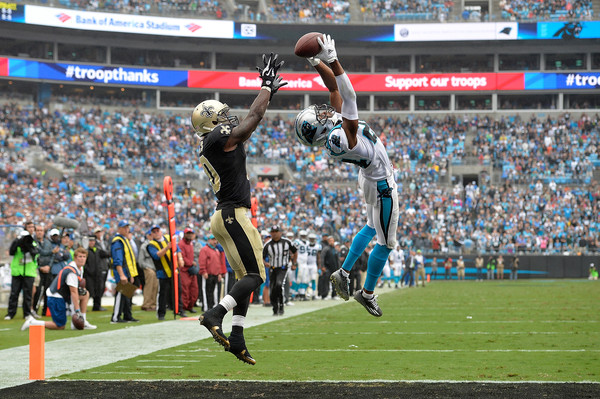 Should Manning struggle to get the ball in the hands of his receivers, then Carolina cornerback Josh Norman may be to blame. He's arguably the Panthers' best player in the secondary with a team-high 18 passes defended in the regular season. He also had four picks, two for touchdowns.
Manning has been a turnover machine this season, with 17 interceptions in the regular season. Expect Norman to threaten with a pick. If he does make a very impactful play to seal the Super Bowl with an interception (maybe even a pick-six), then he may be a steal at +2,500 to win the MVP Award.
Long Shot – Aqib Talib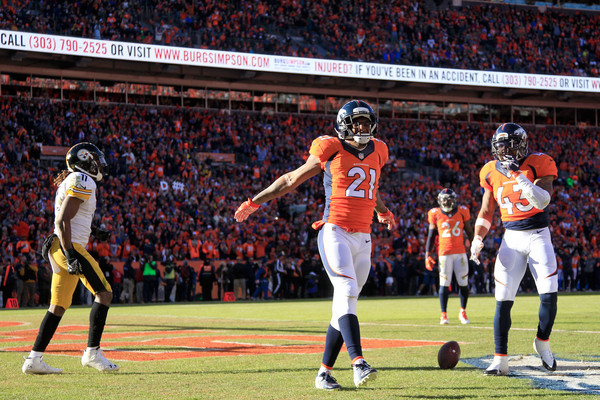 Denver cornerback Aqib Talib is no stranger to big plays as part of the Broncos' solid secondary. He has two pick-sixes in the regular season: a 51-yard game-winner against Baltimore in Week 1 and a 61-yarder against Cleveland in Week 6. Both plays were impressive and eye-popping. But they were against two of the league's worst teams.
The Carolina Panthers have shown that they're in a class of their own this season, rumbling through the regular season with just one defeat while blowing out worthy opponents in the playoffs. But if Cam Newton makes a mistake throwing to Talib, then he may be in for a rough night.
Newton already showed a chink in his armor by throwing an interception against Arizona. You can count on Denver's defensive coordinator Wade Phillips to device a solid game plan to limit the mobile quarterback. A couple of solid rushes from the defensive line could have Newton making a hurried throw into coverage. A crucial interception in the dying moments of a defensive battle could make Talib a fine pick at +6,000 to win the MVP Award.
Complete Super Bowl 50 MVP Award Odds
*as of February 1 
| Player (Team) | Odds |
| --- | --- |
| Cam Newton (CAR) | -150 |
| Peyton Manning (DEN) | +325 |
| Luke Kuechly (CAR) | +1,200 |
| Von Miller (DEN) | +1,200 |
| Greg Olsen (CAR) | +1,500 |
| C.J. Anderson (DEN) | +1,600 |
| Jonathan Stewart (CAR) | +1,600 |
| Demaryius Thomas (DEN) | +2,000 |
| Ted Ginn Jr. (CAR) | +2,000 |
| DeMarcus Ware (DEN) | +2,500 |
| Emmanuel Sanders (DEN) | +2,500 |
| Josh Norman (CAR) | +2,500 |
| Corey Brown (CAR) | +3,000 |
| Ronnie Hillman (DEN) | +3,000 |
| Owen Daniels (DEN) | +4,000 |
| Derek Wolfe (DEN) | +5,000 |
| Aqib Talib (DEN) | +6,000 |
| Charles Johnson (CAR) | +6,000 |
| Chris Harris Jr. (DEN) | +6,000 |
| Kawann Short (CAR) | +6,000 |
| Devin Funchess (CAR) | +8,000 |
| Graham Gano (CAR) | +8,000 |
| Jerricho Cotchery (CAR) | +8,000 |
| Thomas Davis (CAR) | +8,000 |
| Field (any other player) | +550 |
Create a betting account now and cash in on Super Bowl 50, the biggest sporting event on the planet.

1,944 total views, 2 views today
Comments
comments