As the NFL regular season enters its final month, all 32 teams are more or less delineated into one of two sections: teams with nothing to play for, and teams with something to play for (read: playoffs).
In this week's edition of the Power Rankings though, we've classified the teams into a couple more specific categories: Nothing to Play For (pretty self-explanatory), Below .500 but Dangerous (for "bad" teams making a strong push to end their season), the Playoff Hopefuls and the Contenders for the Super Bowl. See where each team falls in our rankings below.
Find more useful NFL Week 14 content with our weekly experts' picks, where we canvass some of the game's experts for their views on the week's matchups. Check that out here.
[sc:Football ]
NFL Week 14 Power Rankings
Nothing to Play For
32. Oakland Raiders (1-11)
31. Tennessee Titans (2-10)
30. New York Giants (3-9)
[sc:NFL240banner ]Odell Beckham Jr. is great and all, but is he really good enough for the Giants to forget another disastrous season, one which has involved a seven-game losing streak (currently on-going), which includes a humiliating loss to the Jaguars which they were actually leading 21-0? OBJ will need more than just spectacular one-handed grabs to turn his team's fading fortunes around.
29. New York Jets (2-10)
28. Jacksonville Jaguars (2-10)
27. Washington Redskins (3-9)
26. Carolina Panthers (3-8-1)
25. Tampa Bay Buccaneers (2-10)
24. Chicago Bears (5-8)
How disappointing these Chicago Bears have been this season. With yet another loss on Thursday night to the Dallas Cowboys, the Bears dropped to a pitiful 1-7 against teams currently with winning records. Two out of the Bears' last three games will be teams with records below .500, but even winning all three may not be enough to save head coach Marc Trestman's job.
.500 and Below, but Dangerous
23. Minnesota Vikings (5-7)
22. New Orleans Saints (5-7)
21. Atlanta Falcons (5-7)
Three wins in four have the Falcons suddenly dreaming about an improbable NFC South title. Atlanta is +150 to win the division, but it should really hold off on buying any celebratory champagne for a few weeks, because their brutal upcoming schedule against the Packers, Steelers and Saints could very easily knock them right out of contention.
20. Houston Texans (6-6)
19. St. Louis Rams (5-7)
Playoff Hopefuls
18. Pittsburgh Steelers (7-5)
17. Cleveland Browns (7-5)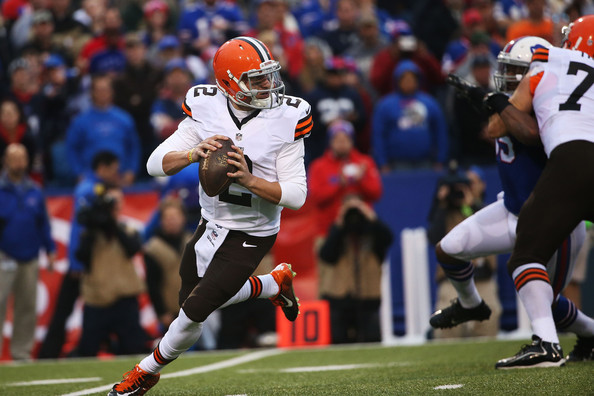 Browns head coach Mike Pettine teased everyone with a taste of Johnny Football for a couple of series against the Bills, but eventually decided to stick with Brian Hoyer as the starting quarterback. But if Hoyer continues his play in the last two games (no touchdowns, five interceptions), the Browns won't be in playoff race for very long.
16. Baltimore Ravens (7-5)
15. Buffalo Bills (7-5)
14. San Francisco 49ers (7-5)
13. Kansas City Chiefs (7-5)
12. Miami Dolphins (7-5)
11. Arizona Cardinals (9-3)
So much for the Cardinals being contenders. Two straight losses against fellow birds of prey have dropped the Cards down the pecking order. They're now +2,500 to win the Super Bowl. Arizona has a despicably hard final month of the season – home games against the Chiefs and Seahawks followed by road games against the Rams and 49ers – making a playoff berth far from guaranteed.
The Contenders
10. San Diego Chargers (8-4)
9. Cincinnati Bengals (8-3-1)
8. Dallas Cowboys (9-4)
7. Indianapolis Colts (8-4)
6. Detroit Lions (8-4)
5. Seattle Seahawks (8-4)
Six total points allowed in two weeks against teams that were a combined 16-5? Yup, the Seahawks' defense is back and looking scary good. As such, they're back to +800 to win the Super Bowl. The final month figures to be pretty tough with the Eagles, Niners, Cards and Rams, but with the way they've been playing, don't put it beyond the defending champs to sweep by that hellacious stretch.
4. Philadelphia Eagles (9-3)
3. Denver Broncos (9-3)
2. New England Patriots (9-3)
1. Green Bay Packers (9-3)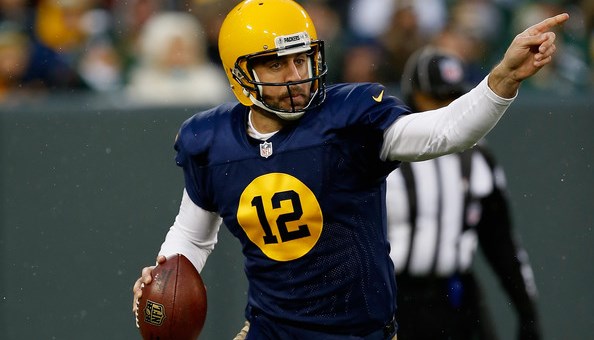 As they say, "to be the best, you've got to beat the best," which is exactly what the Packers did to the Patriots at Lambeau Field last week. Aaron Rodgers' touchdown-to-interception ratio at home is now a ludicrous 20:0, as compared to 12:3 on the road. If the Packers do eventually lock down homefield advantage in the playoffs, then their +150 odds to win the NFC would be a virtual lock.
With just a month left in the NFL regular season, create a betting account now and get wagering all the way through to the playoffs.
[sc:NFL490Banner ]
1,614 total views, 1 views today
Comments
comments