It was a wild Week 4 of the NFL season. Upsets occurred left and right, big names failed to deliver, and expectations were exceeded while arguably the three best teams in the league were all on bye. Now it's time to re-rank the 32 teams in the NFL as we head into Week 5.
Below we breakdown where we see the bottom feeders, middle of the pack, surprise teams, and Super Bowl contenders landing at this point in the season. In the meantime, you can also check our picks and predictions for all the Week 5 NFL games.
[sc:Football ]
NFL Power Rankings for Week 5
The Bottom Feeders
32. Oakland Raiders (0-4)
31. Jacksonville Jaguars (0-4)
[sc:NFL240banner ]Blake Bortles has taken the reins as starting quarterback after uninspiring performances from veteran Chad Henne. The rookie managed a 70.5% completion rate for 476 yards and three touchdowns since joining the NFL. However, he has also showed his inexperience in throwing four interceptions. Still, Bortles gave the Jaguars a competitive chance, albeit only in the first half, against the San Diego Chargers.
30. Tennessee Titans (1-3)
29. New York Jets (1-3)
28. Washington Redskins (1-3)
27. Tampa Bay Buccaneers (1-3)
The Disappointing Quarterbacks
26. Buffalo Bills (2-2)
EJ Manuel's completion rate has dropped steadily this season, bottoming out at 47.7 percent last week against the Houston Texans. He was also picked off twice, one returned for an 80-yard interception return touchdown. With Manuel getting worse week-after-week during a season in which the Bills have otherwise shown flashes of brilliance, Buffalo head coach Doug Marrone has announced journeyman quarterback Kyle Orton will start this week. Orton is no superstar, but his career 64.7% completion rate is far better than Manuel's career 58.0.
25. Pittsburgh Steelers (2-2)
24. St. Louis Rams (1-2)
23. New Orleans Saints (1-3)
The Dallas Cowboys kept Drew Brees and the Saints scoreless in the first half of their Sunday Night Football game. Brees was limited to just 84 yards and an interception in the first half before throwing two touchdowns early in the fourth quarter when the game was out of reach. The Saints are now 0-3 on the road and 1-3 overall. They'll need to do something special if they want to make the playoffs.
22. Carolina Panthers (2-2)
21. New England Patriots (2-2)
And down she goes. Bill Belichick had one of his worst losses as coach of the Patriots on Monday night, a 41-14 rout at the hands of the Kansas City Chiefs. Tom Brady was left helpless, finishing 14 of 23 passes for 159 yards and a touchdown. He was also picked off twice (one returned for a touchdown) and strip-sacked by the Chiefs. The Patriots were also limited to just 75 yards on the ground by a tight Kansas City defense.
The Middle of the Pack
20. Chicago Bears (2-2)
19. Miami Dolphins (2-2)
18. Atlanta Falcons (2-2)
17. Minnesota Vikings (2-2)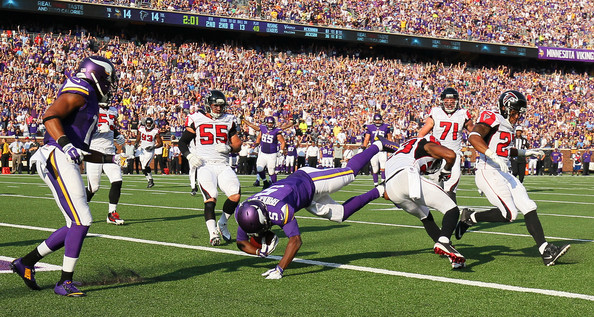 Teddy Bridgewater was excellent in his first start as a pro. He threw 19-for-30 for 317 yards, averaging 10.6 yards per attempt in a 41-28 upset win over the Atlanta Falcons. The rookie QB also showcased his dynamism when he ran for a 13-yard touchdown.Meanwhile, the Vikings have also done fine running the ball without Adrian Peterson. Rookie running back Jerrick McKinnon torched the Falcons for 135 yards on 18 carries, including a long 55 yard run. Three-year pro Matt Asiatta delivered the finishing touches with three scores.
16. Cleveland Browns (1-2)
15. San Francisco 49ers (2-2)
14. Kansas City Chiefs (2-2)
13. New York Giants (2-2)
Exceeding Expectations
12. Houston Texans (3-1)
11. Dallas Cowboys (3-1)
10. Baltimore Ravens (3-1)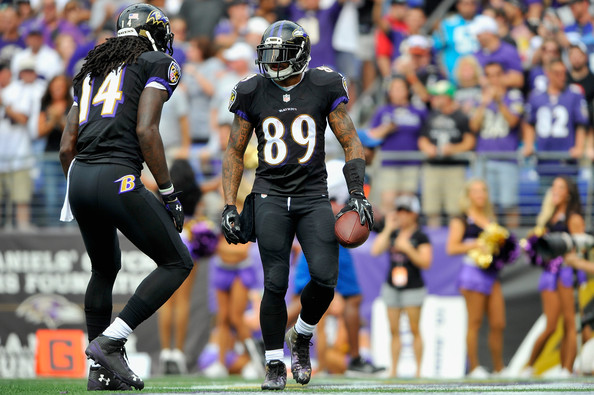 The Baltimore Ravens continue to impress as Joe Flacco and Steve Smith Sr. connected on seven passes for 139 yards and two touchdowns in a 38-10 blowout of the Carolina Panthers. The Ravens' rushing game has also looked stellar even without former No. 1 running back Ray Rice. Justin Forsett and Justin Taliaferro have done well racking up a combined 404 yards and four touchdowns on 77 carries this season.
The Contenders
9. Philadelphia Eagles (3-1)
8. Green Bay Packers (2-2)
7. Detroit Lions (3-1)
6. Indianapolis Colts (2-2)
Andrew Luck has found his stride, and the Indianapolis Colts recorded two back-to-back blowout wins. Luck now leads the NFL in passing with 1,305 yards and 13 touchdowns. With the way the Colts have been playing, expect them to continue winning games.
5. Arizona Cardinals (3-0)
4. Seattle Seahawks (2-1)
3. San Diego Chargers (3-1)
2. Denver Broncos (2-1)
1. Cincinnati Bengals (3-0)
The Bengals have looked dominant in their three wins this season and Week 5 puts them in a position to make a statement against the struggling Patriots. Andy Dalton has connected 12 times for 233 yards and a touchdown with leading receiver AJ Green while Giovani Bernard has 185 yards and three touchdowns on 55 carries. The two give the Bengals enough flexibility on offense for a great chance to keep their streak alive while their defense has looked absolutely dominant, allowing a league-best 11 points per game.
Create a betting account now and get yourself into all the NFL action.
[sc:NFL490Banner ]
2,057 total views, 1 views today
Comments
comments