The No. 8 Kentucky Wildcat freshmen have grown up just in time to bring down an undefeated No. 1 seed and the defending champs so far in this tournament, and they're just now into the Elite 8. Next, they set their sights on last year's also-rans, the No. 2 Michigan Wolverines, who have consecutive trips to the Final Four in mind.
For everything you need to prep your wagers for what could easily be the best game of the March Madness tournament this year, read on.
[sc:MarchMadness ]
No. 2 Michigan Wolverines vs. No. 8 Kentucky Wildcats Elite Eight Betting Preview
Where: Lucas Oil Stadium, Indianapolis
When: Sunday, March 30, 5:05 PM ET
Betting on the Michigan Wolverines
[sc:finalfour240 ]No. 2 Michigan avoided a disastrous 2nd half collapse to hang on for a 73-71 win over No. 11 Tennessee on Saturday. The Wolverines were up by 10 with less than four minutes to go, but a series of turnovers fueled a furious Volunteer comeback that ultimately came up short.
For the first 36 minutes, though, Michigan was rolling. The Wolverines jumped up to an 11-point halftime lead on the strength of some lights-out three-point shooting, when they were 7-9, to go with 11-20 in the game. Michigan has now shot a scorching 25-48 (52%) from beyond the arc in its last two games.
Senior Jordan Morgan more than held his own against the Vols' bruising front line with 15 points and 7 rebounds, and could give Julius Randle some problems on both ends. The Wolverines also commit very few fouls while defending, which would avoid the foul trouble Louisville experienced against Kentucky.
In the Sweet 16, Michigan pushed the two-point spread as favorites, the first time it hasn't covered in the tournament. The total also went over for the seventh time in ten Wolverine games.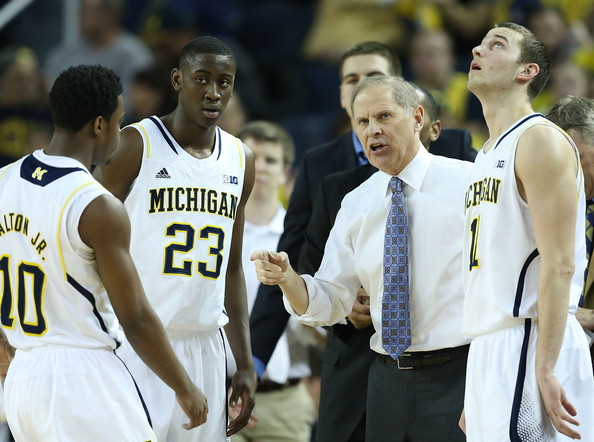 Betting on the Kentucky Wildcats
Much like how it played to upset No. 1 Wichita State, No. 8 Kentucky and its team of freshmen showed incredible poise and maturity in crunch time to knock out the defending champions No. 4 Louisville, 74-69 on Saturday. Kentucky is now an impressive 6-0 ATS in its last six games. The total has gone over in the Wildcats' last two games.
The Harrison twins combined for 29 points, including Aaron's clutch go-ahead three-pointer. Julius Randle also came up big with 15 points and 12 rebounds, his third-straight tournament double-double.
A horrible free-throw shooting team percentage-wise on the season, Kentucky is making them when it matters. The Wildcats are shooting 18-22 (81%) from the line in the last five minutes of their last two games. Kentucky, with its immense length and athleticism, also defended the three-point shot well, holding tournament opponents to just 32%.
Prediction
The Wildcats will manage to shut down Michigan's three-point shooting to force a tight game, where the clutch Kentucky stars do what they've done the entire tournament, and deliver in the clutch.
[sc:finalfour490 ]
1,737 total views, 1 views today
Comments
comments