When Michigan State head coach Tom Izzo reaches the Elite Eight, he usually wins. In order to further improve upon that terrific record this year, Izzo and the Spartans first need to cool off the No. 7 Connecticut Huskies, who are on fire from downtown.
Two of the most exciting teams of 2014's March Madness tournament are playing each other. For more on this ideal match up, read on.
[sc:MarchMadness ]
No. 4 Michigan State Spartans vs. No. 7 Connecticut Huskies Elite Eight Betting Preview
Where: Madison Square Garden, New York
When: Sunday, March 30, 2:20 PM ET
Betting on the Connecticut Huskies
[sc:finalfour240 ]For once, someone other than Shabazz Napier carried the heavy load for No. 7 Connecticut. Junior DeAndre Daniels erupted with 27 points on 10-15 shooting to lead the Huskies to an 81-76 victory over No. 3 Iowa State on Saturday.
Not that Napier was left out. He finished with 19 points and hit four three-pointers in the game. Napier is now averaging 23 points and shooting 45% from three in the tournament. The Huskies as a team went 9-19 from beyond the arc to put their tournament three-point totals at 29-63 (46%).
Like the Cyclones, the Spartans were one of the worst teams at defending the three-point shot this season, and the Huskies can once again took full advantage with the way they're shooting.
UConn's imposing interior defense also came up big, as Daniels and Amida Brimah helped contain Iowa State's Melvin Ejim and DeAndre Kane to a combined 9-31 shooting. This will definitely come in handy in dealing with the likes of Adreian Payne and Gary Harris.
Connecticut has covered the spread in all three tournament games so far. The total has also gone over in all three games.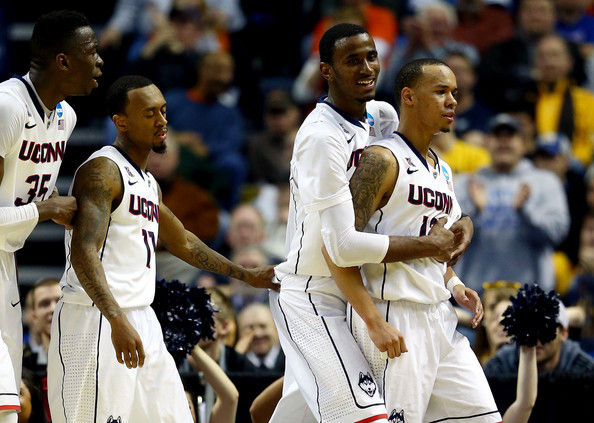 Betting on the Michigan State Spartans
No. 4 Michigan State survived a war against No. 1 Virginia to pull out the narrow 61-59 win in the Sweet 16. After leading the way with 26 points against Harvard, junior Branden Dawson delivered another sparkling performance with 24 points and 10 rebounds. Senior Adreian Payne scored 16, including the go-ahead three-pointer and two clutch free throws to seal the win.
The Spartans were involved in some high-scoring affairs in the earlier rounds, but they showed that they can still grind out victories with execution and defense. Michigan State held a Virginia offense shooting well over 50% in the tournament to just 35%.
While the Spartans can hang with UConn in a shootout (they were top 20 this year in three-pointers and three-point percentage), they would likely prefer to slow down the pace and force the Huskies to execute in the halfcourt, where the Spartans' physicality could overwhelm UConn.
Michigan State is 6-1 SU in seven previous trips to the Elite Eight under Tom Izzo. However, the Spartans have now failed to cover in back-to-back games after previously covering six in a row.
Prediction
With help from the Michigan State defense, UConn's sizzling shooting cools off just enough for the Spartans to go in for the kill as they claim another Final Four berth.
[sc:finalfour490 ]
1,618 total views, 1 views today
Comments
comments