The Los Angeles Clippers were able to survive Game 4 and tie the series at two games apiece as they head to Oklahoma for the very pivotal Game 5.
An all-around team effort was powered the Clippers to victory in this one, but this remain a series that hinges on the effort of Chris Paul, as we discussed in our series preview. Can Paul continue to lead in Game 5? Create a betting account now and do some leading of your own with a profitable bet on this massive Game 5.
[sc:NBAArticles ]
Los Angeles Clippers vs. Oklahoma City Thunder Round 2, Game 5 Betting Preview
Series Scores & Schedule
Game 1 – May 5 – Los Angeles 122 at Oklahoma City 105
Game 2 – May 7 – Los Angeles 101 at Oklahoma City 112
Game 3 – May 9 – Oklahoma City 112 at Los Angeles 101
Game 4 – May 11 – Oklahoma City 99 at Los Angeles 101
Game 5 – May 13, 9:30 PM ET – Los Angeles (+5.5) at Oklahoma City (-5.5) – total: 212.5 – view these lines 
Game 6 – May 15 – Oklahoma City at Los Angeles
Game 7 (if necessary) – May 18, TBA – Los Angeles at Oklahoma City
Betting on the Los Angeles Clippers
Up by 16 points in the last 10 minutes of the fourth quarter, Oklahoma City was poised to win Game 4 in LA, but the Clippers managed to go into overdrive to catch up, led by late game-hero Darren Collison, en route to a 101-99.
[sc:NBA240banner ]If the Clippers hope to win Game 5 and take the series lead, they will need Jamal Crawford to rev up his engines and be that third superstar to complement the duo of Paul and Griffin. In L.A.'s two wins, he's averaged 17.5 points on 13-for-27 shooting and in their two losses, he's averaged 13.5 points on 8-for-31 shooting.
Another key will be the Clippers defensive adjustments. In the fourth quarter, 6-foot Chris Paul was tasked to guard 6-foot-9 Kevin Durant, which caught the MVP off-guard. Instead of getting to the basket off the dribble, Durant had to work with difficult shots in the post. Although Durant most likely won't have the same matchup next game, it's worth noting that Doc Rivers still has his trump cards in store and is ready to adjust for anything.
Los Angeles will have to get all the pieces of the puzzle going as the Clip are 1-5 ATS in their last 6 road games.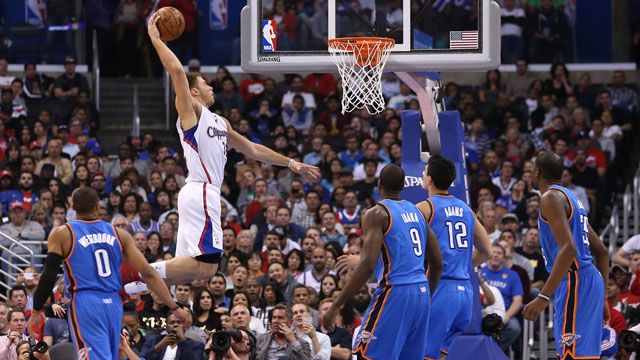 Betting on the Oklahoma City Thunder
Kevin Durant the Clippers the full MVP treatment as he notched 40 points, 7 rebounds, 3 assists while Russell Westbrook added 27 points, 6 rebounds and 8 assists.
Sadly, the duo's Herculean effort was still not enough as the Thunder were outscored 38-24  in the 4th quarter. Caron Butler, who had scored 14 points in Game 3, was limited to just six points on 2 for 7 shooting. This kind of performance cannot happen again if the Thunder want to take control of the series as Durant and Westbrook clearly cannot do it by themselves.
Oklahoma City will also have to call on both the defensive and offensive talents of Serge Ibaka. Ibaka is the team's best post defender and his stifling defense is badly needed on Blake Griffin. On offense, Ibaka's three-point range and honed mid-range jumper need to be more of a real threat, especially when all eyes are on Durant and Westbrook.
With Game 5 going back to Oklahoma, expect KD and the Thunder to feed off the crowd and pour on the offense for a high-scoring affair. The total has gone over six of the last eight meetings in Oklahoma City.
Writer's Prediction
As seen in Game 4, Doc Rivers alterations were the difference when it came down to the final minutes. Expect Rivers to outmatch Brooks in this chess match. Take the Clippers at +5.5.
[sc:NBA490banner ]
2,027 total views, 2 views today
Comments
comments