Both the Tennessee Volunteers and Oklahoma Sooners have been looking ahead to their game at Memorial Stadium. Both have been outstanding in dispatching their previous opponents for back-to-back wins. Which team will take a step forward toward superiority? Read on for our take on this high-stakes game.
While Oklahoma and Tennessee duke it out, the Georgia Bulldogs and South Carolina Gamecocks go toe-to-toe in an SEC showdown (complete preview here). Still want more college football action? Check out the best games to watch in Week 3 here.
[sc:NCAAFArticles ]
Oklahoma Sooners vs. Tennessee Volunteers Betting Preview and Prediction
Where: Memorial Stadium, Norman, Oklahoma
When: Saturday, September 13, 8:00 PM ET
Line: Tennessee Volunteers (+20.5) at Oklahoma Sooners (-20.5) – view all NCAA Football lines
Betting on the Oklahoma Sooners
The Oklahoma Sooners have demolished their first two assignments of the new season with expected ease. They opened their season by defeating Luisiana Tech 48-16 on August 30 before routing Tulsa 52-7 on September 6. For Week 3, they'll be going back home to continue their championship run. The Sooners have won their last seven home games.
[sc:NFL240banner ]So far, the Oklahoma Sooners have looked every bit the national championship contenders they were expected to be in 2014. Playing against Tulsa brought out the best from the dynamic duo of quarterback Trevor Knight and wide receiver Sterling Shepard. Knight threw 21-for-34 for 299 yards and two touchdowns, while Shepard caught eight balls for 177 yards and two TDs, averaging 22.1 yards per catch.
However, having a dynamic and explosive WR like Shepard has caused Knight to launch the occasional risky, ill-advised pass. Knight may be made to pay for taking those same risks against a Tennessee secondary that had two interceptions in their first two games.
Yet, if the Sooners encounter problems with their passing game, they can easily turn to their trusty running backs Keith Ford and Alex Ross. Ford and Ross have been exceptional early in the season, rushing for a combined 264 yards on 35 carries (average of 7.54 yards per carry) and seven TDs. Together, they can exploit the openings left by Tennessee's run defense, which has allowed 240 rushing yards and two TDs over the past two weeks.
Defensively, Oklahoma compiled seven sacks over their past two games for a loss of 44 yards. Meanwhile, they also had four interceptions, one that went for a touchdown.
The total has gone over in four of Oklahoma's last five games.
Betting on the Tennessee Volunteers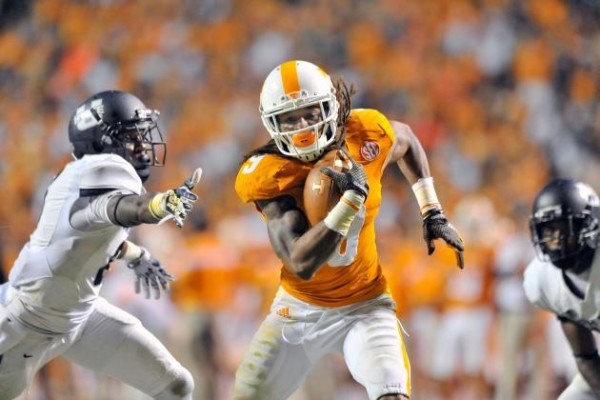 The Tennessee Volunteers have had impressive outings against Utah State and Arkansas State in their first two weeks of the new season. However, their past two opponents are far from the competition that awaits them next. After playing two-straight at Neyland Stadium, the Volunteers now face tough back-to-back road games starting with the No. 4-ranked Oklahoma. Tennessee went 0-4 as road underdogs last season.
A talented group of wide receivers led by Marquez North (eight receptions for 108 yards and two TDs) and Von Pearson (seven catches for 98 yards and a TD) have paid dividends for quarterback Justin Worley's game. After two games, Worley has completed 49-of-76 passes for 520 yards and five TDs while adding five yards on the ground for another touchdown.
Despite Tennessee's success in the passing game, the offensive line needs to shape up in order to contend with the top teams in college football. The O-line has left plenty of openings for their opponents to exploit, allowing four sacks on Worley over two games.
The O-line's inability to perform has also led to a subpar running game. The Volunteers have only rushed for 278 yards on 84 carries for an average of 3.3 yards per attempt. Going against a top five team, expect the O-line's weakness to be further exposed against Oklahoma.
Writer's Prediction
The Oklahoma Sooners end Tennessee's little run and cover -20.5. Make your college football viewing more enjoyable by placing a couple of bets. Create a betting account now and join in on all the football madness.
[sc:NFL490Banner ]
1,972 total views, 1 views today
Comments
comments